After an evening spent at one (or more, probably) of Atlantic City's best bars, there's one thing you definitely need: a trip to one of AC's best strip clubs, obviously. Followed, presumably, by the kind of greasy, gooey, and otherwise-awesome hangover eats that'll have you boozing again in no time. The kind served at spots like these...
There's a reason Jimmy Buffett sang "wasted away again in Margaritaville", and because a bigger Bloody Mary is obviously better, this Florida transplant offers a 23oz Bloody Mary to go with your oversized margarita in a blender-style refillable sippy cup.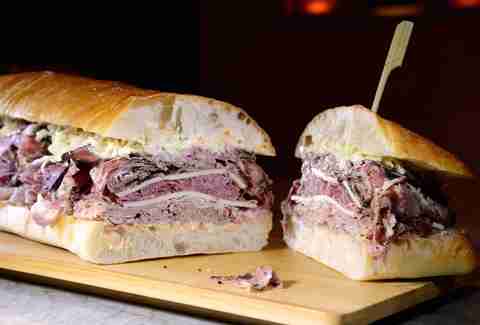 Feeling like a taste of nearby Philly, or something (supposedly) from Jersey? Then get the cheesesteak croissant: crispy on the outside with creamy, meaty, and cheesy goodness on the inside. Two or three (dozen?) should do the trick. Or just fill up with the oversized New Jersey-style sloppy joe.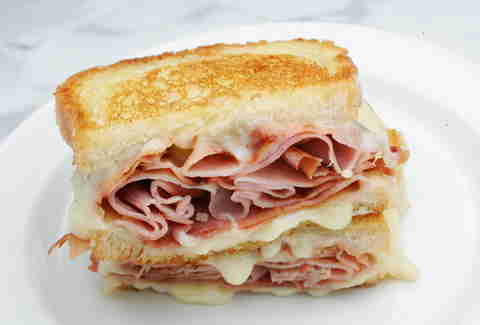 If, on the other hand, you're trying to escape the City of Brotherly Love, take yourself over to Borgata's Bread + Butter and try the Taylor Ham & Egg Sandwich, which is perfect for when you're feeling a little green.
The ever expanding Jose Garces joint at Revel (now in Moorestown, NJ and DC too) has all the things your Mexican loving stomach needs, including chunky guac and chips, tequila mojitos, mahi-mahi fried tacos (above), and a spicy tomato-y ceviche called Vuelve a la Vida, which actually means what any good hangover food will do: bring you "back to life".
Revel at, and in, happiness with the Short Rib Skillet. The secret ingredients? Duck fat potato hash, horseradish, and poached eggs. All that delicious grease should satisfy your rebellious stomach in no time, but if that doesn't work just try… what else? Some whiskey.
Make a beeline through The Pier Shops at Caesars for some Steven Starr touched (not literally, that would be gross) chicken and waffles. These are no ordinary waffles though -- they are made with buttermilk fried chicken, white cheddar, and touched (in a good way) with applewood-smoked bacon gravy.
The Chelsea, one of our favorite non-casino spots, has more than just an awesome rooftop pool: it also has The Teplitzky Breakfast with two pancakes, french toast, eggs, a bagel, a pork roll, turkey sausage, OJ, and bottomless coffee for $20. Oh, and Teplitzky's challenge: if you can eat double that (4lbs of food in 30 minutes), it's free and you get a T-shirt.
Don't judge a hole-in-the-wall by it's red & yellow vinyl cover. C&S boasts Mexi-breakfast items like a huge jamón y huevos torta with beans, jalapeños, lettuce, tomato, onion, cheese, mayo, and a side of fries for $5.95.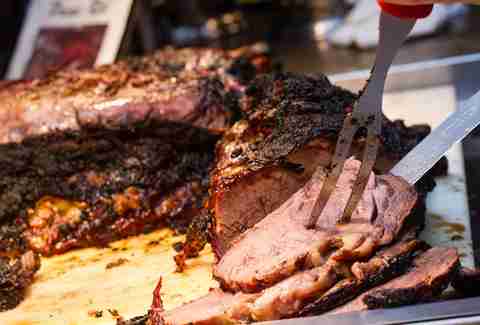 Great for voyeurs, the mothership of gluttony at Harrah's looks right into the bio-dome pool, so while you stuff your face with unlimited crab legs, carved meats (like prime rib), mimosas, plus Mexican, Chinese, sushi, and a large array of desserts, you can watch people do what you won't be able to for, like, hours: swim.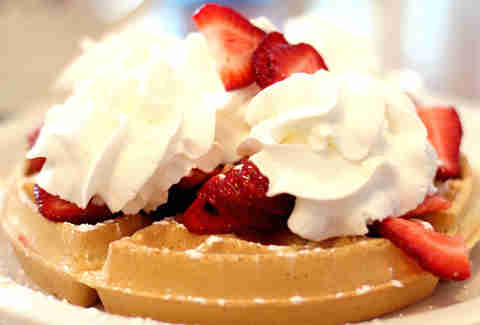 Get here as early as you can drag yourself out of bed because this diner-esque, well-kept secret off the boardwalk gets packed with people looking for their French Toast Deluxe, which comes with eggs, fries, and a choice of meat for under $10. Also worth a try: the fruit/whip cream-topped Belgian waffle.
This list -- and all the rest -- look even sexier in our iPhone app. Get it now!