We've already given you 10 reasons to get excited about Thrillist Atlantic City, but now -- because we're generous like that, and it's, like, our job -- we're giving you another one: a list of AC's 13 essential restaurants, which range from sweet steakhouses to family-run Dominican joints, and one that could have made our list every year since 1897.
Dock's Oyster House
This polished wood- and white table cloth-heavy bi-valve-slinger's been doing its thing since William McKinley was president, and "its thing" is freshly shucked East Coast oysters topped w/ housemade cocktail sauce or cider mignonette, chophouse options (a 26oz ribeye, a rack of lamb, etc.), and stuff like fried oysters or a filet/lobster tail "Beef and Reef" combo that's been on the menu since 1897.
Chef Vola's
This basement boot-foodery is reservation only, and BYO booze, and always crowded, and really hard to find (look for the Blessed Mother statue outside a row house), but it's totally worth it, thanks to a private, congenial atmosphere, and more importantly, the home-style Italian eats including shrimp fettuccine, veal Parmagiana, and a banana cream pie w/ Oreo crust.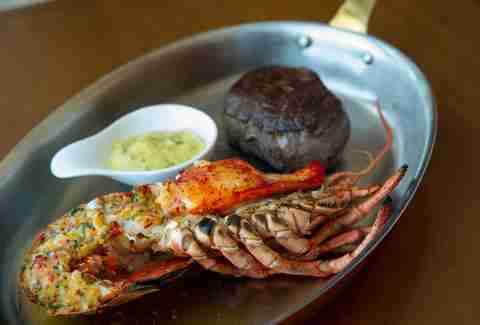 Azure by Allegretti
This Revel casino eatery boasts sweeping views of the ocean, an almost equally impressive wine/Champagne vault, and a slew of seafood options like giant sushi rolls, and a giant seafood platter with everything from the raw bar (Maine lobster tail, jumbo lump & Alaskan king crab, oysters, clams, shrimp, tuna tartar, etc.), plus pasta/mains ranging from lobster ravioli to surf & turf.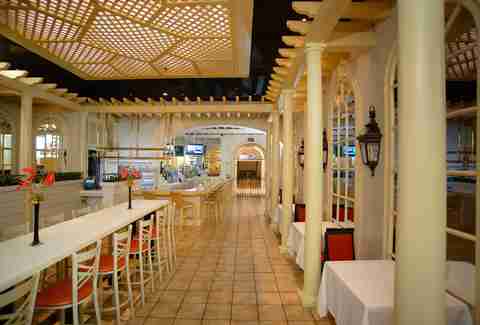 Capriccio
Sure, the views of the boardwalk/ocean at this pricey Italian eats-purveyor are nice, and their Venice-inspired menu (a lobster/ scallops/ shrimp/ crab "Seafood Zuppetta", American Wagyu beef, lasagna...) are great, but the best reason to come here... is because you suck at Blackjack. Just kidding! It's the badass Sunday brunch buffet w/ bottomless Champagne, waffles and omelets made to order, caviar, sushi, and more.

Buddakan
Maybe you've been to the ones in NYC, or Philly, but you've never been to a Buddakan like this: the AC version of this decadent Asian eatery is huge, it's got the biggest Buddha of them all, and you can pay for that king crab tempura, Kobe beef satay, and five-spice duck breast you ordered with comps.
The Iron Room
Just like your favorite Monopoly piece, AC's first modern-day speakeasy's in the last place you'd ever look for it: tucked between your couch cushions? Nope, it's at the abandoned airfield end of N Albany Ave. Thankfully though, you and your prized pewter race car won't end up in jail for landing at Atlantic City Bottle Company's back-door Iron Room for midnight craft 'tails, smoked meats, ultra-rare whiskey shots, and all-night growler & package sales.
Nero's Chophouse and Sushi Bar
This "old world" steak-slinger at Caesars is serving a huge prime rib, lamb chops, and a crab-encrusted salmon filet, any of which would be perfect to eat while gazing out the window at the ocean and wondering why deviled eggs are suddenly so popular again. Probably because Nero's is topping 'em with things like smoked salmon, chopped lobster, and lobster caviar, that's why.
Vic & Anthony's Steakhouse
An outpost of the famed NY steak spot, The Golden Nugget's version of V&A boasts the same modernist, red-hued interior, and the same slim selection of next-level chophouse eats, including a 32oz prime bone-in Porterhouse, a Szechuan pepper-crusted tuna w/ soy ginger butter sauce, and Alaskan king crab served with drawn butter.

Arturo's
Named for Italian boxer Arturo "Thunder" Gatti, this Bally's-based spot's into hard-hitting Italian flavors, like a Spaghetti alla Vongole Veraci w/ sautéed Little Neck clams; an egg-battered flounder topped w/ crab, broccoletti di rabe & risotto; and a "Small Eye" lamb rack w/ navel orange and mustard glaze, homemade mashed potatoes, baby zucchini & red wine reduction that even Arturo would agree, is to die for. What, too soon?!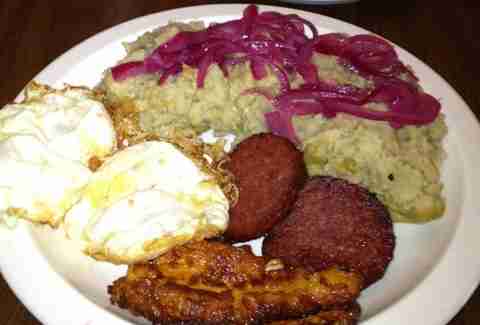 La Finca Dominican Restaurant
Just like Chef Vola's, La Finca is a booze-less mom & pop shop, but unlike them, this place has a sign (yay!), and is serving seriously sweet island-inspired comida, including massive plates of Mofongo (made w/ fried plantains) and chicken; a beef tripe soup called Mondongo; and more familiar flavors like lemon chicken and salmon.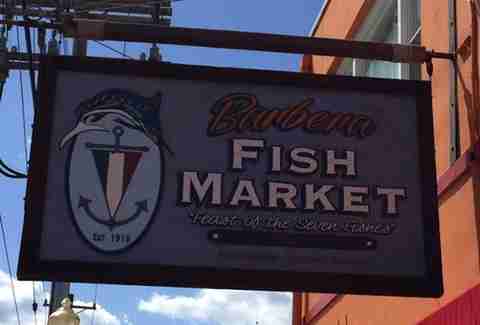 Barbera Seafood & Produce
Hidden away on a quiet street, this no-frills fish market... um, sells fish, presumably, but it also slings can't-miss classics like fried seafood platters, crab cake sandwiches, clams on the half-shell, fish tacos, and even lobster tails, all of which you should probably take directly from the counter to their pleasant, little garden, and then take down immediately.
Carmine's
An open-air, red gravy joint in the back of Tropicana's Quarter, NYC-based Carmine's boasts some of AC's most potent cocktails, from whiskey iced teas, to Limoncello margaritas, any of which should help get you in the mood for double portions of veal saltimbocca and shrimp fra diavolo.
American Cut
The only ocean-view steakhouse in Atlantic City, American Cut's from Iron Chef Marc Forgione, whose meaty menu is prime (get it!?) when it comes to blowing all of your winnings. $50 appetizer portions of raw Wagyu? Yep. A $175 combo of Tomahawk ribeye and lobster for two? But of course. Foot-long motherf*$#ing carrots?? Hell yeah!