New York has Shake Shack. Philadelphia has... also Shake Shack. And now Atlantic City has Empire Burger. The first-ever non-crab-cakery from neighboring Phillips Seafood, Empire's a boardwalk patty-melter anchoring the Pier Shops at Caesars and holding you down with 7oz of prime beef stacked with everything under the sun bun. Sixteen toppings include a fistful of Buffalo-sauced fried shrimp, one massive mustardy crab cake, and a ladle of gourmet mac & cheese -- all of which double as appetizers at the Phillips upstairs.
Recommended Video
Send Foodz: Taste of Atlanta
Don't want a burger? You can also score grilled chicken breast (wild man!) or this golden-fried crab cake sandwich. Want the burger way up top? This is just the base layer.
And this is the next level. Before it's sealed with a smeared top bun thick with mayo, ketchup, mustard, raw onion, relish, and pickles, the bottom's piled with sauteed mushrooms, bourbon onions, jalapenos, mac & cheese, bacon, Buffalo shrimp, and -- oh yeah -- a fresh-off-the-griddle double-cheeseburger with lettuce and tomato...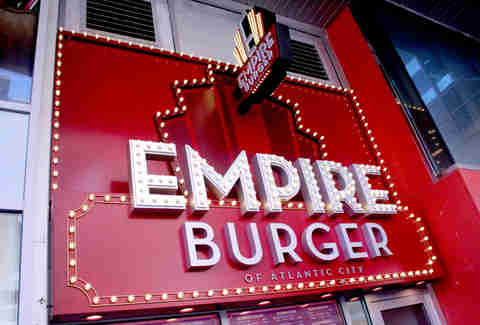 ... which is just slightly easier to scale than the stand's eye-popping facade.
Want a bucket of sides before you take it to the beach? After you've stuck a fork in Empire Burger's fries, hush puppies, and mac bowls, stick it in yourself -- because you're done.