Boardwalk your way to 40oz of ribs-smothered Kobe beef
If you've ever tried to pack an entire casino buffet into a dinner roll, you probably realized A) ambrosia and fro-yo don't mix, and B) you really just wanted a burger. Fortunately, the chef at Bally's Preview Bar's read your comment card and redefined the food of the gods with this carving-station celebration of National Burger Month: 40oz of grilled-to-order ground Kobe smothered in hand-carved prime rib, then garnished with short ribs, cheese fondue, and a whole salad.
The Carving Board Burger's got so much Kobe beef you'd think Shaq created it.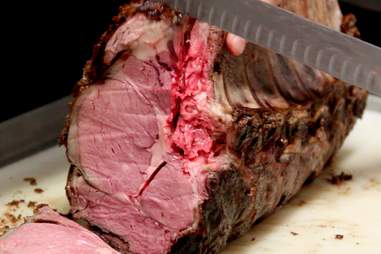 Said beef gets piled with 12oz of hand-carved, garlic-and-salt-roasted prime thumb rib...
... and because that clearly isn't enough rib, a half-pound of these port wine-braised short ribs au jus.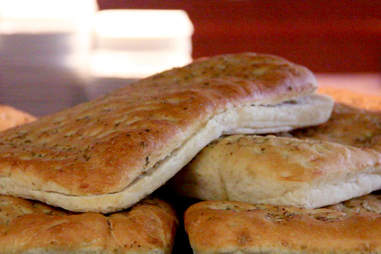 Unlike most casino buffets, you won't have to worry about filling up on bread here. You're only getting two slices...
... of a 17in x 12in pan sheet of Formica Bros focaccia.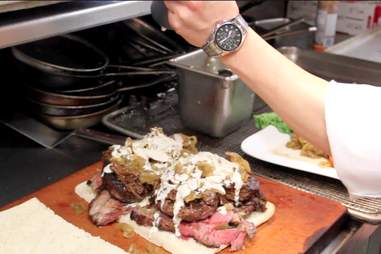 Once the focaccia's meat-ed out, the chef still has time to ladle out two cups of sweet Gorgonzola fondue and go all abstract expressionist with a Pollock's worth of balsamic syrup.
Only ordering this burger because a salad would've attracted too much attention? Don't worry, it's topped with a whole one.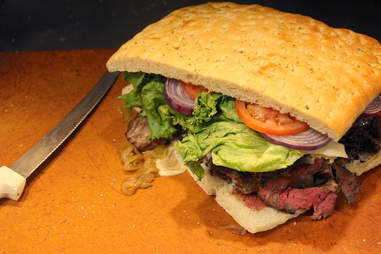 And remember: you'll only be a freak for swallowing one of these whole.