Stephen Starr's serving breakfast 'til dinner at AC's latest brunch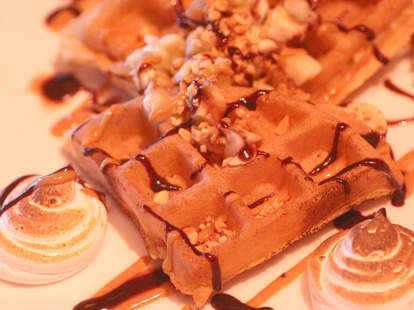 There are two ways to score breakfast for lunch in AC: 1) order the continental from room service and wait three hours for toast and juice, or 2) order at The Continental, Stephen Starr's oceanview retro diner atop The Pier Shops at Caesars, where their morning menu of Fluffernutter- and fried chicken-smothered waffles, spicy chorizo huevos rancheros, and even spicier Bloody Marys is now served daily through lunch -- and end-of-daily on weekends, when you can get stuffed on brunch 'til the hangover-friendly hour of 4p.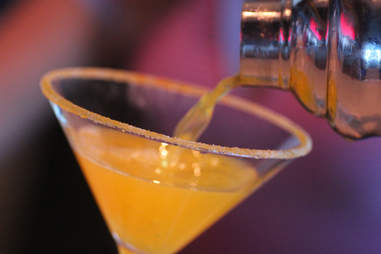 Wash last night's tang out your mouth with one of two dozen brunch 'tails like the Astronaut, a shaker of Tang and peach vodka orbited by a moon-juice-powdered rim.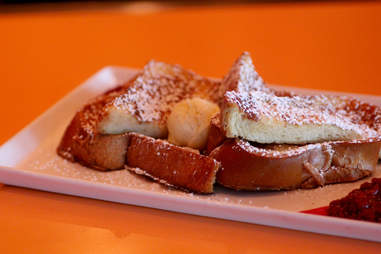 What's better than tearing into a hive of The Continental's cinnamon-baked monkey bread? Slicing up this platter of thick-cut challah French toast just added to the menu. Also added: powdered sugar, maple syrup, and a seasonal fruit compote.
Ever use a Hershey bar as a spoon when you're dipping into those jars of peanut butter, marshmallow fluff, and Nutella in your fridge? They do that here with waffles. Fluffernutter waffles.
Meanwhile, they must've been hitting a KFC bucket meal when they came up with this smoked bacon gravy-soaked pile of buttermilk fried chicken sinking into a stack of white cheddar waffles.
Either way, breakfast potatoes are essential. So opt for a family-size bowl of lobster-studded mashed, or these mini skins stuffed with lemon-scallion cream beneath scoops of tuna tartare.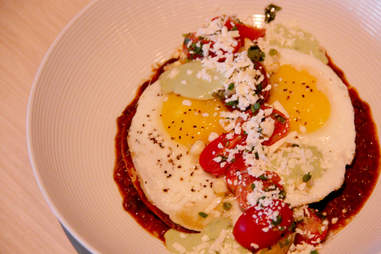 Don't order these huevos rancheros, and you'll totally be leaving with egg on your face. Do order these huevos rancheros, and you're probably going to be leaving with spicy chorizo, black beans, avocado crema, tostada, and heirloom tomato salsa on it.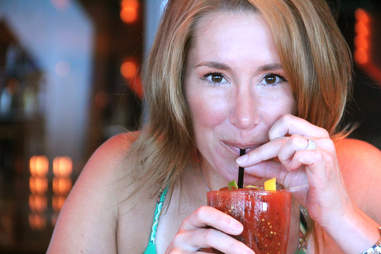 Want an easier way to put some color in your cheeks? The housemade Bloody Mary mix blends fresh tomatoes and horseradish with mustard, celery seeds, and black pepper -- sure to send you home from AC flush.