Want to stuff your face with cheese-sauced shrimp, crab fries, and pickles? Atlantic City now has a sandwich for that. Want to chase it with flights of tequila, 24oz burgers, every-meat pizzas, and 18 styles of cheesesteak? America's Playground now has a casino for that, too. The Tropicana's turned its boardwalk facade into a restaurant row almost as big as your appetite, with five new bars and restaurants including outposts of Philly favorites Chickie's & Pete's and Tony Luke's, all guaranteed to sate every late-night craving.
Recommended Video
This Ice Cream Comes in Unique Cereal Creations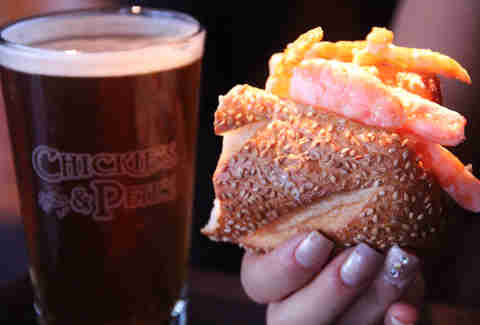 While you're waiting for NJ to legalize sports betting, kill time catching the game all the games on 76 flatscreen TVs lining every surface of Chickie's & Pete's two-story sports bar while you pad your stomach with this shrimp-and-cheese-fries Magooby, plus a pint of their most seasoned draft pick: crab-spiced Crabby Ale.
Get your fries on the side at Tony Luke's, the South Philly cheesesteak kingpin's first Boardwalk outpost, then unwrap your garlicky foot-long rabe-and-roast pork Italian at the legendary griddler's backroom bar, which it shares with...
... Perry's Pizza. You can also opt to dine on the mega-slice joint's sausage-pepper-and-pepperoni pies outside on its boardwalk patio -- just beware that the seagulls might think your Fish Lover's pizza's really for them.
Prefer your pie made entirely of nachos? Opt for Casa Taco and Tequila Bar's shareable platter of tortilla chips layered with fresh-made poblano-cilantro guacamole, beef, crema, and salsa -- all hand-crafted by a Jose Garces vet.
Before you wheel out in a pedicab, put on this 24oz Hub Cap burger, a pound-and-a-half of prime sirloin already served atop a side salad's worth of garnishes and capable of containing all 15 of Broadway Burger Bar's add-ons, like applewood-smoked bacon, caramelized onions, and even their signature macs-and-cheeses swimming with lobster and short ribs. Just be sure to wait an hour before going swimming yourself. Maybe two.