The 7 best late-night-eats spots in AC
We've already told you about the best restaurants in Atlantic City -- heck, you've probably been to all of 'em by now (except Chef Vola's, obviously... that place is impossible to get into!) -- but a list like that doesn't really help if you've spent most of the night at some of AC's best bars... or gentlemen's establishments.
In that case, you'd need someone to tell you about the seven best late-night-eats spots in AC, or something. Oh wait...
It's a 24-hour pizza delivery joint... that is, it's a 24-hour pizza delivery joint that also has Italian specials everyday (think veal parmigiana, spaghetti, lasagna, etc.), and things like three egg omelets, burgers, and classic hoagies filling the menu. And presumably your belly around 3:30am.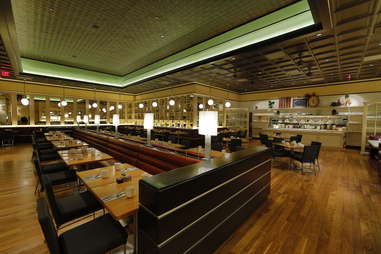 Revel Casino
Located inside Revel casino, this 24-hour cafe has gourmet pastries, a fully stocked bar, flat iron steaks, chicken and waffles, burgers, and some of the sweetest deals in town: $3.99 breakfast w/ corned beef hash, burgers for $5, steak & shrimp for $10, and more.
Open 'til 4am, this place does huge pies like their signature buffalo chicken pizza (above), plus stuff like an 18oz buffalo chicken cheesesteak, garlic knots, fries… and everything else you shouldn't eat after a night out. Or anytime really, but who cares?
Cassie Hepler
Not only does this place claim to always be open, but the flavorful lamb gyros with fresh tzatziki sauce always hit the spot. Need some greasy breakfast, instead? It's available for around 10 bucks at this Greek fast-food-meets-liquor-store spot on the boardwalk.
This NY-style throwback does burgers (hence the name), fries (regular and sweet potato), and milkshakes that preferably bring at least a few girls to the yard... err, this place inside Harrah's, where they're open every night until 4 or 5am.
Two blocks from the boardwalk behind Trump Plaza, DT is a sports bar on one side and a 24-hour restaurant on the other. Your early-AM food choices include classics like a Reuben on rye, burgers, cheesesteaks, and big-ass burritos. Oh, and did we mention there's also a liquor store
and
a tailgating truck (above)?
"We never close" is the motto of this sports dive on Brigantine Beach that's famous for its killer game day specials... which really don't matter since you just left the bar and are looking for... well, bar food like their sliders w/ house-made potato chips and meaty wings that cost less than a buck a piece.
This list -- and all the rest -- look even sexier in our iPhone app. Get it now!