An Iron Chef's pop-up restaurant takes over the Borgata's 28 West
For three nights only, Chopped judge and Iron Cheffer Geoffrey Zakarian's transforming the Borgata's just-opened gastrolounge 28 West into The Lambs Club, a basement pit where the chef keeps lesser competitors his two-story Manhattan meat temple devoted to dry-aged Delmonicos and ramped-up strip steaks, all of which he'll be dishing out Aug 16-18.And, in case you're wondering what basket of secret ingredients he's packing for the weekend, we captured the chef testing every course in his New York kitchen.
Just like when you watch Chopped, you're sure to get some perverse pleasure from every cut.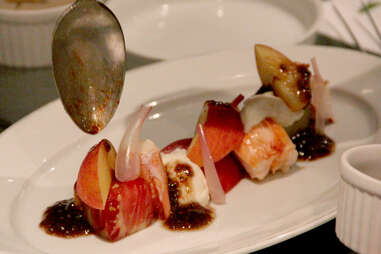 Especially when those cuts start your meal with chunks of fresh lobster stacked between load-bearing pulls of stracciatella and heirloom tomato wedges.
Entrees include a dry-aged prime Creekstone Farms Delmonico, a salt cod risotto finished with shaved fish eggs, and this just-waiting-to-be-finished butter-basted ribeye of lamb.
Why order espresso with dessert when you can order espresso in dessert? This cocoa-dusted affogato floods a cuppa Tahitian vanilla ice cream with iced coffee...
... which, unlike a nice Chianti, comes with a straw.