Quick, which would you rather have: one defensive coordinator you can fire to save your job, or FOUR defensive coordinators you can fire to save your job? Think about it -- Mack Brown could be the coach FOREVER!! Or at the very least, FOUR MORE GAMES!! Taking a Mack-pproach to food truck openings, we've gone and found a foursome (eyebrow raise!) of awesome new brick-less and mortar-less dining options, including a breakfast-only four-wheeler doing something almost as good as the waffle taco.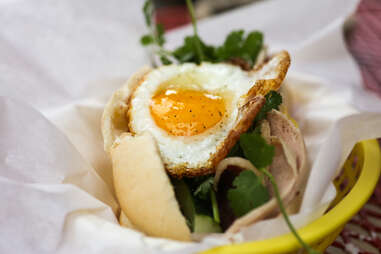 Saigon Le Vendeur
A banh mi-slinger off E 7th, SLV's the work of a Viet-chef who'd previously been turning Japanese at spots like Daruma, and's now able to serve his native cuisine, including vermicelli bowls. They plan to expand to soup once it's not so pho-king hot outside.
Kerlin's BBQ
Posted up next to Veracruz All Natural, the fires at this mobile eatery are fanned by a competitive 'Qer who strangely prides himself on his pork ribs (blasphemy!) in addition to a fat spider-webbed brisket, blue cheese cole slaw, and garlic-cured pickles.
Proper Breakfast
Rosedale's best-kept secret, this simple and delicious morning-only trailer from a pair of chefs with serious reps (Justine's, Uchi) boasts thick-as-heaven pancakes, all-local ingredients (Vital Farms eggs, Richardson Farms pork), and a seldom-seen Pennsylvania Dutch mix of cornmeal and sausage called scrapple. Drop the term near a foodie for a double word score.
Lone Star BBQ
Just past Oltorf on South Lamar, the pits here're kept stinky by a dude who used to sell his 'Q to coworkers at Lowe's before going all-in on a TX flag-adorned trailer serving oak-smoked brisket with an unconventional rub (paprika, chile powder), home-made sides like banana pudding, and beef/pork bangers from Austin Sausage Co..