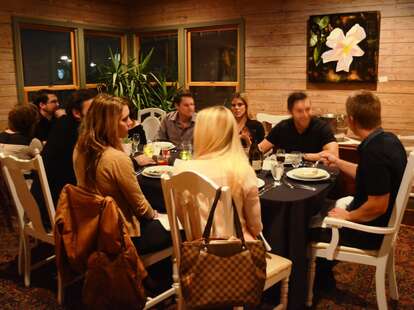 Back in the Prohibition days, supper clubs were popular as a means through which alcohol could be served "under the table" to members. Even though you don't need to be a part of some secret club to enjoy your favorite beverage anymore, supper clubs have enjoyed a resurgence thanks to the fact that eating and secrets are still undeniably fun. Here are five secret (whoops!) Austin societies you and your taste buds should check out.

Swoop House Supper Friends
When: Weekly
Where: East Side
Why You Should Join: Held in a small renovated house with a capacity of 32 guests, this dining club grew out of a catering business hosting tastings for clients. Now you don't have to be planning a wedding or something to enjoy Creole onion- & Sherry gravy-smothered pork chops with herb biscuits over tasso-braised collard greens, which're on the menu for an upcoming event.
How to Join: Tickets are available through their website -- sign up for the mailing list to stay on top of new events.
Bread & Circus Supper Club
When: Monthly
Where: Palm Door, Downtown
Why You Should Join: Inspired by the events of Roman times, the Bread & Circus Supper Club is organized by the Pink Avocado Catering team, blending locally inspired menus and live entertainment. They'll also conceive specialty cocktails to match the evening's theme. Bonus: if you're friends with one of those difficult vegan/gluten-free types, they do menus to accommodate while still allowing you to maintain your omnivorous ways.
How to Join: Keep tabs on their Facebook page for upcoming events.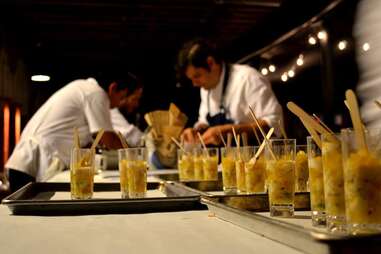 Dinner Lab Austin
When: Periodically
Where: Rotating locations
Why You Should Join: Because you don't want to miss out on one-night-only dinners held in unconventional rotating venues like the roof of an abandoned building or the inside of a motorcycle dealership. Also, you like meeting strangers and disdain assigned seatings.
How to Join: They require a membership (they run between $100 and $200), so hit their website and get on the waitlist.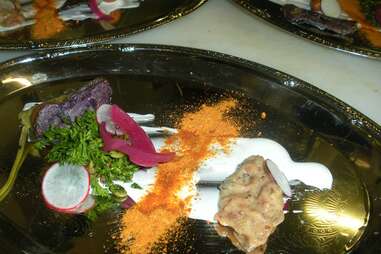 L'Oca D'Oro Supper Club
When: Usually once or twice per month
Where: Rotating locations
Why You Should Join: L'Oca D'Oro, which translates to "golden goose", is a unique supper club created by Fiore Tedesco III after an experience in Italy that inspired him to bring the culinary gathering style back to the States. Last year they put together 19 dinners themed after musicians like Fleetwood Mac, Nina Simone, and even Metallica ("Enter Sandman" = food coma). They're actually working on a less secretive brick-and-mortar location, but the traveling pop-ups continue in the meantime.
How to Join: Follow their website for info on upcoming events.
Bistro Vonish
When: Periodically (next one is March 28th)
Where: 400 W St. Elmo Road
Why You Should Join: Rejoice, healthy gluttons of Austin! Bistro Vonish's fare is unlike the usual nose-to-tail-style menus of many other groups in town because the only thing they serve with a heart is an artichoke. Bistro Vonish is a vegan supper club that does things with local organic produce that'll make you forget there's no meat on your plate. The four-course meals are also expertly wine-paired.
How to Join:Follow their Facebook for upcoming events.