Brick oven pies in Clarksville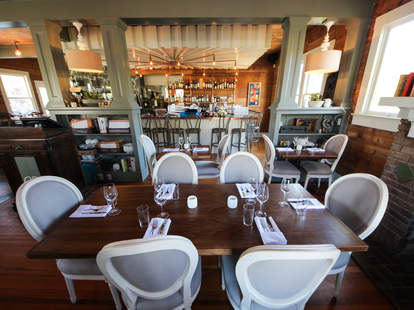 Betting they'll have a different draw than neighboring Rounders, Winflo's given the reclaimed wood/Edison bulb treatment to an old Clarksville residence, creating a date-friendly spot for cocktails and oak-fired pies made by a 10yr veteran of the local pizza game
This prosciutto pie is loaded with balsamic onion marmalade, baby arugula (how adorable!), Parm-Reggiano, and fresh mozz
The carbonara's packing pancetta, Parm-Reggiano, and a farm egg, which came before the farm chicken. Or did it??
The porchetta's an herbed cut of pork belly with sauteed spinach, rosemary, and marbled potatoes, which're a dead Ringer for regular potatoes
In addition to a stellar wine list, they're also sporting a full cocktail menu ranging from delicate ("Aperol Sprite", "Branca Mule"), to sippers (seven types of martini), to full-bodied drinks like the Macallan 12yr Single Malt and Disaronno "Godfather", who might soon be making Rounders an offer they can't refuse.