Betting they'll have a different draw than neighboring Rounders, Winflo's given the reclaimed wood/Edison bulb treatment to an old Clarksville residence, creating a date-friendly spot for cocktails and oak-fired pies made by a 10yr veteran of the local pizza game

This prosciutto pie is loaded with balsamic onion marmalade, baby arugula (how adorable!), Parm-Reggiano, and fresh mozz

The carbonara's packing pancetta, Parm-Reggiano, and a farm egg, which came before the farm chicken. Or did it??

The porchetta's an herbed cut of pork belly with sauteed spinach, rosemary, and marbled potatoes, which're a dead Ringer for regular potatoes

In addition to a stellar wine list, they're also sporting a full cocktail menu ranging from delicate ("Aperol Sprite", "Branca Mule"), to sippers (seven types of martini), to full-bodied drinks like the Macallan 12yr Single Malt and Disaronno "Godfather", who might soon be making Rounders an offer they can't refuse.
Recommended Video
Meet the Man Who Brought Fried Pizza to New York City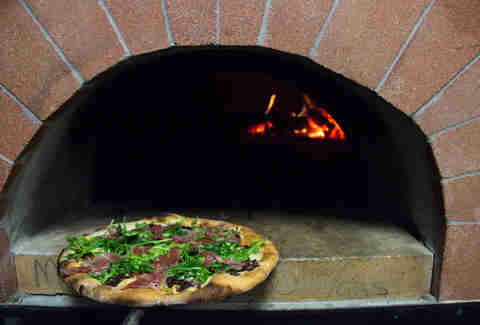 Previous Venue
Next Venue
Venue Description
1. Winflo Osteria
1315 W 6th St, Austin, TX 78703
Perfecting the art of Italian fare and craft cocktails, Winflo Osteria serves up wood-fired brick-oven pizzas and homemade pastas. Stop by for a glass of vino and some live tunes at the Listening Room, an attached private event cellar that holds acoustic performances every Thursday. The intimate space also serves a seasonal, three-course prix fixe menu that varies weekly.