Claire McCormack Photography
Just because you have a "job" and a "SUV" and you once tried "yoga", doesn't mean that you have to forego all of the pleasures of childhood. We've taken the task of rounding up some chic and some just downright craveable "adult" versions of the stuff we all ate as kids -- courtesy of the bars and restaurants you love in Austin. Apparently, you CAN have your Totino's Party Pizza AND eat it too!
PEANUT BUTTER AND JELLY SANDWICH
Uchi (click here for info and address)
What was Uchi's Phillip Speer's inspiration when he created the deconstructed Peanut Butter Semifreddo? Why, his daughter's sack lunch of course. A far cry from the days of cursing the thick and unforgiving Jif that dared to rip your Wonder Bread, this artful dessert is made with golden raisin and sake puree, apple "chips", apple miso sorbet, and finished with peanut butter powder and ground peanut brittle. Wow. There's a reason this is Uchi's most popular dessert.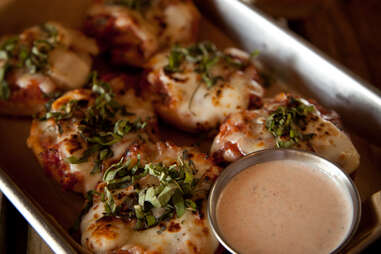 PIZZA BAGEL BITES
Banger's (click here for info and address)
Every day, you get home from school, go to the freezer, open up that giant box of Bagel Bites, and "cook" about ten of those bad boys for yourself and your after-school crew. Oh, that teeth-destroying, chewy, burn-the-roof-your-mouth goodness is undeniable. Our friends at Banger's have taken that concept and made their own cheesy, amazing Pizza Bagel Bites. You can get them Thursday-Saturday from 11pm-1am on their Late Night Bites menu.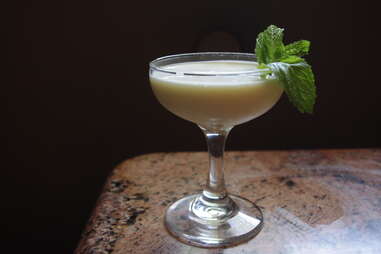 MILKSHAKE
Péché (click here for info and address)
You know those thick classic milkshakes we had as kids (and still have… ahem, sometimes), the ones that gave you the best/worst stomachache ever? Imagine if an amazing bartender added booze and served it in a reasonably sized, and totally classy Champagne coupe. Wait no longer, it's real and it is Péché's Grasshopper Milkshake made with house-made vanilla ice cream, crème de cacao, and green crème de menthe.
MAC AND CHEESE
Searsucker (click here for info and address)
Remember how you felt when you upgraded from the Kraft mac and cheese with the yellow powder to the Velveeta with the gooey cheese pack? Now multiply that feeling times 100 and you've got Searsucker's Lobster + Mac + Cheese. This decadent interpretation is perfectly cheesy with succulent lobster and a crispy crust.
MILK & COOKIES
Odd Duck (click here for info and address)
New kid on the block (not to be confused with the super-dreamy boy band... sigh, Joey) Odd Duck is making waves in the Austin culinary scene and this creative version of our go-to childhood snack is solid proof. Their Chocolate Potato Chip Cookie comes with, wait for it… buttermilk soda! Yes and thank you!
CANDY BARS
TRACE (click here for info and address)
Candy bars are just a part of childhood, taunting you from every grocery store check-out line with their shiny wrappers and promises of peanuts and gooey caramel and crunchy nougat. The fine folks at TRACE at the W have created a next-level dessert in their Fried Candy Bar -- which is house made, filled with rice crisps, salted caramel, and dark chocolate. Bonus: they're served with warm dipping sauces!
POPCORN
Porter Gastropub (click here for info and address)
When you're 4 1/2ft tall, sometimes ease is key when preparing an after-school snack -- and ease is where microwave popcorn reigns. Porter Gastropub's Truffle Popcorn has elevated the simple finger food by tossing the p-corn in truffle butter, truffle oil, AND truffle salt, THEN topping it with freshly shredded Parmesan cheese.
GUMMY BEARS
Banger's (click here for info and address)
When it comes to gummy bears, everyone has their own unique ritual -- first the tiny arms and legs, then the head; squeeze it vertically until it's flat; or all the clear ones first. Whatever your "gummy-style" is, be assured that Banger's has you covered (again) with their Gummy Bear Brat, available on their munchie-tastic late-night menu.
SNOW CONES
The Hightower (click here for info and address)
Snow cones have a special space in the hearts of grown children and actual children alike, because they represent innocence and neighborhood pools and freedom (and comparing colored tongues). The Hightower will take you back to Summer days that lasted forever with their two versions of Snow Cones -- choose from strawberry/fennel or coconut/Kahlua. Pro tip: have both.

TWINKIES
drink.well. (click here for info and address)
Local favorite drink.well. has taken everything good about the original Twinkie (essentially the shape) and created their own amazing take on the classic packaged goodie. Everything is house made, from the moist cake to the rich filling, AND the flavors rotate -- so for April you can indulge in a Reese's Twinkie (chocolate fudge filling and a peanut butter ganache drizzled on top).