Austin's BBQ scene is maybe the best in the country. But that greatness comes at a cost, and we're not talking about Lipitor. No, we're talking about the huge, snaking lines of people that regularly form in front of the city's better 'cue slingers. That's why we've put together this guide to those wait times -- how to avoid them, when best to go, and how long you can expect to wait.
East Austin
Average wait time: Four to six hours
Peak hours: Until sold out
Easier hours: Arrive around 5am

Much like a football tailgate, the line at Franklin is part of the experience. You get a lawn chair, some beers, and the ability to tell everyone else you've done it (although you probably won't again). When I arrived at 7am on a recent Sunday morning, there were around 50 people already waiting. So, as you may imagine, there is no "easy" time for Franklin's line, but if you don't get in line before 8am, your chances of walking away with anything more than a story are slim. If you want to roll the dice, arriving around 1-2pm on a weekday can have no line, but little meat left other than sausage and chopped beef.
East Cesar Chavez
Average wait time: One to two hours (weekends); 30 minutes to an hour (weekdays)
Peak hours: Weekend mornings/afternoons
Easier hours: Weekday mornings

La Barbecue is the second-most famous BBQ joint in Austin, and with good reason. The meat is arguably better, and hasn't yet reached the top spot as far as media hype (read: the president hasn't eaten here... yet). The truck recently moved to a new location farther east on Cesar Chavez and weekday afternoons starting around 3pm may be your best time to find no line, if you're willing to accept a limited menu (usually it still has brisket). According to the staff "Wednesdays are easiest." If you want the full menu on weekends, arrive around 9am to be served around 11am.
East Austin
Average wait time: 15-30 minutes
Peak hours: Weekend mornings
Easier hours: Weekday afternoons

"If you want the full menu, you need to be here before 1," they told us. Typically people start lining up around 10:30am (opens at 11am) and Micklethwait starts to sell out of items around 1pm. After 1pm is your best shot at a short wait, but your options may be somewhat limited.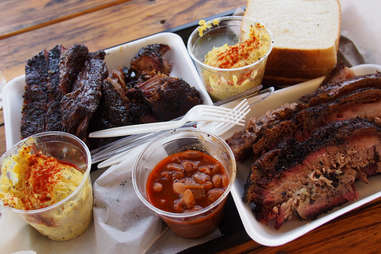 East Austin
Average wait time: 15-30 minutes
Peak hours: Weekend afternoons
Easier hours: Late afternoons on Thursdays or Fridays

John Mueller makes some of the best BBQ in Austin. That is a known fact. A less-known fact is when exactly his food truck on East 6th St will be open. Inconsistent hours aside, the best time to swoop into JMMC is late afternoons on Thursday or Friday. You'll miss the weekend rush and be able to enjoy what many feel is the best brisket in town.
East Austin
Average wait time: Zero to 15 minutes
Peak hours: Lunchtime
Easier hours: Early morning (around 11am)

Scotty's is located farthest east of all the locations on this list, in a brand-new food truck courtyard. For that reason, it is a bit of a hidden gem at the moment. Outside the midday lunch orders (it also accepts online), you usually won't have more than one to two people in front of you in line.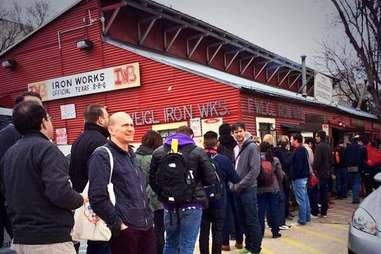 Downtown
Average wait time: Five to 15 minutes
Peak hours: Saturdays, 3-8pm
Easier hours: Weekday, mid-afternoon (2-5pm)

Located right next to the convention center, Iron Works is one of the most convenient BBQ places for people Downtown. The BBQ won't match many of the famous east side joints (Franklin, La Barbecue), but if Iron Works was located in any other state in the country, it would likely be the best in town. Short wait times and low risk of sell-out make this a good staple for those looking to get a quick BBQ fix.
Driftwood
Average wait time: 15-30 minutes
Peak hours: Weekend afternoons (2-6pm)
Easier hours: Weekday mid-afternoons (1-4pm)

The Salt Lick has three locations, but the best (and original) is located in Driftwood, about a 30-minute drive from Downtown Austin. This Salt Lick is located on a beautiful farm, with picnic tables surrounding the main building made of rock walls. Inside, you'll get the most Instagrammable BBQ pit in all of Austin; open flames with a variety of meats atop, filling the place with smells as good as the BBQ that is to come.
Lamar
Average wait time: 15 minutes
Peak hours: Saturday mornings
Easier hours: Weekdays after 3pm

According to the man himself, "Saturdays, you should be here right at 11am" if you want to ensure you'll get served. As with most places, weekends see this food truck slammed with patrons after its brisket and cabbage. On weekdays, anytime after 3pm you're likely to find no line.
Lockhart, TX
Average wait time: 30 minutes to an hour
Peak hours: Weekends, until 5pm
Easier hours: Tuesday, all day; weekends after 6pm

Although Black's now has a location in North Austin, the meat is still all cooked in Lockhart. Out there they've been serving up some of the state's best BBQ since 1932. As you wait in line you'll see all the famous Texans who have stopped by over the years. The trip will take you just over 30 minutes each way, but you'll still be able to eat before some of Austin's most popular (Franklin, La Barbecue).
Sign up here for our daily Austin email and be the first to get all the food/drink/fun in town.
Brent Underwood is the founder of HK Austin, a co-living and co-working space in the heart of Austin.