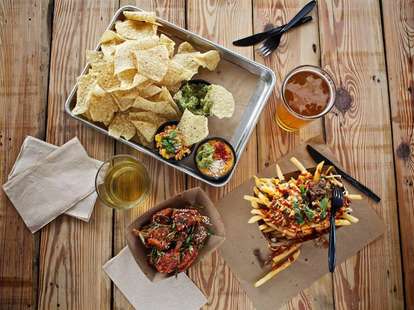 Cooking for yourself can be very rewarding, like when you are trying to eat healthy, or just save some cash but... there is a dark side. Picture this scenario: You just bought $200 worth of groceries but ugh, "effort," so you keep reaching for the nine cent ramen; a week later you're bloated to hell and all your produce is spoiled, so you just Favor some Chi'Lantro, again. We too know this struggle which is why we asked seven chefs to share their favorite super-simple, five-ingredient recipes -- including Chi'Lantro's famous salsa -- that even lazy humans wouldn't scoff at. We believe in you, now get cooking!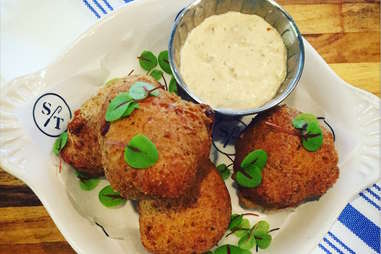 Hush puppies
Chris Ten Eyck, Executive Chef at Salt Traders Coastal Cooking
Round Rock
"Hush puppies go great with any meal, I love these little fried balls of cornbread batter. At the restaurant we like to keep things simple so we just fry them up and serve with a side of remoulade, you can sub tartar sauce if you like. The great thing is you can add anything you want to the batter, roasted chilies, crab, fresh herbs, etc."
INGREDIENTS:
4 cups cornmeal
2 teaspoon baking soda
2 eggs
2 cups buttermilk
1 cup roasted corn
DIRECTIONS:
Combine all dry ingredients and mix well.
In separate bowl beat eggs and add buttermilk.
Add wet ingredients to dry ingredients and mix until well incorporated.
Roast corn in oven or on grill in the husk until kernels are tender.
Peel and shave corn off the cob then fold into your batter. At this point you can add in anything you want like roasted chiles, crab, or shrimp, fresh herbs.
Heat oil in fry pan to 350 degrees; using a spoon, scoop out little balls of batter and carefully drop into fry oil. Cook for 2 minutes, then using the spoon flip hush puppies over and continue cooking for an additional 2 minutes or until golden brown.
Place on paper towel to drain, serve with dipping sauce of tartar or spicy remoulade.
Lemon Tarragon Slaw
Evan LeRoy, Chef & Founding Pitmaster of Freedmen's
West Campus
"Instead of a standard, mayo-heavy coleslaw, try this recipe for an easy and fresh alternative. It's a great complement to fatty barbecue meats."
INGREDIENTS:
1 head green cabbage, shredded
5 sprigs tarragon
3 lemons, zest and juice
1/2 cup honey
2 tablespoons kosher salt
DIRECTIONS:
Combine chopped tarragon leaves, shredded cabbage, lemon zest and juice, honey, and salt in a large bowl and toss to combine.
Let marinate at least one hour.
Bacon Jam
Ashley Neave, Executive Chef at Forthright
Downtown
"This jam is a blend of both sweet and savory and made with America's favorite ingredient, bacon. I think this jam can be used on just about anything -- I love it on our leftover turkey sandwich at Forthright but you can smear some on toast, add a poached egg and it tastes like all the best breakfast ingredients in one bite."
INGREDIENTS:
1lb smoked bacon cut into small pieces
3 tablespoons brown sugar
1/2 cup apple cider vinegar
3oz white onion
Salt to taste
DIRECTIONS:
Finely chop the white onion.
Cook the bacon and onion until nearly crispy.
Add the apple cider vinegar and reduce to half.
Then add the brown sugar and boil for three minutes.
Season to taste.
20-Minute Flatbread
Annabelle Turner, Pastry Chef at VOX Table
South Lamar
"This is the simplest bread I've ever made and it turns out great every time! My favorite toppings usually include some kind of hearty sauce, like a romesco, and bold meats like a spicy chorizo or fennel sausage. All sorts of veggies work too, like grilled corn off the cob or sun-dried tomatoes. I almost always top it with fresh arugula tossed with olive oil and citrus; the bright, peppery greens balance out the heartiness of the other ingredients; flake sea salt, herbs, and a tangy cheese, like goat or feta, make a perfect finish."
INGREDIENTS:
1 cup flour
1 1/2 teaspoons baking powder
1 teaspoons salt
1 cup Greek yogurt
Vegetable oil or nonstick spray for greasing pan
DIRECTIONS:
Preheat oven to 500 degrees.
Combine the flour, baking powder and salt in a bowl.
Add the yogurt, and mix with your hands until fully incorporated.
Knead for 1-2 minutes on a lightly floured board.
Divide into four equal sized portions, and roll into balls.
Using a rolling pin, flatten each portion into an oval shape about 1/4" thick.
Place the flatbreads on a greased sheet tray and pop them in the oven for about 7-10 minutes or until a light golden brown.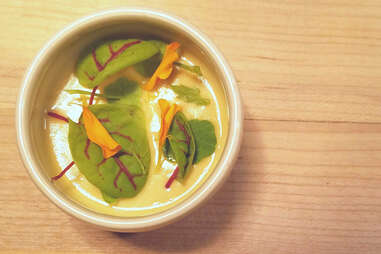 Mushroom Custard
Charles Zhuo, Executive Sous Chef at Barley Swine
North Burnet
"This is a recipe I like to make at home because it's simple, comforting, and light. I make the mushroom stock by pressure cooking shiitakes, oyster mushrooms, and button mushrooms; and the brown butter is infused with thyme, rosemary, savory and lavender."
INGREDIENTS:
½ cup truffle oil
½ cup brown butter
1 pint eggs
1 qt mushroom stock (pre-made stock can be found in soup aisle)
⅔ cup white soy sauce
DIRECTIONS:
Combine truffle oil with melted brown butter and set aside; blend eggs in blender and drizzle in the oil mixture until emulsified.
Add in mushroom stock and white soy.
Strain and allow to sit overnight to remove bubbles.
Steam in a cup or bowl (like you would steam broccoli) at 200F until custard sets, enjoy while hot.
Chi Gundis Salsa (Japanese chili salsa)
Jae Kim, Founder of Chi'Lantro BBQ
Multiple locations
"This salsa has a slightly bitter but spicy, earthy, and savory flavor profile, and is best paired with red meats and used as a base to sauté with fresh vegetables. It's also used in Asian cooking for stir fries and curry. We use it in our chile Japones queso in the restaurant."
INGREDIENTS:
1.4 oz chile Japones (dry, dark red chiles usually found packaged at your local grocery)
7.2 oz onion
.7 oz peeled garlic
1 cup water
1.3 oz vegetable oil
DIRECTIONS:
Blend all ingredients in a blender except oil.
Slowly drizzle oil into mixture until desired consistency is reached.
Season with salt to taste.
Shiso Marinated Tofu
Yoshi Okai, Chef at Otoko
South Congress
"I started making this dish about 18 years ago. I like to experiment, and this one came out pretty good. When the olive oil soaks into the tofu, the texture becomes almost like fresh mozzarella. You can use it as a vegan cheese substitute. You can eat it as a snack or as an appetizer. I like to spread it on bread or put it in a salad to add nice texture."
INGREDIENTS:
16oz tofu
shiso leaves (can be found at Asian markets)
olive oil
salt
soy sauce
DIRECTIONS:
Wrap tofu with paper towels and place weight on top of tofu for 30-40 minutes. Change towels at least twice.
Cube the tofu and sprinkle with salt.
Now, chop the shiso leaves and place the tofu and shiso into a container.
Cover both with olive oil.
Let soak for 2 to 4 days.
Remove tofu from container and shred fresh shiso on top.
Finish with a drizzle of soy sauce and sprinkle of finishing salt. Enjoy!
Sign up here for our daily Austin email and be the first to get all the food/drink/fun in town.
Anastacia Uriegas is a food and drink writer whose favorite five-ingredient recipe consists of sugar, bitters, bourbon, ice, and orange peel. Follow her old-fashioned tendencies at @anaurie.