As if brunch wasn't already the most celebrated meal of the week, some genius figured out that when your head is doing a little pounding of its own, the best medicine is music! And not just any music, we're talking Selena-meets-Morrissey-meets-Jay-Z. So, get down on some eggs Benny and let the music work its magic with these DJ-backed brunches.
Downtown
Searsucker knows how important brunch is, which is why they do it all day Sunday (10am-5pm). Select favorites like the pork belly hash (confit onions, corn, potatoes, fried egg) or the fiery Shrimp-N-Grits (more specifically, bacon grits!). The DJs this Sunday are Richard Gear and Mateo Thomas.
Downtown
From 10am-3pm on Saturdays and Sundays, TnT offers an insane buffet with enchiladas, a build-your-own-taco bar, brisket, fresh grilled fish, omelets, waffles, eggs Benedict, migas, AND desserts. Phew. Combine that with mimosas and a little bumping ambiance, and you're good to go! And then good to go home and nap.
Downtown
Huge portions of delicious hangover medicine and cool patrons make Frank a favorite on Sundays from 10am-3pm. Where else can you stuff your face full of cheese grits, chicken & waffles, and various amazing chili-topped items while a DJ lulls you back into feeling whole again. Have a Red Headed Stranger to complete this experience.
Multiple locations
Whether you live in North or South Austin, there is a Park location for you, and they have a Sunday Brunch Buffet from 11am-3pm with a $5 Bloody Mary bar AAAANNND... you guessed it: a DJ. Hang out on the patio and groove a bit while you consume bacon and bloodies, then head inside where you can watch practically any game you want.
Sign up here for our daily Austin email and be the first to get all the food/drink/fun in town.
Previous Venue
Next Venue
Venue Description
1. Frank
407 Colorado St, Austin, TX 78701 (Downtown)
Although Frank is known for its creative hot dogs and sausage sandwiches made with nontraditional meats like antelope, venison, and kangaroo, it also boasts an extensive selection of fries, including chili cheese and Reuben waffle fries. Its cold beer menu includes gluten-free ales, rare craft beers, and ciders.
Previous Venue
Next Venue
Venue Description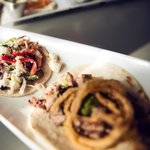 2. TNT Tacos and Tequila
507 Pressler St, Austin, TX 78703 (Central West)
From a group that's been helming SW'ern joints for 20+ years, this pine-floored firewatering hole serves a short list of grilled-to-order tortilla fillers and a long list of tequilas, either along an open kitchen counter, in booths, or at community tables and a concrete bar top lorded over by a rebar liquor cage, giving a worms-eye view of Anejo the Giant vs. the Ultimate Wabo-rior.
Previous Venue
Next Venue
Venue Description
3. Searsucker Austin
415 Colorado St, Austin, TX 78701 (Warehouse District)
A steakhouse from San Diego's Chef Brian Malarkey (of Top Chef and The Taste), Searsucker'll have you sucking on bone marrow and gnawing on Tomahawk ribeyes.