What Would Your Last Meal in Austin Be?
Imagine this: today is last day on Earth (or just Austin, but... same thing), and we're going to eat only the very best & baddest food this city has to offer in the 24 hours before we leave. But just what meals would those be? Before we begin, let's assume a few things. First, money is no object. Second, our appetite is insatiable. And third, we can magically beam anywhere in Austin in a matter of seconds. Here's what we're getting...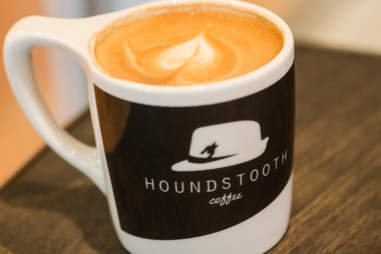 Dan Gentile/Thrillist
Coffee
Houndstooth Coffee (address and info)
Henderson
Your last cup of coffee should come from Houndstooth Coffee. Houndstooth is home to the best beans, the best equipment, and the best-trained staff in the land. Order an espresso or three. You'll need it.
Breakfast
Veracruz All Natural (address and info)
East Cesar Chavez
Don't let the modest trailers fool you, this place means serious business and it's a favorite of Paul Qui. It makes a migas taco that is out-of-this-world good; think crunchy tortilla strips, eggs, avocado, pico de gallo, and cheese all wrapped up in a homemade flour tortilla. It goes best with its watermelon agua fresca.
Knox Photographics
Second breakfast
Fixe (address and info)
Downtown
We aren't going to start listing nerdy Middle Earth foods, but we will get ourselves over to Fixe for its mouthwatering biscuits. They are thick, still hot from the oven, and served with preserves and a dollop of 'nduja (a spicy, spreadable pork sausage).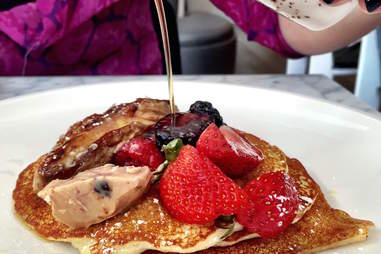 Deana Saukum
Brunch
VOX Table (address and info)
South Lamar
For this meal, we'd pop over to the new South Lamar spot, VOX Table. Its brunch menu is available Saturday and Sunday from 11am-2pm. What's good? This: Olive Oil Pancakes with fig/walnut butter, and maple syrup. And... since you'll be dead tomorrow, go ahead and add the $14 seared foie gras on top. Wash it down with its take on the margarita: the "Danny Trejo" (Olmeca Altos plata tequila, Lillet Blanc, lemon, smoked pineapple ginger shrub, grapefruit oleo saccharum, and Fire & Damnation bitters).
DAN GENTILE/Thrillist
Lunch
La Barbecue (address and info)
East Cesar Chavez
We're still not full (because, magic) so we'll head over to La Barbecue. One pound of fatty brisket, a side of Buttermilk Potato Salad, and a Lone Star will do.
Casey Dunn
Happy hour
Clark's Oyster Bar (address and info) 
Clarksville
For happy hour, we'll need something revitalizing and fresh. Clark's Oyster Bar is sunny and colorful and it makes a mean cocktail. Its M-F HH special offers 50 cents off oysters, half-price burgers, and $5 martinis. (On weekends, half-off bottles of wine!) So, we'll have an assortment of fresh East and West Coast oysters, and a couple of gin martinis. Stirred, never shaken.
Dinner
Ramen Tatsu-Ya (address and info)
North Austin
With so many amazing choices, dinner was a really tough one, but we feel very strongly that this was the right move. First, a meal at Ramen Tatsu-Ya is hands down one of the best meals in town with umami profiles that are second to none. Order the #1 Tonkotsu Original -- it's a creamy pork bone soup with chashu (sliced pork), an ajitama egg (aka marinated in goodness), wood ear mushroom, and scallions. Also, don't skip the Sweet & Sour Yodas; these fried Brussels sprouts tossed in apricot vinegar and curry spice are stunning.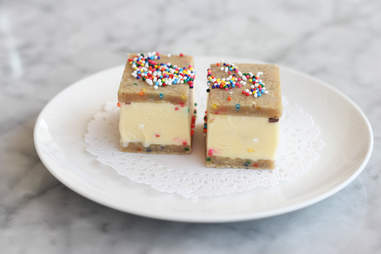 Giant Noise
Dessert
Launderette (address and info)
Holly
Launderette's Executive Chef, Rene Ortiz is a magician in his own right -- but we're here for dessert. Pastry Chef Laura Sawicki's creations are playful and visually beautiful, especially her Pistachio Rosewater Parfait, served with grapefruit, fennel, candied pistachio, yogurt, and tahini. Or you can go with her Birthday Cake Ice Cream Sandwich, a fun throwback to childhood.
Nightcap
Justine's Brasserie (address and info)
East Austin
Hands down. Vinyl playing, beautiful women everywhere, the buzz of a hundred interesting conversations -- atmosphere is everything at Justine's. (Plus, the kitchen and bar stay open until 1:30am.) It's like walking into a sensuous alternate reality. If the good Lord decides to takes us now, we'd die happy -- with a Sazerac in our hand and Charlie Parker in our ear (and maybe some steak frites).
Sign up here for our daily Austin email and be the first to get all the food/drink/fun in town.