As you know, eating out in Austin is basically an Olympic sport. We've got a glut of incredible restaurants, and it seems like new ones pop up every day (which you can keep track of on our ongoing best restaurants page). What you may not know, though, is that we also have a large population of people who are food insecure. Every year, for two weeks, we are afforded the opportunity to check two boxes -- eating well and doing good -- thanks to Austin Restaurant Weeks. It's the perfect excuse to indulge at that restaurant you've been meaning to try while simultaneously helping people gain access to food.
 
Austin Restaurant Weeks was resurrected last year through a collaboration between the Central Texas Food Bank and Jennifer Purcell, raising enough money to provide nearly 550,000 meals to those in need. We can do better this year, right? Returning for 2019 from August 15 through September 2, this two-week-long event features prix fixe meal options at some of the area's best restaurants, including lunch or brunch for $20 and dinner for $35 or $50. Cocktail and beer options are often also available, and the Food Bank can turn every $1 donated into four meals for those in need in Central Texas.
Impress a date, gather your pals, or grab your kindle and sit at the corner table -- everyone wins when you dine out during Austin Restaurant Weeks. Below you'll find our picks for the most notable deals and meals on offer this year, and be sure to check back in as more restaurants are added.
Recommended Video
This Restaurant Reinvented the McGriddle
Downtown
Going to the Driskill is always an experience (even if you don't encounter a ghostly presence). There's something that feels so right about dining in a place that's existed since 1886, but even as the hotel and restaurant are steeped in history, they continue to innovate. You'll have the opportunity to experience a new approach with recently appointed Executive Chef Mark Dayanandan, and Restaurant Chef Cody Leonard who have built out their Austin Restaurant Weeks menu with an eye towards decadence. Smoke-braised short rib, cast iron yard bird, and their 1886 chocolate cake are on both menus. If you opt for the $50 offering, the second course puts you in the "difficult" position of choosing between PEI white wine mussels and butter aged carpaccio. 
Order: Driskill greens, butter aged carpaccio, smoked short rib, and rich Texas turtle cheescake
Cost: Dinner $35 or $50
East Austin
It's safe to say you'll be pleased with your meal at Brewer's Table. After winning multiple awards, including Austin Monthly's restaurant of the year in 2018, they've succeeded in elevating the brewery-plus-restaurant experience in a way other eateries haven't. You can also find yourself spending a pretty penny there when it's not Austin Restaurant Weeks, so take advantage of the $35 and a $50 dining offerings. The $35 meal is meat-focused with options like Akaushi beef tartare and smoked pork ribs, while the $50 menu has two seafood offerings (scallops and Red Snapper crudo) and some lighter fare. There's also a special cocktail, of course.
Order: Red snapper crudo, Akaushi beef tartare and scallops in the nightshade
Cost: Dinner $35 and $50, Cocktail $12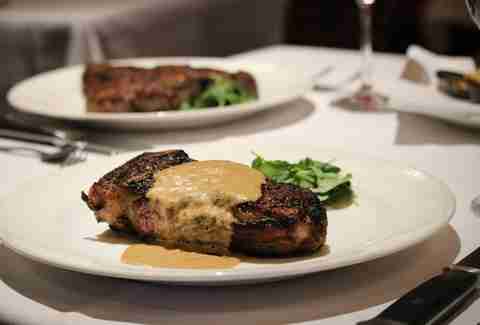 Downtown
Break out your elastic waistband for this Austin Restaurant Week offering: The Capital Grille is busting out all of the classic steakhouse favorites on their $20 lunch and $50 dinner menus. Wedge salad and filet mignon and flourless chocolate cake are just a couple of the featured items. For lighter fare, opt for the seared citrus glazed salmon in brown butter, the tenderloin salad, or the roasted chicken. Here's the surprise kicker though: they've added a hefty "chef's suggestions" menu. For $10 you can add a veal tomahawk chop, an 18oz bone-in Kona crusted dry aged new york strip, filet mignon, or other hefty options. Not only are you helping the food bank with that multi-course meal, you're also treating yourself right. 
Order: Wedge salad with smoked bacon, the 14oz dry-aged NY strip, and chocolate espresso cake. 
Cost: Lunch $20, Dinner $50 (plus add-ons)
East Austin
Head to East Austin Hotel for a taste of this "global" diner helmed by Chef Jason Stude of Second Bar + Kitchen and other La Corsha projects. It's light and bright inside -- the quintessential all-day cafe with colorful blue-tile tabletops and woody, mid-century modern styling. During Austin Restaurant Weeks, the $20 lunch menu features a range of internationally-inspired dishes like sesame-garlic edamame and coconut jasmine fried rice, chilled garlic-sesame Udon with smoked mushrooms and a housemade pastrami Reuben. Also, there's a 1989 chicken-fried steak sandwich that may just result in a full on post-lunch nap. 
Order: Crispy Brussels Sprouts and the chilled garlic sesame udon noodles
Cost: $20 for Lunch
Second Street District
Pinkies up, pals! Le Politique is one of the most stylish restaurants in the city, and the food is just beautiful too. It's become a staple of the Second Street District lunch crew, and if you haven't been there in the evenings, Austin Restaurant Weeks is the perfect time to do so. They're offering a $35 prix fixe menu that starts off right, with poached escargot swimming in garlic butter, plus baguette. You'll have to make a tough choice between hand-cut steak frites with crispy onions, roasted garlic and a farm egg or Parisian gnocchi with potato puree. If you make it through all this rich fare, there's a chèvre blancmange (panna cotta) with goat cheese, frosted almonds, strawberry thyme sorbet, and honey.
Order: Escargot, the steak frites with farm egg and the chèvre blancmange
Cost: $35 for dinner
Downtown
Max's Wine Dive is one of those spots that can please everyone. If you want a salad, get a salad. If you want seven pieces of fried chicken, you can do that too. Max's menu for Austin Restaurant Weeks is always one of the most popular, in no small part because it's got so many options; this year, they're participating with a $20 lunch and two dinner menus (at $35 and $50) and a Tito's Moscow Mule. Do your mid-day lunch right by starting with crispy deviled eggs followed by shrimp and grits, and finished off by a brownie ice cream sandwich. For dinner, maximize your meal time with a prosciutto Caesar wedge, mac and cheese, grilled pork chop (or fried chicken), and a chocolate torte. Also, you should probably just pre-order that doggie bag because you're going to need it.
Order: Avocado toast with tomato bacon jam, shrimp and cheddar grits and bananas foster bread pudding
Cost: $20 for lunch, $35 and $50 for dinner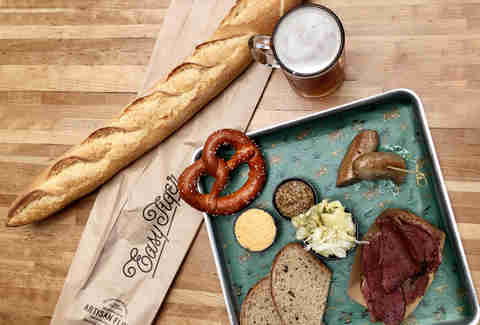 Sixth Street, Central Austin
Family- and dog-friendly Easy Tiger always hits the right note, and both locations are participating in Austin Restaurant Weeks with the same menu this year. The "Food Bank Board" that includes a pretzel, beer cheese, ¼ lb pastrami, rye, bratwurst, and sauerkraut, plus a take-home baguette, is just the thing for a casual hang with friends (or a decent date). You can also make the ultimate sacrifice and donate even more by having one of their Texas Pear-adise cocktails (Tito's, pear syrup, rosemary, lemon, and ginger beer), or an ice-cold brew with both Bell's Two Hearted IPA and Bell's Amber Ale on the give-back menu.
Order: The Food Bank Board and a Texas Pear-adise cocktail
Cost: $20 for lunch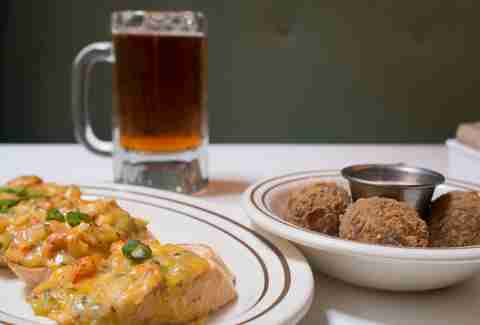 East Cesar Chavez
Sawyer and Co. has cornered the market on sweet southern soul food; it's the epitome of nostalgia, the kind of place your grandpa stopped in for his second cup of coffee. Belly up to the counter or slide into a booth, and order everything with extra gravy. Sawyer and Co. is one of the only places in town with boudin balls, so that's the obvious first choice during Restaurant Weeks (even though the strawberry feta salad screams summer.) The second course is a toss-up between braised short ribs, trout almondine, and blackened creole chicken, all of which are hearty and hefty mains. For dessert, we're always down with the pie of the day: a rotating special made fresh and leveled up a la mode, as it should be. Even if you've already eaten elsewhere, you can sparkle up your evening here with an adult strawberry mint lemonade with Tito's.
Order: Boudin balls, NoLa-style blackened Creole chicken, and the oh-so-sticky Pecan Sticky Bun
Cost: $35
South Lamar
Sitting stolidly on the corner, Mandala can get lost in the hustle and bustle of Lamar Union. The Austin Restaurant Weeks menu here deviates from the norm, featuring pan-Asian fare with a twist, and most of what's on offer can also be made vegetarian or gluten-free. The Mama Phuong Egg Rolls on the lunch menu are drool-worthy with pork, shrimp, taro root, and sweet onion -- you can get them on the dinner menu as well, but the Thai-style deviled eggs with blue crab are hard to pass over. Said dinner menu also has the vividly named Crying Tiger Steak with mint, roasted rice powder and onions mixed in a Thai spicy tamarind dressing. Cool your mouth down afterward with coconut ice cream or mango sticky rice for dessert. 
Order: Thai-style deviled eggs, Crying Tiger steak, and mango sticky rice
Cost: $20 lunch, $35 dinner
South Congress
Fresh-and-fabulous Cafe No Se sure knows how to satisfy during an Austin summer, and the menu changeover earlier this year added some delightful new dishes. We're all still trying to rock a bathing suit over here, so chilled cucumber soup with pickled artichoke and shredded kale salad are our health-conscious choices for an Austin Restaurant Weeks starter. Keep it going green with the English pea mezzelune with whipped goat cheese and arugula, or pack in some protein with the hanger steak and wild mushrooms or chicken milanese with harissa and curry broth. The dessert option is "Lindsay's dessert," a reference to the South Congress Hotel's pastry chef Lindsay Flagg; her concoctions, cakes, and ice creams are all dreamy and delicious, so whatever Lindsay wants to make, we'll take. 
Order: Crawfish beignets, grilled Hanger steak with wild mushrooms, and Lindsay's dessert
Cost: Dinner $35
Sign up here for our daily Austin email and be the first to get all the food/drink/fun in town.