Austin has a fantastic food scene, and everybody knows it... but do you really need another resto guide telling you to go to Franklin BBQ? We're here to tell you about the spots that have, for a bunch of silly reasons, been unfairly left out of the limelight. These are Austin's most underrated restaurants.
Sixth Street
What you're getting: The Godfather
You've stumbled past this joint a million times on your drunken way home, but have you ever stopped to really think -- this is actually kind of good? And not just for cheap street pizza (which it is certainly not at $4.50 a pop) but good for, like, pizza pizza. Not many people are aware that it's also open during lunch hours, so if you're tired of the Home Slice hustle hit seedy Sixth by the bright light of day.

East Side
What you're getting: Millionaires curry and a curry margarita
Tex-Mex or Indian? Trudy's or Clay Pit? Tacos or tikka masala? Neither -- or both, really. You may not have heard of Nasha, but those who are fans of its lamb puff samosas and spice-inspired cocktails appreciate you sleeping on the Tex-Mex/Indian-fusion menu. Your loss just means more tandoori tacos for them.
East Side
What you're getting: Sausage, lemon poppy coleslaw, and jalapeño grits
Like the kid in high school that's just as cool as the popular guy but still lives in his shadow (let's just call him Franklin), Micklethwait Craft Meats garners attention, but not as much as it's due. The tiny trailer less than a mile down the street from Austin's golden boy barbecue restaurant makes everything on its menu from scratch, including the sausage, the bread, the pickles, and even the mayonnaise used in the potato salad.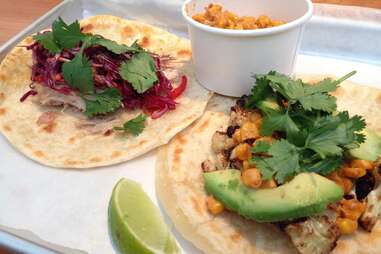 Burnet Road
What you're getting: The pollo pastor taco, the watermelon salad taco, or the adobe short rib taco
This town runs afoul of tacos so there's bound to be a restaurant that drops between the cracks. Fork & Taco was ballsy enough to set up shop down the road from Torchy's Tacos and ballsy enough to suggest that tacos should be eaten with forks. We'll forgive that last one though, so long as this place continues to pair goat cheese with zucchini mole or sweet potato hash with short ribs.

North Lamar
What you're getting: The lamb platter and/or lamb gyro
This out-of-the-way, unassuming house restaurant in North Austin is quickly gaining devotees with its well-done Mediterranean menu, understated Austin decor, and chill patio for vibing out with $2.50 glasses of sangria during happy hour. The lamb menu items are definitely the go-to selection, but you'll do well to order traditional sides like hummus, dolmas, or feta fries as well.
Research Boulevard
What you're getting: Sake mac and cheese, bacon-wrapped scallop yakitori, and the Hybrid roll
Some people might feel that driving a smidge farther North than they're used to isn't worth a fine-dining experience, but those same people would be ill informed. They'd also missing out on Austin's only yakitori lounge and Japanese sports bar, plus a daily happy hour with $2 off wine and cocktails. That's right -- you can have your sports and drink your sake too.
South Austin
What you're getting: Oysters Contraband and Crawfish Evangeline
Way down South, on the complete opposite end of the city, Evangeline Cafe is serving up boudin, frog legs, and jambalaya the likes of which can be hard to find in a central state location. Shoal Creek Saloon is the more well trafficked of Austin's Cajun cuisine scene, but Evangeline has a wider selection that errs just a smidge on the fancier side (if you ignore the kitschy decor).

Downtown
What you're getting: Blackened "naughty" catfish and jalapeño hush puppies
Praised by critics and revered by fans, Turf N Surf Po' Boy can still be easy to miss if you don't know what you're looking for -- particularly some of the best catfish tacos in town. The Lavaca Street Bar restaurant offers a straightforward menu with no-nonsense guidelines: order your surf or turf blackened, grilled, or fried, stick it in a po-boy, on a salad, within a taco, or over nachos, and eat up.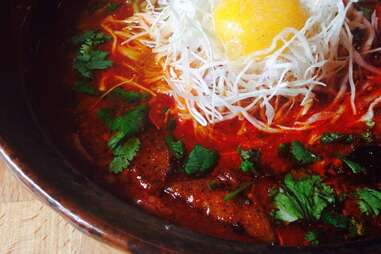 Sixth Street
What you're getting: Miso ramen and squid ink soft-serve
We get it. Michi and Tatsu-Ya are really great and hip, etc. Where's the love for Daruma? Kome's sister restaurant serves up four varieties of chicken broth-based ramen for simple, and apparently healthier, slurping inside the itty-bitty ambient dining room.
Sign up here for our daily Austin email and be the first to get all the food/drink/fun in town.