In Austin, we like to think of ourselves as purveyors of fine food. And what's finer than meat and eggs nestled together in a warm tortilla? We like authentic tacos, we like creative third-wave tacos, but we especially like breakfast tacos. Those nearly medicinal flour tortillas soak up booze and bad decisions like nothing else can. But the question remains: who does them best?
Who better to ask than a group people who are often up late, slaving away on a stage for the sake of entertainment? Mike Wiebe of Riverboat Gamblers understood the relevance when he said, "If I'm eating breakfast tacos, then that means its pre-noon, and if it's pre-noon, that means I am definitely grumpy and probably hungover... overpowered by the painful phenomena known as 'sunlight.'"
Well said! So, we put together a panel of eight Austin-based musicians; they each gave us their top-five picks, and we assigned points (5 for first place, 4 for second, and so on...). Science! Without further ado, the best damn breakfast tacos in Austin!
Recommended Video
The Definitive Eggnog Recipe You Need for the Holidays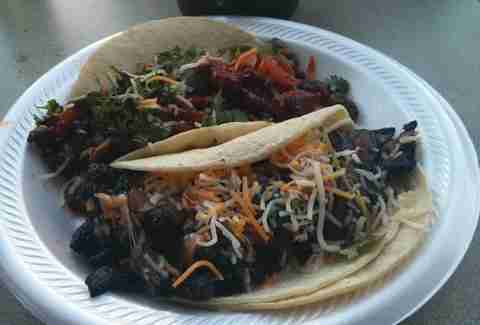 East 5th
These are breakfast tacos that are meant to be eaten at night. With a Lone Star. And some whiskey. On the back patio of East Side honky-tonk The White Horse sits Bomb Tacos' little orange RV. Every single taco they put out is savory and seasoned to perfection, even the veggie options. Here's what The Gents have to say: "These guys have it down, the price is right, and you don't even have to leave the best bar in town to order. Just be careful not to add too much green sauce. It can be a night ruiner." We'll leave the specifics to your imagination.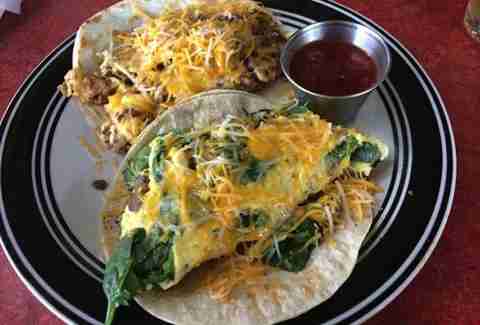 Bouldin Creek
This is the spot to go for the "real Austin experience" — tons of vegetarian/vegan options, dog/bike friendly, locally-made art on the walls, punk rock servers, ORGANIC. You know, the good stuff. Not a fan of eggs? Their tofu scramble is a customer favorite, and totally doesn't taste like air. Their vegan tacos are satisfying, even for serious meat fans. Taco connoisseur Laura Patiño says, "I love this place. It always makes me feel better... great people... artsy vibes."
Manor Road
Spanish for "tiny trailer", Mi Trailita is a favorite amongst East Siders. The homemade corn and flour tortillas, flavorful salsas, and friendly service keeps our panelists coming back. Aisha Burns notes, "This little-known East Side food truck is amazingly cheap and equally scrumptious. It's completely unassuming, as it sits in a Gulf gas station parking lot, but the bacon is thick and tasty, and these tortillas are legit. I get the bacon & egg taco every time. It's a classic taco with an authentic, homemade taste." The Gents also have high praises, "The tortillas are made to order for every taco! Also, being able to speak a little Spanish is definitely helpful here."
Multiple locations
When you wake up hurting, Torchy's is just what the doctor ordered -- except you actually have to order them. The breakfast tacos have what seems like three or four fluffy eggs per taco, and you haven't really lived until you've had a Trailer Park (made trashy) as your first meal of the day. They have salsas of various colors, creaminess, and firepower; definitely ask for extra salsa and horde them. All of Torchy's tacos have an intense, "get-in-my-face-now" factor. "First time I ever had Torchy's was at the South 1st trailer... as I stepped up to the trailer, a ragged guy comes and recommends a taco. He goes into great detail about how it's made, and closes with 'it's called The Monk, after me. I'm Monk.' I still get The Monk on most of my Torchy's visits." Matt Parmenter explains.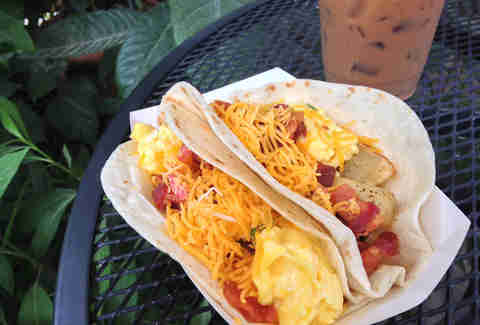 East 6th
This is still a sore subject for some Austinites. The original Tamale House on Airport is gone -- it left us like a candle in the wind. But Mike Wiebe suggests we just "pour some salsa out for our homies...". But seriously, buck up! Tamale House East is very open, very tasty, and they actually serve tamales. The breakfast tacos are made with homemade tortillas and flavorful fillings, which you can enjoy on their beautiful sanctuary of a patio! Definitely try their iced horchata coffee.
Airport Blvd
Now that Tamale House on Airport has closed it's doors, it's only natural that everyone who used to frequent TH should now walk a few hundred feet over to Tyson's and learn to love again. With breakfast tacos like the "Stripper" (bacon, potato & egg) and the "White Girl" (potato, egg & cheese), ordering breakfast tacos has never been more entertaining. Laura Patiño says, "They have badass consistent goodness" and "love the environment, except on an extra hot day." Pro tip: Stay cool with FREE BEER FRIDAYS.
South Lamar
You can go basic-breakfast-style with a meat, egg & cheese combination... but they also have unique vegetarian options, like poblano peppers, calabaza (squash), or cactus to create your own. The portions are huge and the prices are cheap. Advocates of Papalote love the tortillas and the house-made salsas, which are a little creamy and a lot hot. Taco masters The Gents say: "Papalote Taco House, on S. Lamar, is sooo good. Located within eye sight of a Torchy's, you'll be glad you veered left for this place. A little more authentic, and with one of the best mole sauces in town."
Manor Road
Mi Madre's topped a few lists with their consistently pleasing, classic Tex-Mex tacos. Thick, powdery flour tortillas, filled with a combination of chorizo, eggs, bacon, cheese, beans or potatoes will wrestle any hangover to the ground. Add a spicy Michelada and consider it KO'd. Pro tip: they're now open until 10pm, Wednesday through Saturday.
East Cesar Chavez
We aren't exactly sure what they mean by "all natural", nor do we care. These trailers have created a lot of hype lately, and the tacos definitely live up to it. The have a serious following amongst food writers, cool kids, old people, babies... and apparently musicians. The Migas Taco is so popular it may soon have a statue erected in it's honor. Why you ask? Huge. Hot. Crunchy. Comes with avocado. Also, grab a watermelon agua fresca for the most refreshing beverage to ever exist.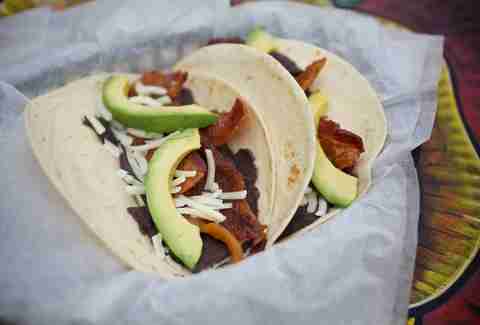 Multiple locations
The knock-down, drag-out winner is the one with the freshest and most high-quality ingredients. For 15 years, Tacodeli has been making Austin's best organic, locally-sourced, and from scratch "white-people-tacos". Singer-songwriter/Spanglish-speaker extraordinaire Chris Brecht is a fan of their papas, egg & cheese. Let's not even get into their Doña Sauce, or it's super secret-recipe — we don't know what's in it, but it burns SO GOOD. Co-owner Eric Wilkerson says, "As long-time supporters of the local music scene, we always strive to serve tacos that rock! Musicians are even the reason we serve breakfast tacos all day on weekends, given their late night schedules, of course." Go Tacodeli!
Honorable Mention: Joe's Bakery & Coffee Shop on E 7th, Taco-Mex Window on Manor Rd
A special thanks to all our musically-inclined panelists: Matt Parmenter of Quiet Company, Dana Falconberry, Mike Wiebe of Riverboat Gamblers, Aisha Burns of Balmorhea, Chris Brecht of AIR - Austin Independent Radio, Sam Chown of Zorch, Laura Patiño of Holiday Mountain, John Wesley Coleman, and all members of The Gents. And thank you to the business owners who keep us all going on beautiful, beautiful taco fuel.
Sign up here for our daily Austin email and be the first to get all the food/drink/fun in town.