Austin's rock star chefs have been busy this year — and you'll be busy too, eating your way through this list. From Thai to Southern to an actual Thai/Southern mash-up, you'll be up to your ears in local, straight-from-the-farm, house-cured, fresh baked, hand-crafted goodness. Here they are, the 11 best new restaurants that opened in Austin this year.
Recommended Video
The Most Overlooked Mediterranean Paradise in Europe
East Cesar Chavez
Owner Adam Jacoby expanded his family's feed & seed company in Melvin to include Jacoby's Restaurant and Mercantile, the new and welcome addition to East Austin. With the help of talented designer Kris Swift, they transformed the building which sits on the Colorado River into a rustic, gorgeous, and inviting space. The meat and veggies are local, as are the beers and spirits. Once you try their chicken-fried steak or pumpkin & goat cheese dumplings, you won't be able to stop thinking about them. Pair those with a "Gin Gin" (bourbon-barrel aged Big Gin, ginger Simple Syrup, fennel bitters).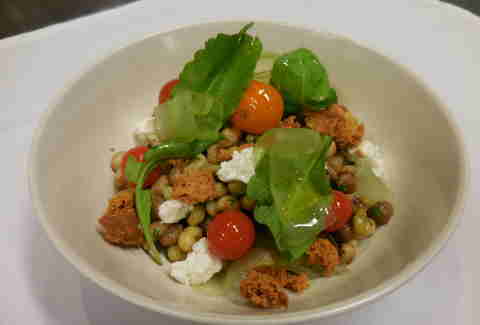 Downtown
Olamaie's executive chefs Michael Fojtasek and Grae Nonas have put together top-notch modern-yet-accessible Southern fare. The ambiance is decidedly cozy, the service is stellar, and and the artfully plated, sophisticated dishes -- such as the chilled North Carolina blue crab and the sweet tea red wattle pork chop -- will have you too busy to worry much about either. It wouldn't be Southern without the San Saba pecan pie. Get serious insider cred when you order the off-menu golden, flaky biscuits!
Manor Road
Dai Due has gone from a supper club (and farmer's market pop-up) from owner/chef Jesse Griffiths to a force to be reckoned with in Austin's flourishing locavore scene. They have an eclectic-yet-focused menu that rotates almost daily with regard to season, availability, and just whatever the crew feels like making that day (think crispy pork confit with apple, jalapeño, and daikon in a pinto & honey sauce). Dai Due is also home to a classic butcher shop, selling traditional cuts of high-quality, hand-cut meat. The name, Dai Due, comes from the Latin phrase: Dai due regni di natura, piglia il cibo con misura, which translates to "From the two kingdoms of nature, choose food with care". Amen, Dai Due, amen.
East Sixth
Chef and Owner Erica Waksmunski (and her hilarious, advice-givin', hillbilly alter ego) has been touted as "irreverent", but it helps that she's also just plain ol' talented. Her tender-with-a-perfect-crust chicken has hordes of fans, but give the pulled pork a try as well. This baby has got coleslaw for some crunch and a in-house (in-trailer?)-baked brioche bun.
Sunset Valley
Named after the patron saint of bakers, Uchi project St. Philip is a dream come true for Southwest-ish residents hungry for a casual weeknight dinner spot. Delicious pizzas, house-baked breads & pastries, and a nicely curated beer & wine selection. Aside from the great pizza, try the chicken & churros and the steamed mussels.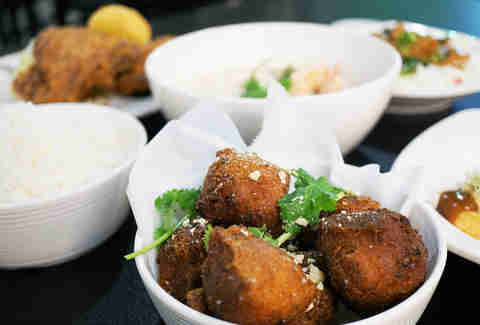 North Austin
Bonnie Wright and Ek Timerek are a bit of a dream team, a perfect culinary mashup, both having done time in many reputable kitchens. Ek specializes in colorful Thai; Bonnie in Southern with a classic French technique. They met while working at the first incarnation of East Side King, which Ek helped launch. Fast forward to this year -- they now co-run Kin + Comfort (located in the food court of Hana World Market), serving dishes that surprise and delight the senses. Favorites include: Tom Kha shrimp & grits, Panang mac & cheese, coconut-ginger hush puppies... and essentially everything they make.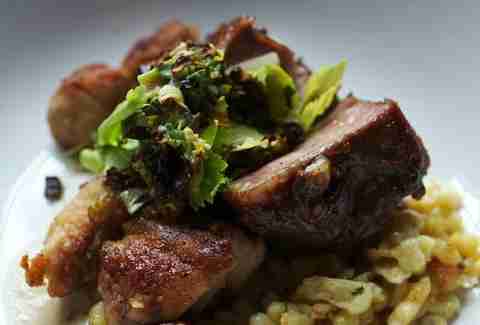 East Seventh
When it comes to laV, every detail has been planned and perfected to a T — from the design of the elegant space to the hand-picked culinary team executing the refined menu of Provencal-inspired cuisine. They have a wine cellar packing 1,200-ish different wines from France, Italy, and the United States (and extremely knowledgeable sommeliers to assist you with your selection). Head in for dinner to score some grilled octopus with tuna sauce & fingerlings or bacon-wrapped monkfish, but also consider the decadent Sunday brunch (Champagne! éclairs! macaroons! paté! crepes!). Also of note: the Sunday supper and its $40, three-course tasting menu.
Multiple locations
Okay, so they existed before this year (in Lakeway, as "The Noble Pig"), but it would be a crime not to include them for the Burnet Road opening in Austin "proper" under a similar, albeit slightly different, brand. John Bates and Brandon Martinez are the sandwich masters behind the new Noble Sandwich Co. They make everything in-house, from curing meats to baking bread. For breakfast, don't miss the oxtail waffle (potato leek waffle with braised oxtail and an over-easy egg) and for lunch try the pecan smoked beef brisket (kimchi, white onion, and samba mayo). They also recently opened a location at The Oasis Brewing Co. at Lake Travis. Good job, guys.
South Lamar
Arguably the most anticipated opening since qui, Odd Duck carved out a name and fan base for itself via its modest, repurposed-truck-in-a-rocky-lot beginnings. Now set within a modern-yet-cozy glass housing, the cuisine is local, seasonal, and inspired -- courtesy of the very creative Bryce Gilmore (also responsible for the wildly popular Barley Swine). The menu changes seasonally; right now check out the beer-battered sweet potato, the grilled bacon, and the apple cake doughnut!
South Austin
Want to melt your own face off — in a good way? Thai-Kun, from the power trio, Thai Changthong, Paul Qui, and Moto Utsunomiya is serving fiery and flavorful "O.G. Thai". The beef panang curry with a fried egg on top will hurt you sooo good. Other musts: the Thai-Kun fried chicken and black noodles. Everything on the menu is flavorful, quick, and cheap. Located behind Wonderland (formerly Cheer Up Charlie's), this is the perfect spot to hang with friends and a beer (which can also be a friend).
East Sixth
A VERY new project from Andrew Wiseheart and Ben Edgerton of Contigo, Gardner is taking what they do very seriously — a vegetable-focused menu that uses meat and/or animal fat as accent flavors. Gorgeous interiors, perfect service, interesting flavor profiles — we can see Gardner becoming the veggie cousin to Qui or Uchi. Is it pricey? Sure. Are the plates small? Yeah. Is Gardner creating an exquisite, art-like dining experience? Definitely.
Sign up here for our daily Austin email and be the first to get all the food/drink/fun in town.