Austin, the Best Day of Your Life is almost here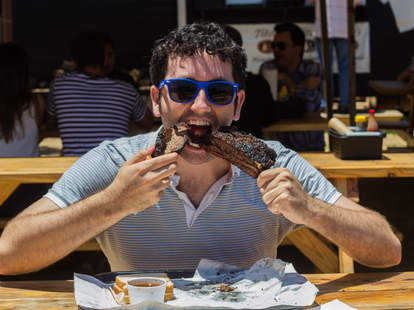 The Best Day of Your Life. For years, it's been that time that fortune teller machine turned you into Tom Hanks, and you got to dance on a giant piano, and have sex with Elizabeth Perkins. But as of next week, it's going to be Friday, June 21st, 2013, and you're going to have Thrillist to thank for it
That's the day you're going to call in sick, and spend sunrise to sunset eating, drinking, and doing the best Austin has to offer. All you have to do is 1) print out this... printable BDOYL itinerary, 2) let us, ugh, hook you up with tons of crap along the way like 2-for-1 tacos at Tamale House and half-off pints at Banger's, 3) stay up to date with what everyone's doing on the social media page here, and 4) be mentally prepared for one very, very Big day.

524a: Time to rise and shine. Wake up before the sun, give yourself a high five on beginning the Best Day of Your Life
Take a dip: Hit Barton Springs for some swim-at-your-own-risk exercise, or if the algae's too much for you, head over to Deep Eddy
Shrinkage solution: Reinvigorate your manhood with a shot of habanero salsa from Tacodeli and a pre-breakfast breakfast taco. YOL(TBDOYL)O
Coffee break: Not even an arrogant barista can get you down today! Luckily, you're headed to some of the friendliest coffee gurus in town at Caffe Medici's Congress Ave location. Or hit up across-the-street rival Houndstooth. Or go East to Readers' Choice caffeine-dealer Thunderbird Coffee
Breakfast: Head East, young man, your migas are waiting at the E 6th location of the legendary Tamale House. And if there's also a horde of people waiting, Cisco's is just around the corner
11ish: The Best Day of Your Life would not be complete without taking in the best scenery Austin has to offer, which, if you're not willing to hop in your car, means an insane wall of graffiti along the train tracks behind Tamale House. If you've got wheels, high-tail it to Sports Bra Central, aka the Lady Bird Lake trail
BBQ: There will be brisket. The longest day of the year means you might actually have time to wait in line for Franklin, but if not, shimmy to the end of 6th St for some John Mueller Meat Co
Smoke'm if you've got'em: Cross the highway to Bolivar Cigar Lounge. They lift the Cuban embargo just for you
Juice up: You owe yourself a $10 smoothie -- scoot across downtown to the Lake Austin location of Juiceland for an Originator chased with a shot of elephant testosterone. If they're out of elephant testosterone, settle for wheatgrass
Afternoon cocktails: Cross back under MoPac to down a rye-fueled fruit cup from Josephine House. But if you're not that fancy, settle for a milkshake from Nau's Enfield Drug
5p: The bell tolls for thee, so get the hell out of Clarksville and jet over to Rainey St to satiate your imperial-sized thirst with several of the 100 drafts at Banger's (of which, we'll be buying you a few, so get there quick). Demand bacon with those beers? Head over to Craft Pride instead and sip next to their Bacon trailer
Happy hour: Head to 2nd St to post up at the bar in La Condesa for half-off drinks like a tobacco-infused margarita, or break out of your shell and into crazy-cheap oysters at Parkside
Get a few moments of exercise, then dinner: Climb the stairs into Swift's Attic before devouring duck wings, goat shoulder, and antelope steak frites. Should the climb be too much, a solid second choice is neighboring... Second Bar and Kitchen, whose grilled Berkshire pork chop is out of this world
Pedicab: Take it back to the East side, admire the cabbie's thighs and skillful banter
836p: As the sun sets on the Best Day of Your Life, watch its descent with a frosty beverage in hand at outdoor East Austin drinking destination to end all outdoor East Austin drinking destinations, Whisler's.