Lance Kirkpatrick

| Stiles Switch BBQ
Lance Kirkpatrick

| Stiles Switch BBQ
In Austin, smoking meat is revered as an art form, a religion even. Many factors have to be considered in order to worship properly and not commit sin: seasoning, fuel, fire, time. We all aspire to nail the perfect brisket, to serve the juiciest chicken, to bring tears of joy to our guests' eyes as they bite into our pork ribs. So, we hit up a handful of Austin's top pitmasters for tips on how we can achieve glory with our home BBQ game.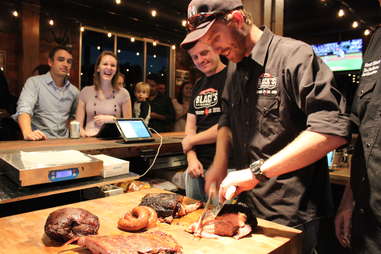 "The number one mistake I see people make when smoking a brisket at home is not allowing enough time. Many will figure out what time their party is, and then just subtract the cooking time from that to figure out what time to start smoking. There are so many variables when smoking at home that I suggest allowing at least three to four extra hours.<br />
<br />
"If everything goes great and the brisket is done right on time, you can just hold the brisket at a low temp until your guests arrive. Those extra hours have always been extremely useful in getting the brisket to that perfect flavor and tenderness.<br />
<br />
"So,&nbsp;<strong>always allow a few extra hours</strong>. If you don't need them, great, the meats will be just fine holding for a few hours. But when those ribs or brisket are still tough and you have hungry guests waiting, you'll be wishing you started earlier."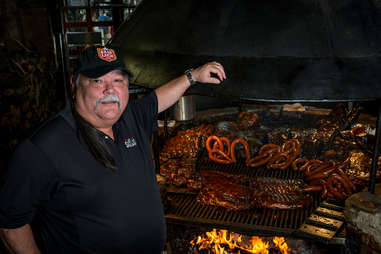 "I always suggest starting by thoroughly cleaning your grill. Make sure to brush the grate with oil, preferably pecan oil.<br />
<br />
"<strong>Never use lighter fluid</strong> when grilling as it tends to give a gas-type flavor."
"Don't be shy with the salt. <strong>When searing or smoking a large piece of meat, don't be afraid to over-season the outside of the meat</strong>. Large cuts need a generous coating to help develop a crust and season the meat all the way to the center. Plus, some will naturally fall off during the cooking process.<br />
<br />
"Allow your meat to cook and trust your fire. If you're grilling a steak or smoking a brisket, allow the meat to cook without checking on it too much. As soon as you put a steak on the grill, it needs time to develop a crust and will release on its own naturally. If you try to flip it right away or move it around a lot, it will stick to the cooking surface and tear the meat. If you're cooking on the smoker, the same principle applies. <strong>Don't go opening the lid every ten minutes and letting out all the heat and smoke</strong>.<br />
<br />
"Give it a rest. Resting is as important as the actual cooking. As soon as a hot cut of meat is sliced into, moisture in the form of meat juices and steam leave the meat and you'll end up with a mealy slice. Resting the meat gives it time to redistribute the natural moisture within the meat and when sliced into will hold onto that moisture."
"Buy a Thermapen. This is the best instant read thermometer on the market, and nothing else I've tried works nearly as well. Knowing exactly what temperature your food is at during different stages of the cooking process will instantly make you a better cook.<br />
<br />
"<strong>If you want to seriously up your barbecue skills, you need to keep a journal of your cooks</strong>. Include length of cook, pit temperature, finished temperature, fuel, and how the finished product turned out. The next time you fire up the pit you can refer back to your previous cooks and make small adjustments to really dial in your technique. Don't rely on your memory, there are too many small variables and you will forget. Nothing's worse than finally cooking a perfect brisket and then not being able to do it again because you don't remember what you did."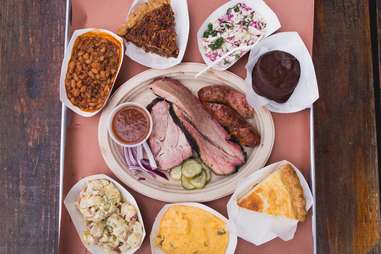 "My best advice for the home cook would be to <strong>maintain a hot fire and select the best fuel</strong>. I prefer a mix of Oak or Mesquite lump charcoal with a small amount of wood chips periodically added to the fire for flavor."
"Start with the best quality meat you can purchase. Quality product in equals quality product out.<br />
<br />
"Use a temperature gauge when smoking. You are going to be shooting for around 200 degrees. This way you don't have to guess when it comes to the temperature. Always burn a clean fire. More smoke in the firebox doesn't mean a better smoked product in the smoker. Choose your wood wisely; in Central Texas BBQ, we use Post Oak.<br />
<br />
"After the smoking process <strong>always let the meat rest for an hour and a half up to 2 hours before slicing</strong>. That's where the magic happens -- in the finishing process."
Sign up here for our daily Austin email and be the first to get all the food/drink/fun in town.