How far is too far to go for great barbecue? Well, people come to Texas from all over the world to eat it, so it's possible there's no such thing as "too far." That said, "an hour or two, tops" seems like a reasonable cutoff. Now, admittedly, Austin's already full of amazing smoked meats, but variety is the spice of life, and nothing quite replicates that rush you get experiencing a top-notch BBQ joint for the first time. With that in mind, these 11 'cue institutions are all within a thoroughly manageable driving distance from Austin. If you haven't been yet, remedy that.

Black's Barbecue Lockhart
Yes, there are now locations in Austin and San Marcos, but nothing quite beats the original Black's Barbecue in Lockhart. The cafeteria-style sides that you can pile absurdly high compliment the deliciously post oak-smoked meats that have made Black's so popular. If you manage to save room for dessert, it's possible you haven't had enough meat, but take solace in the fact that you're about to have some life-changing cobbler. Better yet, stuff your face and take the cobbler to-go!
Recommended Video
Korean Comfort Food Is So Much More Than BBQ and Bulgogi
Kerrville
If you're in Kerrville and need a barbecue (or Bar-B-Q), you simply can't do better than Buzzie's. Beyond their arsenal of smoked meats to choose from, they will occasionally boil up some crawfish when the season is right. But ultimately, this is about more aggressively carnivorous pursuits, and with that in mind, you should know that the Wednesday special is the all-you-can-eat ribs plate. 
Luling
The City Market in Luling (don't mistakenly go to the similarly-named establishment in Houston) doesn't always get top-billing among Texas' great BBQ giants, but it's well-known among those who truly know and love the craft. This is not a place that requires a website or social media presence to get the word out. The pork ribs, brisket, and sausage speak for themselves. When you speak for yourself, don't you dare ask for a fork -- a hint of the mustard-backed BBQ sauce to go with your brisket is an acceptable request.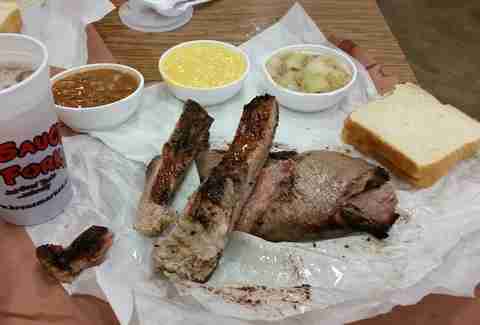 Lockhart
Kruez Market is like a cathedral of Texas barbecue. What started as a meat market and grocery store in 1900 has evolved into one of the most beloved barbecue joints in central Texas. They keep things simple here: signs posted throughout the building note that there are no forks and you won't find any sauce. They don't have anything to hide behind. Grab a thick cut of brisket and see for yourself.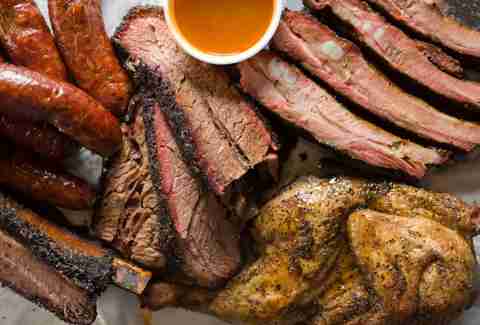 Taylor
Louie Mueller might rightly been the king of Texas barbecue. He was the grandfather of John of J. Mueller Meat Co. and LeAnn of La Barbecue, and was even once said to have been the inspiration for Aaron Franklin of Franklin BBQ, who was blown away by their brisket. With massive dinosaur-sized beef ribs, juicy smoke brisket, and fatty sausages, Louie Mueller Barbecue is a Texas legend that still has its fastball.
Elgin
This self-appointed "'Cue-topia" for barbecue fans has some pretty solid meats selections, but it's the sausage that keeps people coming back. The sausage recipe came from the 1800s, when Henry Meyer immigrated from Germany, and the Meyer family has honed the tradition ever since. The sausages have become so in-demand that you'll find them in local grocery stores, but there's nothing quite like having one at the source.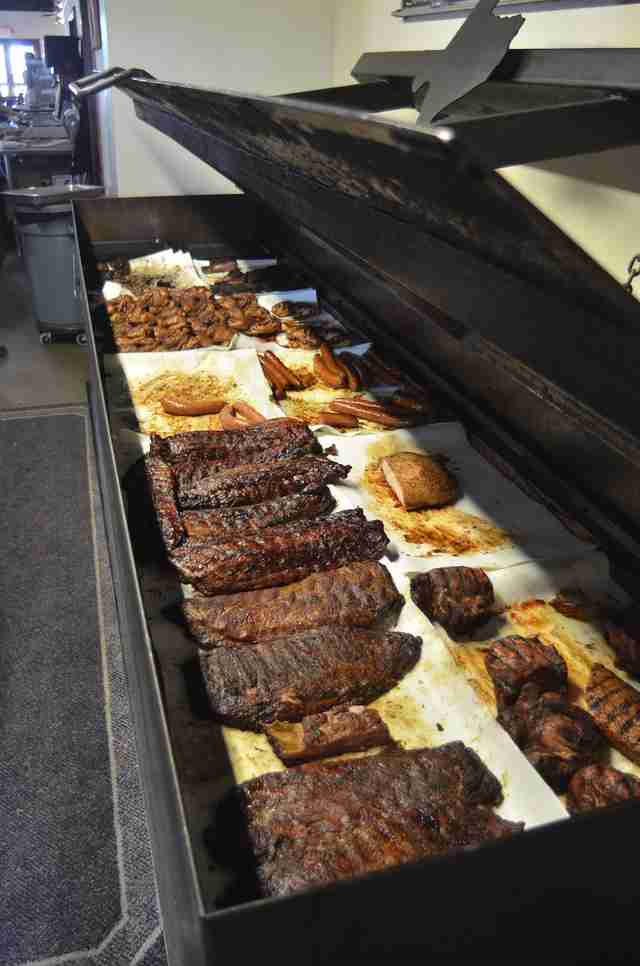 Spicewood
As you walk into Opie's, you're greeted by a huge black pit that looks like some sort of malevolent coffin, but once the lid comes up you are a greeted by the daily array of smoked meats. Unlike many of the classic joints in the state, Opie's is a rather bright and almost alarmingly clean place that is surprisingly devoid of years' worth of soot. Don't worry, all the extra light gives you a chance to admire the beauty on your plate. The pinto beans are free, but make sure you get a side of their tater tot casserole to make your experience complete. 
Lockhart
Now this place is old-school (it was the home of Kreuz Market for more than five decades). If you enter the building from the front, you walk into a smoky dim hallway that seems like something out of a horror film. As you head towards the back, you enter another room where you'll find people waiting to order, standing just inches from the open fire pits. The room is beyond hot, but it smells too delicious for anyone to care much. Once you decide on your selection of meats, you can enter the main dining room where you can order a drink to cool off and a few sides to make the meal complete. The brisket here is solid, as is the sausage -- but there is something about the pork ribs that are just mind blowing. If you can only come for one thing, make it the ribs.
Lexington
There are a few things about Snow's BBQ that make them a singular BBQ establishment. First, pit master Tootsie Tomanetz is a 78-year-old woman who can smoke meats with literally anyone. Secondly, Snow's is only open on Saturdays at 8am until sold out, so you're going to have to get up early and make the drive if you want first choice on meats. In 2008, Texas Monthly named Snow's the best BBQ in the state, and ever since then they have been busy every Saturday with locals and tourists alike looking to get a taste of exactly what makes Snow's so damn good. Spoiler alert: it's the other-worldly brisket.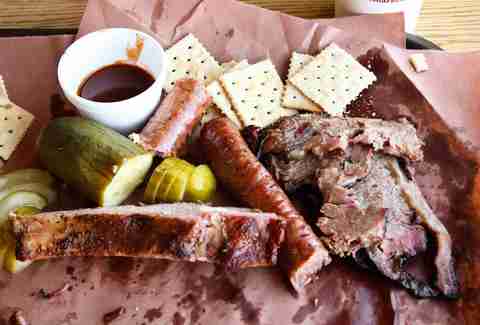 Elgin
Like at many fine BBQ spots, choosing a favorite meat at Southside is no easy exercise (also not easy: following that exercise with actual exercise). The pork steak is thick and juicy, the ribs seems to just melt off the bone, and the brisket is consistently moist. Southside recently opened a second location in the town of Bastrop, so it makes it more convenient to get your barbecue fix no matter what part of Austin you start your road trip from. Just make sure to leave room for the cobbler, served with a heaping scoop of Texas-made Blue Bell ice cream. 
Smithville
Zimmerhanzel's is another Texas joint that is doing its smoked meats right, but its sausage is what's really winning fans over. The brisket and ribs are still on-point, but those links made in-house with beef and spices are on an entirely different level. After smoking in the pit, the skin pops nicely upon the first bite. Be careful, those sausages are juicy, and they have been known to burn a mouth or two.
Sign up here for our daily Austin email and be the first to get all the food/drink/fun in town.