8 reasons to make the trek to Tadashi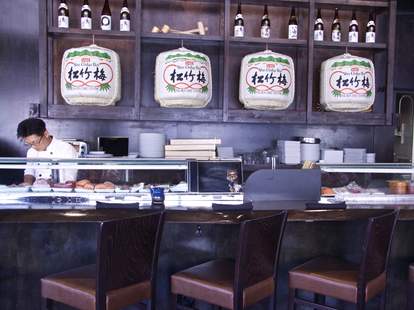 Austin has its share of amazing sushi restaurants, but when we heard about the unusual fish being served at Tadashi in Hill Country Galleria, we naturally thought it merited a firsthand (and first-taste buds) investigation. Here are eight reasons why their sushi artistry is well-worth the 30-minute drive to the edge of Austin.
Veronica Meewes
1. This ain't Tadashi's first rodeo
While this location has been open just seven months, their sister restaurant IZUMI Sushi has been open for five years. While IZUMI focuses on traditional plates, Tadashi offers much-harder-to-source fish.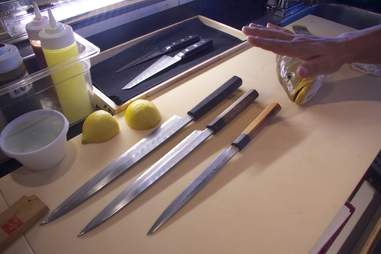 Veronica Meewes
2. Executive Chef Sun Il knows how to handle a knife or two 
Here, he shows off his trusty collection of Yoshihiro cutlery, which includes a sashimi-slicing yanagi he's had for 10 years! He uses a honesuki for slicing chicken, beef, or smaller fish, and a sword-like kiritsuke good for both sushi and sashimi.
Veronica Meewes
3. They fly their fish in directly from Tsukiji Market in Japan twice a week
It arrives at the airport around 1am, when anyone from Chef Sun, to manager Kevin Stout, to one of the servers might make a run to pick it up. Dedication! Besides their tai (snapper), hamachi (yellowtail), tako (octupus), live surf clams, and scallops from Japan (and flounder from Korea), they also fly in Alaskan King salmon and Hawaiian Bigeye ahi tuna, though selections always vary.
Veronica Meewes
4. They specialize in fish you've probably never tried in sashimi form
"When I was young, I ate a lot of different types of fish in Korea," says Chef Sun, "so now I want to introduce that to the American people." One day's special fish might include kanpachi (amberjack), madai (sea bream), suzuki (sea bass), and hata (grouper) from Japan, as well as bronzini, a type of sea bass from the Mediterranean.
Veronica Meewes
5. The fish fly
Tobiuo (flying fish) from Japan is one of Chef Sun's favorites. He typically scales and cuts the small fish right in front of the customer and serves them the entire thing, often garnishing with the head. This one is best cut extremely fresh, he assures.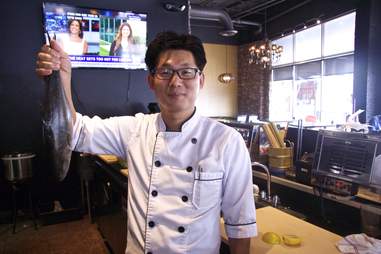 Veronica Meewes
6. Chef Sun is also a philosopher and comedian
If there's a spot at the sushi bar, you'd best be sitting in it! When asked what he does with the fish head, he replied, "That's my food!" with a laugh. A few minutes later he was waxing poetic on sushi, saying, "With Japanese food, first you must eat with your eyes." Agreed.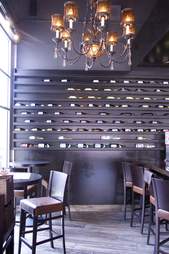 Veronica Meewes
7. They offer over 20 kinds of sake
And are currently expanding that selection. Favorites include Wakatake Onikoroshi ("Demon Slayer") and Hakutaka Junmai Ginjo... kanpai!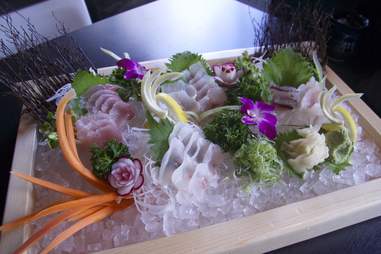 Veronica Meewes
8. Sashimi samplers like THIS
Radish roses, intricately cut lemons, shiso, daikon radish, and green onion with ponzu sauce make for a tasty and colorful palette for some of the freshest fish in Austin.