Put down the taco and try these Austin breakfast sandwiches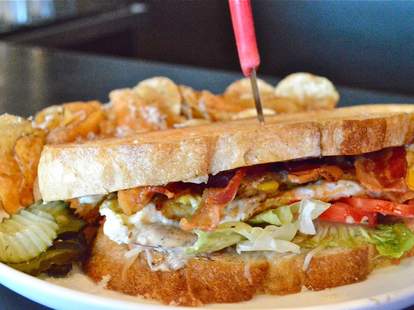 The best foods on earth have one thing in common — they combine the holy trinity of carbs, meat, and cheese (veggies optional). This weekend, give your breakfast taco a little break (let it go, if it's meant to be, it'll come back), and get spiritual with one of these tasty breakfast sandwiches.
East Austin
This sandwich is delicious AND makes you feel like you're eating healthy, thanks to a handful of sprouts and slices of fresh avocado, in addition to the fried egg and fried green tomato on super-fresh Easy Tiger bread.
Campus
These folks have the most perfect way to start your day. Their ham and egg sammy is actually grilled ham, a fried egg, and Swiss cheese on toasted sourdough with blackberry jam & arugula, thus delivering all your food groups in a single bite.
Lasco Enterprises
Downtown
Check out MAX's brunch menu, and try the fried egg sandwich. This baby stacks THREE fried eggs, applewood-smoked bacon, Gruyère cheese, Bibb lettuce, tomatoes, and black truffle aioli between artisan sourdough. All that, and it's served with truffle chips. Make sure you have time to nap afterwards.
Noble Sandwich Co.
Multiple locations
For the same price as a vastly inferior fast food breakfast, you can have a sandwich made with love, and by love we mean fried egg, bacon/sausage, potatoes, and cheddar on fresh bread. Add a cup of coffee and consider your day conquered.
Anastacia Uriegas
Rosedale
Feeling indulgent? Croque-madame is French for "amazing fried egg-topped grilled ham and cheese". The cheese in question in this case is Comté cheese, and the creamy Mornay sauce makes it all the more indulgent, as does the small army of frites.
Sign up here for our daily Austin email and be the first to get all the food/drink/fun in town.