When it comes to eating and drinking in Austin, there are many fine neighborhoods to choose from. But what if you didn't HAVE different neighborhoods to choose from? What if you were confined to only one 'hood for all your eating and drinking, until the end of time. Even though it probably won't happen, it's interesting to think about. Except you don't have to think about it anymore, because we figured out precisely how Austin's finest dining and drinking 'hoods stack up. Disagree? Sound off in the comments.
12. South First / Bouldin Creek
You can find the best mix of sophisticated and straight-up casual dining here. Lenoir impresses with their seasonal fare, Elizabeth Street Cafe has got French-Vietnamese covered, while Sway causes patrons to swoon over their take on modern Thai. If it's tacos you're craving, you can choose from Torchy's Tacos or sit down with a frozen margarita at Polvo's. If tofu is more your speed, Bouldin Creek is ready for you.
11. Sixth Street
Amongst the madness of Bourbon Street... err we mean Sixth Street, there are some great spots. Jackalope and Casino El Camino have killer burgers — hey, if it's good enough for Guy Fieri, it's good enough for us. Beer garden Easy Tiger is a chill escape from the chaos, Parkside has got Downtown's best happy hour, and Midnight Cowboy is a unique and impressive speakeasy-style bar.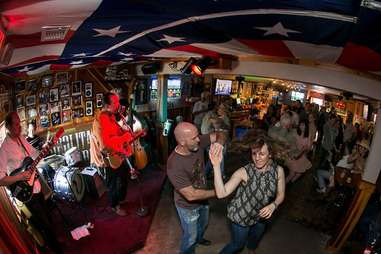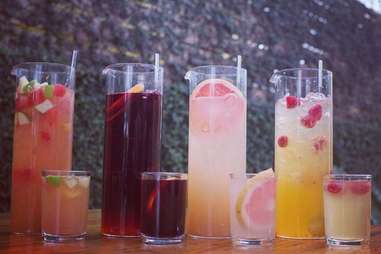 9. South Congress
Tourists and regulars flock to Home Slice for their perfect NY-style pies, while Hotel San Jose's patio is perfect for brunch and drinks. Seafood is the specialty at Perla's, while Vespaio (and the more casual Enoteca Vespaio) are serving Italian perfect for visiting 'rents. Brunch at South Congress Cafe is a ritual for some, as are drinks and jams at the classic Continental Club.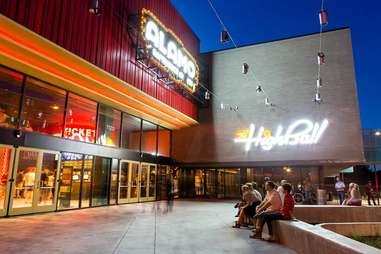 8. South Lamar / Zilker Park
For starters, this area is home to the holy trifecta which is Uchi, Barley Swine, and Odd Duck... do yourself a favor and drop a couple of bills at one of these highly-revered spots. For drinks, join the after-work crowd at Gibson, or head over the newly renovated Highball for classic cocktails and karaoke. Those with a sweet tooth will appreciate the unique flavors at Lick Ice Creams.
7. Rainey Street
This is where 20-somethings go when they graduate from the dollar shots and bar dancing of "Dirty Sixth". Banger's and has a killer menu and 100+ beers on tap, and Craft Pride is reppin' Texas in the best, beer-y way possible (and is also home to a VIA 313 truck!). Treat yourself over at craft cocktail bar Half Step, where they take ice very seriously. G'Raj Mahal has authentic Indian food, now with table service. And Blackheart is taking the win for the bar in Austin with the most impressive whiskey/bourbon selection.
6. Rosewood
A small but heavy-hitting bunch reside in this mini-hood. Presidentially-approved Franklin BBQ and drool-worthy Micklethwait Craft Meats are the best in the city. Blue Dahlia Bistro's open-faced sandwiches are a favorite, and Hillside Farmacy is the see-and-be-seen locavore pick. Quickie Pickie is a convenient store with beer and sandwiches on the menu and a selection of gourmet groceries on the shelves. End your day sipping on some whiskey at the unassumingly old school Longbranch Inn — you may run into your favorite chef/server.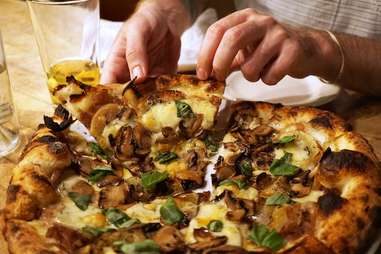 4. East Cesar Chavez
Let's face it, the epicenter of cool in Austin is East, and it's not letting up any time soon. Foodie darlings La Barbecue reside here; Bufalina and taco truck Veracruz All Natural are keeping it real (real good); and Cenote has long been a mainstay for the wayfarers-and-coffee crowd. Perfectly executed cocktails at Weather Up and new dive bar Drinks round out the beverage category. And the new spots keep on coming in the form of locavore steakhouse Jacoby's Mercantile, and mid-century modern diner Sawyer and Co.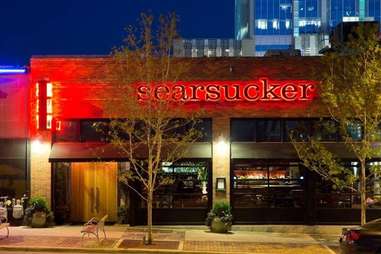 2. Manor Road / Cherrywood
Manor Road has recently become a go-to corridor for drinks and eats. You can have breakfast tacos at Mi Madre's, scarf creative burgers at El Sapo, watch the game at Haymaker, grab a beer at School House Pub, or have one of El Chile's colorful margaritas. Salty Sow is known for their eat-like-a-king-on-the-cheap happy hour. New and noteworthy is Dai Due, former supper club, now a brick and mortar restaurant/butcher shop.