Mexico City, Guanajuato, Oaxaca -- it seems like everyone's going to Mexico these days, and to a person, they all rave about the food. The posole! The sopes! The moles! So what's an Austinite gotta do to get their hands on some of these deep interior Mexican flavors? As it turns out, not much: this city has plenty of excellent Mexican restaurants that go above and beyond the Tex-Mex basics that other places nail so well, and we've gathered together the best of the best. Don't think of it as cheating on your sizzling fajitas or having a relationship crisis with queso; you're just being open to possibilities.
Recommended Video
This fried quesadilla is infused with Hot Cheetos
East Austin
Somehow fusing both East Austin flair and colorful Mexican cultural heritage, this is the bright and lovely restaurant that masa built. Their masa made in house (naturally), and their love for the corn-based dough is evident, informing many of the dishes on the menu. Diners rightly enthuse over the chicken tamal, pork belly carnitas tlacoyo, and tetela al carbon (triangular stuffed masa, papadzul black bean puree, quesillo.)
South Lamar, Burleson Road
El Meson was doing interior Mexican before it was cool, with a menu featuring a deliberately wide range of regional specialties. If you're dining with friends, here's your go-to: order the chilorio del norte (northern-style guajillo pork), the tinga poblana, the chile en nogada, and the fish Veracruzana, and share it all amongst yourselves. There's also an extensive brunch menu ($20 AYCE), and impressive selections of tequila and mezcal!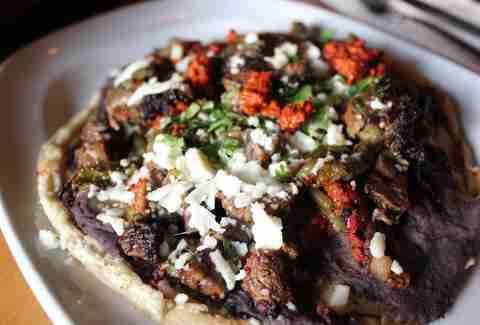 East Sixth
Both the design and the beautifully plated food at family-owned Licha's Cantina are infinitely Instagrammable. The menu is inspired by childhood dishes featuring house-made masa, slow-roasted meats, and sauces redolent with spices. Expect to find interior specialties like cazuelita de cochinita pibil, tlacoyo de camarón con mole, and sopes de lengua, plus an extensive tequila and mezcal selection and an excellent $5 happy hour.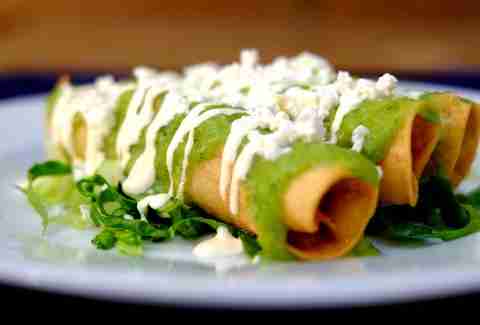 Rainey Street
El Naranjo's Oaxacan cuisine and specialty tequila selection are well worth braving the madness of Rainey Street. Garnachas istmeñas (sopes topped with beef and Oaxacan pasilla slaw), scratch-made moles, tampiqueña, and weekly ceviche are the draw. You'll also find the same rich Mexican flavors at brunch, where they offer an array of breakfast dishes (like the cheeky huevos Benedictos) alongside their truly creative, tequila-heavy (and tasty) breakfast cocktail menu.
South Austin/Bouldin Creek
Sazón moves effortlessly between regional dishes from Puebla, Yucatán, Veracruz, Oaxaca, and Mexico City; two of the most distinctive are chile en nogada (poblano, cinnamon-spiced pork, almonds, raisins, pear, apple, walnut cream sauce) and the pipian verde con pollo (toasted pumpkin seed sauce, poached chicken). Skip the chicken fajitas elsewhere and treat yo' self to a fresh lime margarita on the patio here.
South Lamar and Dry Creek West
You can get a little bit of both worlds (interior Mexican and Tex-Mex) at Azul, but our money is on the interior dishes. Pollo Huasteco (achiote chicken with grilled nopales) and their Cabrito al Maguey (guajillo-marinated goat cooked on maguey leaves) are standouts on an extensive meat-heavy menu. Sunday brunch is no joke either -- the chilaquiles verdes and cafe de olla (and $1 mimosas) are sure to cure what ails you.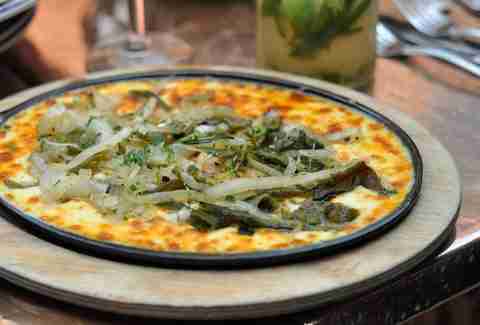 Burnet Road
Gorgeous talavera, bright walls, big art, and scrupulous attention to detail are only the backdrop for the spectacular dining experience at Fonda; it's a spot that has ambiance with a capital "A". The food and service are always impeccable, even during the madhouse AYCE brunch -- fan favorites are the calabacitas rellenos (baked zucchini filled with corn and white cheese), enchiladas de mole poblano and camarones en chipotle cream.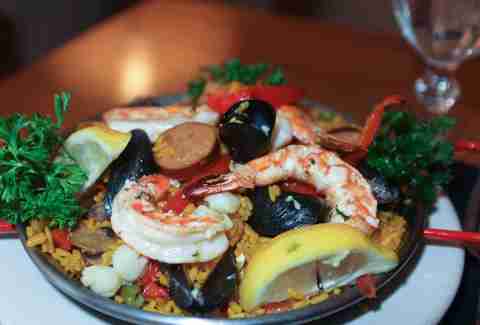 Westlake
Las Palomas has been delighting the Westlake athleisure set since 1983 with their traditional fare, and though they're best known for fresh seafood dishes like seafood Veracruzana, the menu has something for all tastes. The banderillas, puntas a la Mexicana, and chicken mole enchiladas are perpetual standouts, but the daily specials are worth a second look here as well. Las Palomas is definitely family and gluten-free friendly, for those folks looking for an out-of-the-way spot on a Friday night.
South Austin and Balcones
The fast-casual Papalote Taco House highlights tacos, tortas and tostadas for quick and flavorful meal. Papalote specializes in unusual offerings like tacos with hongos y epazote (mushrooms with hominy, serranos, epazote, queso fresco), tortas de cauliflower (!!!) and tlacoyos (black bean corn masa cakes stuffed with potato.) There's a different specialty item each day, and if you're stopping in for lunch, take advantage of the under-$8 deal.
Rosedale
Nestled in the Lo-Burn food trailer park, you'll find T-Loc's Sonora Hot Dogs. Yep, hot dogs: this place introduced an already meat-obsessed city to the heart-stopping bacon-wrapped dogs typically found in Tijuana, Mexico. Topped with beans, diced onions, tomatoes, mustard, and mayonnaise, this might be the last thing you'll eat... but you'll be happy about it.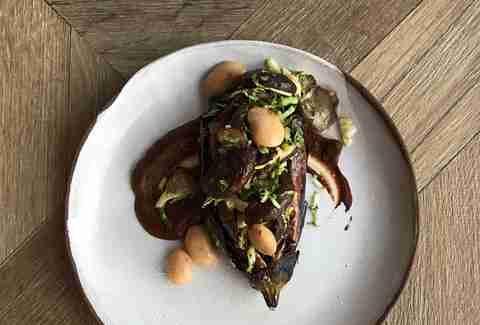 Cesar Chavez
Breezy beach vibes at Adam Jacob's second venture will have you thinking more tropical vacay than lively cantina. Tulum-inspired ceviches, Mexico City-influenced puerco pibil, and daily specialties like Huitlacoche (corn smut) enchiladas are paired with cleverly named tequila and mezcal cocktails like Bidi Bidi, Bom Bom, and Bad Girl Ri Ri. The brunch buffet will impress even your buffet-hating friends; don your guayabera, and enjoy a meal under the watchful gaze of a giant St. Francis statue.
Sign up here for our daily Austin email and be the first to get all the food/drink/fun in town.