Austin's in no way short on brunch options. Tex-Mex? Classic? Boozy?! And there are different reasons for choosing your destination AND your particular dish. So, we compiled eight common brunch situations (brunch-tuations?) and recommendations for each. Have another rec? Let us know in the comments. Note: we didn't include any buffet options, because that is a whole 'nother enchilada. Mmm… enchiladas.
Full English
Hopfields, Campus
The Scenario: You are riding solo, and just want to reward yourself for a productive week with a great meal at a chill spot where you can also read on your iPad while enjoying a top-rated brew.
The Pick: The Full English, which consists of eggs, farmhouse bacon, house-made sausage, tomato, beans, and toast. This plate is like being in England but costs waaay less. Hopfields also has 40-ish rotating beers on tap which have been carefully curated to be the best of the best in currently available brews. The environment here is always relaxed and pleasant and, if you have headphones on, but with the volume turned off, you can do some quality eavesdropping.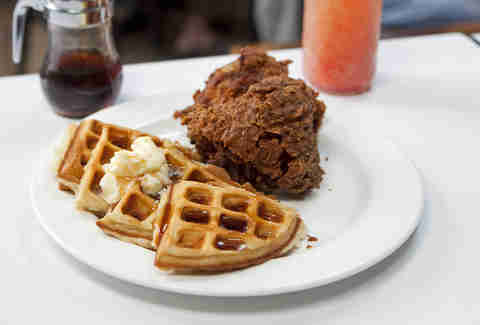 Chicken and Waffles
Frank, Downtown
The Scenario: You wake up after a long night that involved some ill-advised picklebacks, and you resemble Nick Nolte in his famous Hawaiian shirt mugshot.
The Pick: Carbs. Fried Items. Strong drinks. In other words, head downtown to Frank. Order the chicken and waffles -- the chicken is crispy and the waffle tastes like bacon for some heavenly reason. Pair that bad boy with a Red Headed Stranger -- we're referring to Frank's masterpiece of a Bloody Mary, not your Tinder date from last night -- and you're set for the best kind of recovery, because tomatoes and maple syrup have vitamins, duh.
Eggs Benedict
South Congress Cafe, South Congress
The Scenario: The 'rents are in town and you need to take them somewhere that's nice (and that serves mimosas because, yea… parents), but said place needs to be in a 'hood with lots of post-brunch diversions because when Mom is bored she tends to bring up the fact that you're 30 and still on their mobile family plan.
The Pick: A choice that says, "I don't eat Cocoa Pebbles anymore, I'm a grown up", while satisfying your hollandaise habit: eggs Benedict. The perfect bread/ham/egg/sauce ratio. Feeling adventurous? South Congress Cafe also has a crab cake Benedict and a steak & migas Benedict. BOOM!

Migas & Chilaquiles
Tamale House East, East Central
The Scenario: You are very hungry and you have about 10 bucks in your brunch budget.
The Pick: There's much debate about the difference between migas and chilaquiles, and which is better, but let's be clear here: we will eat almost any tortilla/egg/cheese/salsa creation -- and you should too. Our recommendation? Order Mama's Migas with a horchata iced coffee.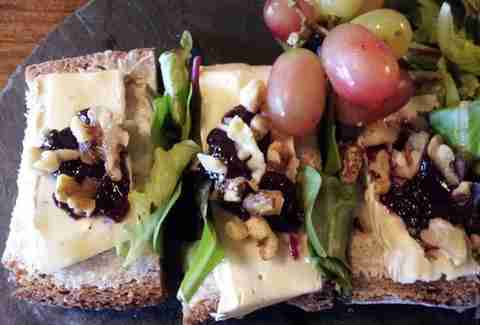 Brie, Walnut, and Jam Tartine
Blue Dahlia, East Central
The Scenario: Brunch with females.
The Pick: Blue Dahlia is a European bistro. Females like European bistros. Women like Europe. Women like the word "bistro". Order the Brie, walnut, and jam tartine. Tartine translates to "sandwich missing one side of the bread", essentially. These fancy little open-faced 'wiches are topped with a thick slice of Brie, a dollop of jam, and walnuts. Add a glass of Champagne, because ladies love bubbly and -- OMIGOD. THIS. IS. LIKE. SO. GOOD.
Chilangos
La Condesa, Downtown
The Scenario: You are entertaining out-of-town guests who actually expect you to do a good job of entertaining.
The Pick: Take them downtown to La Condesa so they can get a taste of how Austin does high-end Mexican. The Chilangos plate is a perfect example of how a hairy, pig-like creature can become elevated cuisine -- we're talking wild boar chorizo, poached eggs, quinoa croquette, arugula, and salsa verde. Go ahead and pair that with a Spicy Paloma while you're at it. Bonus: the place is bright, spacious, and modern, plus you can do some window shopping while you walk off your meal.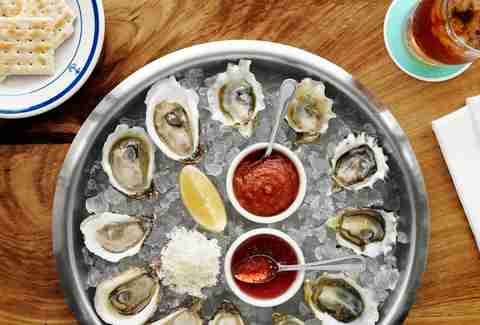 Lobster Roll and Raw Oysters
Clark's Oyster Bar, Clarksville
The Scenario: You have a date you REALLY want to impress with your discriminating taste.
The Pick: Nothing says, "I'm a class act", like balancing the creaminess of overflowing-with-succulent-meat lobster roll and the brininess of oysters with the perfect white wine. Clark's is bright and charming with a modern-yet-classic beach-y aesthetic. If you sit at the bar and the conversation has a lull, you can always dish on how dangerous shucking oysters looks.
Beef Tongue Hash
Contigo, East Austin
The Scenario: Brunch with four of your closest friends sounded like a great idea, but you've been waiting since 10am for everyone to get on the same page and meet up and now you're violently ravenous.
The Pick: Beef tongue hash at Contigo -- the accoutrements include russet potatoes, Japanese scallions, a farm egg, and hollandaise. The portion is satisfying, the flavors are out of this world, and you can order cocktails and snacks even before you're seated. Score! Also, Contigo's patrons have some of the cutest and most well-behaved dogs, so you can pet a few fur-babies while you wait for a table.