Brunch is practically an Olympic sport in Austin; Sunday just doesn't feel right if you haven't kicked it off with a Champagne-heavy mimosa and some kind of Benedict. Given the popularity of our favorite weekend pastime, every restaurant and bar has jumped on the brunch train, making it nigh impossible to choose once Sunday rolls around. Every neighborhood has a favorite, but we've compiled a checklist of our current brunch crushes, spanning the spectrum from classic to creative, from unpretentious to posh.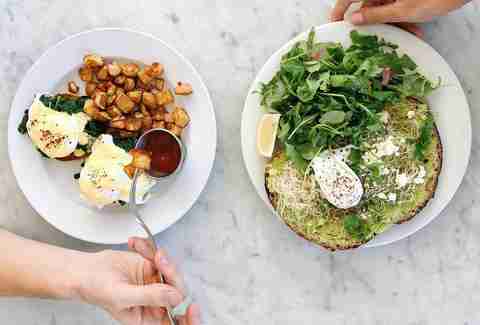 Windsor Park
Hank's
Brightly lit and spacious cafe with a playful menu and plentiful patio seating
When the owners of Henri's Cheese Shop opened Hank's, northeast Austin neighborhoods breathed a collective sigh of relief. With its massive patio, light, airy feel, and mimosa carafes, it immediately became the spot to take groups of hungry brunchers. The cocktail, beer, and wine menu (plus frozens!) is a grand way to kick off Sunday, and the brunch selection is easygoing, appealing to a range of people with staples like avocado toast, steak and eggs, and a spicy chicken sandwich.
Knomad
Casual Austin hangout with excellent drink deals and a Sunday brunch pop-up
Yes, you read that right: your friendly neighborhood bar also rocks an unexpectedly great brunch. You may have posted up here for a casual night of heavy drinking, but on Sundays, local caterer Doryan Rice pops up with a $15 set menu. The lineup is different every week, featuring three main brunch-y dishes, an omelet station, and a specialty pancake, plus fresh fruit and pastries. What makes this especially compelling is that Knomad also does $1.50 mimosas, all-day happy hour, and has live music from 12:30-2:30pm.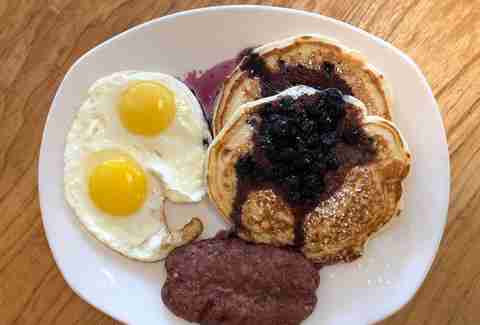 South Congress
South Congress Cafe
Austin's classic brunch destination continues to be a can't-miss
One of the classic South Congress establishments, South Congress Cafe was the destination for brunch in Austin. Rather than kowtowing to the new, posh spots, it has continued to staunchly hold its own with excellent service and a menu that makes it almost impossible to decide what you're getting... almost. The short rib hash with butternut squash and fingerling potatoes is everything you want it to be, and the congress BLT has candied Niman ranch bacon, cilantro aioli, and is served on a pretzel roll. If you've got a sweet tooth, don't neglect the sweet potato beignets tossed in brown butter and allspice sugar, or the famous carrot cake french toast.
Lucky Robot
Contemporary corner restaurant serving Nikkei-influenced brunch
Sushi? For brunch? Kind of! This is definitely not your average brunch menu. Take a walk on the wild side at this Nikkei-centric restaurant which blends Japanese and Peruvian fare. Their take on brunch includes dishes like a savory Japanese pancake with pork belly, napa cabbage, crispy shallots, and a sunny side up egg; and "The Traditional," grilled Atlantic salmon, furikake onigiri, and farm box veggies. Pair those with their $2 mimosas, and a solid 30% discount from 10:30-11:30am.
South Austin
Phoebe's Diner
Charmingly nostalgic diner leveling up classic brunch favorites
Serving breakfast, brunch, and lunch every day of the week, this charming and sunny spot on Oltorf has a menu that won't quit. This is the kind of place where you can easily become a regular, hanging at the counter or plunking down in your favorite booth. The menu is loaded with deeply indulgent dishes like crab cake Benedict, a fried chicken biscuit, and goat cheese grits all served up with a side of the best hash brown casserole in the city. Top it with red-eye gravy, if you dare.
El Mesón
Family-owned Mexican joint serving up a brunch buffet and excellent cocktail deals
You might think that El Mesón is a great Mexican restaurant… and you'd be right, but it's also a fantastic spot for brunch. This sprawling, Saltillo-tiled, female-chef-driven restaurant off South Lamar has been delighting South Austinites for almost a decade with its from-scratch interior Mexican specialties. El Mesón brings the joy back into brunch with a $25 all-you-care-to-eat buffet that brims with dishes like Huevos Rancheros and Motuleños (a Yucatan specialty), Chormigas (migas with chorizo), Pambazo (a Pueblan specialty), Barbacoa, and Chilaquiles. You can also score a great deal on mimosas and margaritas, with the pitchers ringing in at $18 and $22, respectively.
Little Darlin'
Spacious backyard bar serving a solid brunch menu
Little Darlin' knows that the key to a packed Sunday crowd is keeping the people in delicious brunch dishes. This dive bar moonlighting as a gastropub nails the basics, like the Buscemi's Breakfast (eggs, home fries, bacon, pancake, toast, and jam) and the breakfast sandwich, while also featuring an Impossible burger and a hearty Reuben eggs benedict with housemade corned beef. Make sure you grab a $20 mimosa bucket or a Sanchez Michelada (beer + a Bloody Mary popsicle) to level up your day.
East Austin
Bacchus and Brown
Surprising scratch-made, New Orleans-style brunch in a skeeball bar
If you've been to Full Circle bar, chances are you refer to it as "that skeeball bar." Now, though, it's that bar with the fabulous New Orleans-inspired brunch. Bacchus and Brown comes to us courtesy of Kate Rousset; the short brunch menu is served from noon to 4pm every Sunday, and we're just going to go ahead and recommend you bring a group and order everything. If the word of the day is beignet, you'll find them in every form here: beignet sliders (chicken, beef, breakfast, veggie), housemade beignets, and a seasonal beignet. If you partied a little too hard the night before, the Bacchus Fries are your best friend, topped with housemade bacon jam.
Pitchfork Pretty
Local ingredients and a talented culinary team create balanced and surprising flavors
Pitchfork Pretty is without argument, one of the best restaurants in Austin, and the Eastside gem has also historically served a great Sunday brunch with something for everyone. While that brunch was cut from the menu last year, word on the street is that Pitchfork Pretty will be relaunching its brunch service fairly soon -- possibly even within the next month. Is it fair to call a formerly great/currently nonexistent brunch one of the best in Austin? Possibly not, but the rest of the world isn't fair, so why should brunch be any different? Stay tuned for details.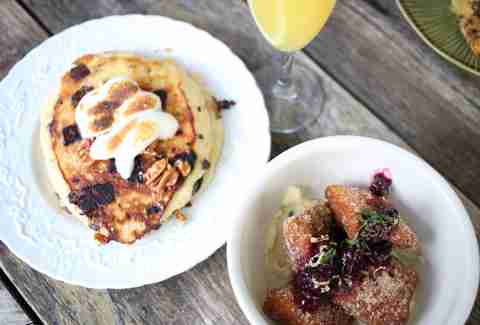 Clarksville
Cafe Josie
Seminal Austin restaurant in an old carriage house, with bottomless brunch plates
This little spot tucked away in Clarksville is an Austin classic that refuses to rest on its laurels; it plays up the antique charm of the old carriage house while surprising you with innovative small plates. For $30, you'll be treating yourself to an all-you-care-to-eat brunchstravaganza with offerings like Rocky Road pancakes, fried chicken biscuits, fried gulf shrimp with charred nori salsa, a breakfast tater tot casserole, and crispy pork belly with spicy avocado mousse. Try one of the seasonal crafty cocktails while you're here.
Hyde Park
Biscuits and Groovy
Musically-inspired spot with fluffy biscuits and loads of toppings
With names inspired by artists like Gloria Gaynor, Johnny Cash, and Donna Summer, the biscuit dishes here are deeply groovy. Step up to this trailer for giant, fluffy, buttery creations topped with so much more than gravy. If you get down with the savory, your biscuit can be covered and smothered with cheese, sausage, jalapeños, scrambled eggs, potatoes, or bacon (or all of the above). For the sweet seekers, try the carrot cake, bananas foster, or the bourbon peach jam. As a bonus, anything can be made vegan or vegetarian.
Campus
Texas French Bread
Delightful French-influenced neighborhood gem with Texas hospitality 
If a restaurant could epitomize the word "lovely," that restaurant would be Texas French Bread. The simple elegance of the space, with its wood top tables and abundant natural light, serves as the perfect backdrop for the brunch service. Judy's Pimento cheese sandwich is a favorite, served on organic sourdough, as is the French omelette where chives, potatoes, and goat cheese keep it light and tasty. For something on the sweet side, indulge in a fluffy banana walnut pancake with Vermont maple syrup.
Mueller
Colleen's
Bright, welcoming restaurant serving up southern-inspired eats on the corner
Colleen's manages to channel that quintessential Southern charm without feeling contrived or overeager. The restaurant from the husband-and-wife team behind Golden Goose and TLC Kitchen is jaunty rather than kitschy, and the menu is substantial but not ponderous. Start off by sharing the deviled eggs and bacon-wrapped dates with gorgonzola dip, plus a plate of buttermilk biscuits with tomato jam. For heartier appetites, opt for the blackened shrimp and gristmill grits, or the buttermilk fried chicken and waffles.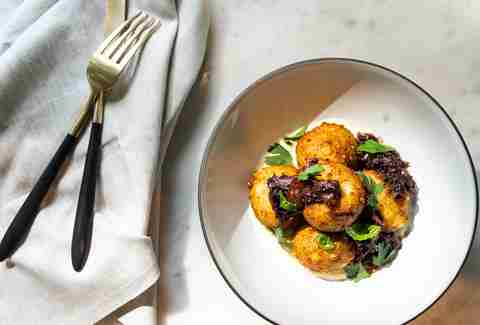 Downtown
Arlo Grey
In-hotel, lakeside eatery from Top Chef winner Kristen Kish
Arlo Grey's brunch menu is in line with the eatery's MO as a whole: modern spins on classics. According to executive chef Kristen Kish, "The brunch menu offers a variety of fried, carb-heavy items, but is also balanced with healthier options like a wild rice, quinoa, and fermented vegetable grain bowl that is finished with avocado, cilantro, and sunflower seeds." We love the hearty burger served with cheesy, whipped Aligot potatoes, as well as the turkey & fontina grilled cheese served with a bowl of always-welcome tomato soup.
Second Bar + Kitchen
Veteran second street favorite with seasonal New American fare
There is an abundance of new and shiny objects in downtown Austin, but Second Bar + Kitchen still manages to sparkle. The sleek interior and covered patio are pleasantly crowded with diners seeking casual contemporary experience. The menu relies on seasonal ingredients, but certain dishes are always in high demand, like the pork belly Benedict with jalapeño hollandaise, and French toast with blackberry curd, ricotta, and basil. For something more lunch-y, go for the black + bleu truffle pizza with Medjool dates and parmesan polenta with roasted mushroom and garlic chile butter.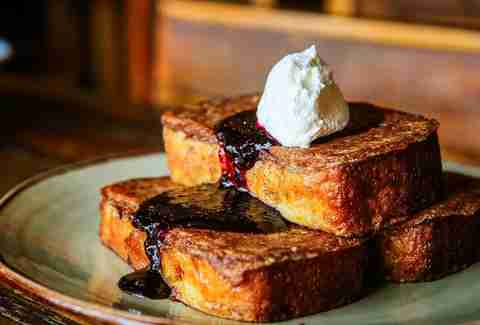 Rosedale/Allandale
District Kitchen + Bar
Welcoming New American restaurant with sundry non-traditional brunch dishes
Beloved by the community in far-South Austin, the newest iteration of District Kitchen + Bar brings its locally-sourced tasty fare to brunch-starved Shoal Creek. It's the second location of the New American restaurant from Amir Hajimaleki, and the menu is just as diverse. Alongside traditional entrees, District Kitchen offers Shakshuka, a King Crab roll with Alaskan king crab and citrus aioli, pumpkin bread French toast\, and even more dishes you won't find anywhere else in town -- except South Austin, obviously.
Domain/North Austin
Sway
A Thai street food take on American breakfast classics
Sway's brunch menu incorporates traditional Thai flavors done with a modern touch. The takes on brunch classics here include unexpected combinations, as in the fried chicken and waffle (a Thai basil waffle, togarashi fried chicken, Thai herb butter, tamarind and ginger maple syrup, and pickled fresno chiles), and the the French toast (toasted rice and mango bread custard, caramelized banana, salted maple rum sauce, toasted white sesame seed, and coconut cream). Wash your food down with a refreshing hibiscus and grapefruit mimosa made with hibiscus tea, fresh squeezed grapefruit juice, and sparkling wine.
Zilker
Juliet Italian Kitchen
Enchanting Italian spot with verdant patio and rich, savory offerings
Brunch with a side of jazz is what you'll find at this sweet Italian eatery on Barton Springs, but wear your stretchiest pants -- this isn't a spot for light fare. Popular dishes include the gnocchi hash with Italian sausage and bacon, the prosciutto and fig pizza with parmesan-mushroom cream, and the mascarpone risotto with peas, bacon, and a pair of poached eggs. The $25 bottle of rosé all day is just an elegant cherry on top.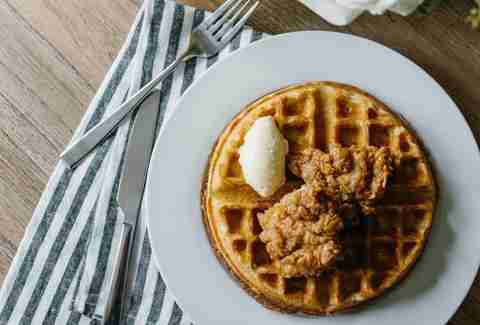 West Austin
The Wayback Austin
Idyllic cottages, plus a sunny cafe with farm-to-table eats
The thing about the Wayback is that it feels like you're a thousand miles away from downtown Austin, when you're really only about 11 or so. Picturesque cottages, spreading oak trees, and natural Texas vistas are the ideal backdrop for a sun-drenched brunch in this Instagram-worthy cafe. The food is simple and sumptuous with staples like thick bacon and buttermilk biscuits, a griddled burger, or the obligatory avocado toast. Brunch ends right before the daily happy hour begins (during which you'll get 20% off glasses of wine and half off cheese and charcuterie board), so you might be tempted to make a day of it while you're out here.
Sign up here for our daily Austin email and be the first to get all the food/drink/fun in town.