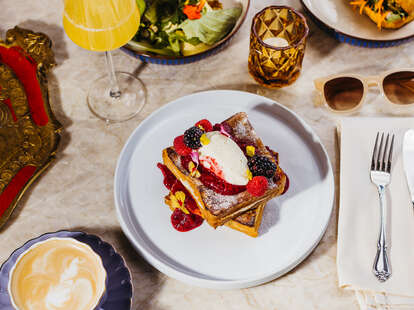 Photo by Cassandra Klepac Photography, courtesy of Honey Moon Spirit Lounge
Photo by Cassandra Klepac Photography, courtesy of Honey Moon Spirit Lounge
It's really only a matter of time before brunch becomes a weekday situation in Austin. In a city where young professionals are time-strapped, combining breakfast and lunch into one meal is scheduling genius. For now, brunch is reserved for the weekend because we don't fancy surfacing out of bed until late morning. Ding dong, time for some caffeine, eggs, and enough carbs to keep us going till dinner. Whether you're into dim sum platters downtown, bacon pizza with a game of shuffleboard, mimosas with a drag queen, or just a good old-fashioned brunch buffet, here are our picks of the best places to smash some avocado for brunch in Austin.
This little bungalow decked out in French-inspired antiques and velvety furniture is so gorgeous you'll want to move in. Chef's Sunday brunch program is a sophisticated way to heal the hangover. The menu features decadent dishes like Biscuits and Foie Gras Gravy with duck carnitas and sunny eggs; Seafood Towers stocked with oysters, cocktail shrimp, and crab claws; and, of course, brunch cocktails (our pick is the refreshing Honey Moon Margarita). Brunch service runs until 3:30 pm, but don't worry if you miss it—dinner's just as scrumptious.
How to book: Reserve via Tock or order takeout via Toast.
For the ultimate brunch buffet, look no further than Ciclo. The downtown darling peddles modern Texan cuisine with a Latin influence. Come on Sunday, when live music blasts alongside a full buffet with omelet and carving stations and, best of all, a loaded dessert bar. You'll be in sugar heaven as you stack your plate with the chef's seasonal selection of decadent bite-sized desserts, from crème brûlées to cheesecake and so much more. Brunch is also served on Saturdays but a la carte.
Because brunch is a social occasion and a chance to catch up with pals you couldn't hear in the club, take the morning-after party to Electric Shuffle, Austin's most happening hangout right now. For 50 bucks, each person gets an entire bottle of bubbles (read: one whole bottleper person! Wowzers), the ultimate brunch board, a bacon-jam pizza, and 90 minutes of playtime on their high-tech shuffleboards. Live DJs soundtrack the experience and trust us, this brunch is legit. You most definitely won't need to snack before din dins.
How to book: Reserve via their website.
The best way to soak up the Texan heat is out by a rooftop pool—so be sure to drop your geo-location pin at Rules & Regs. Their Latin-inflected brunch menu includes Enmoladas with pulled chicken and a fried egg; Avocado Tostada with heirloom tomatoes, fried kale, and fried egg; and a deliciously sweet Churro French Toast topped with whipped cream and cinnamon apple. They also do a BYO Bloody—just tell your server how you'd like yours customized. Bloody brilliant, eh? Look out for special events such as drag bingo, hosted by the talented queens of Extragrams!
We've got two words for you, Austinites: soup dumplings. Wu Chow's boasts some of the best in the city, and that's just one of the many items lining their Sunday Dim Sum Brunch menu that'll have you licking the plate in hopes of soaking up every last bit of sauce-y goodness. From tried-and-true favorites like crispy-edged Scallion Pancakes to harder-to-find traditions like Shrimp-stuffed Eggplant, the only thing not as easy as Sunday morning is deciding which inventive tropical cocktail pairs best with your spread. Brunch runs 11 am - 3 pm and select dishes can be made vegetarian or gluten-free.
There aren't enough restaurants in Austin that can do healthy and crazy delicious (for Texan taste buds) at the same time, but Picnik has it all figured out. Everything is refined sugar-free, seed oil-free, gluten-free, peanut-free, and made from scratch with nutrition at the core. Even the cocktails are better for you (vodka with ginger, honey, and turmeric, anyone?). The brunch menu includes the Picnik Benedict, made with poached eggs, scratch-made hollandaise sauce, and no-sugar-added bacon; and fluffy gluten-free pancakes with blueberries and 100% pure maple syrup. Finish off with some matcha from the bar.
How to book: Get takeout on Toast.
You can smell brunch radiating from Elizabeth Street Cafe before you even enter the front door—particularly, the scent of sweet morsels of doughy heaven, aka beignets. And while you could easily make a meal out of donuts alone (no judgment here), the savory options are not to be missed. The Braised Brisket Phở Bò is about as close as you'll come to a miracle hangover cure, and if that doesn't cut it, the Shaking Steak and Eggs with black Angus ribeye, spinach, spicy fish caramel sauce, and toast should sufficiently revive your weekend.
Now with three locations, these charming and sunny spots sport all-day menus that just won't quit. Phoebe's is the kind of place where you can easily become a regular, hanging at the counter or plunking down in your favorite booth with a steaming coffee in hand. The menu is loaded with deeply indulgent dishes like Phoebe's ham Benedict, Fried Chicken and Grits, Hatch Migas, and an awesome smoked beet hash. Check out their alternative takes on the humble mimosa including strawberry lemonade mimosa and pineapple orange mimosa.
How to book: Join the waitlist via Yelp, order takeout online, or get delivery via Uber Eats.
Sawyer & Co is one of those places that simply makes you feel good—there's something about the inviting retro digs that encourages lingering brunches with pals. While it may have been a while since you last traveled to the Big Easy, Sawyer's menu delivers all those N'awlins staples directly to your taste buds. We're talking Crawfish Etouffee, Jambalaya, Cheesy Grits, Muffalettas, the works. For a twist on the Cajun classics, try the Breaux Bridge Benedict, a take on the brunch fixture featuring boudin, Creole hollandaise, and your choice of toast or biscuit served with brabant potatoes.
When Sandra Bullock's serving brunch, you know it's going to be a winner. Well, kinda. Walton's is indeed owned by the Oscar-winning actress, and while you might not find her personally sweating it by the grill, you'll most definitely find brunch staples dripping with love. Think avocado, sausages, eggs, French toast, and mimosas, served in a vibrant neighborly cafe every Saturday and Sunday between 10 am to 2 pm. Come early, it's always busy, and be sure to get a baked treat to go from the counter.
How to book:
Stop by for first come, first served seating, or get takeout
online
.
Mattie's has long been a cornerstone of the Austin brunch scene. Their decadent Southern-style dishes paired with one (or three) Milk Punches is just the thing for a weekend on the patio. Fluffy Buttermilk Biscuits, Cinnamon Sugar Brioche Doughnuts, and their delicious Breakfast Plate with scrambled eggs, home fries, bacon or Porfi's house-made wild boar sausage, and more are available every weekend. Be sure to "sit and stay while" on the picturesque grounds—if you do, you'll be rewarded with a glimpse of their famous peacocks.
James Wong is a Libra who loves the Spice Girls. Born in London, lived in Tokyo, and now residing in Austin, he has written Texas guide books and spoken at SXSW.