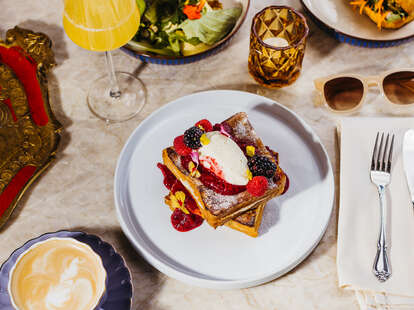 Photo by Cassandra Klepac Photography
Because (most) Austinites are partial to a stiff beverage or four, brunch is a weekend ritual. It's an excuse for us to sleep through breakfast, then go hard when we finally get up. After all, the best cure for a hangover is a little bit of grease, a slew of dairy-based treats, and bottomless Mimosas. Well, traditionally anyway. For others, it might be parcels of dim sum, platters piled high with chilled seafood, heaps of flaky baked goods, or pitchers of energizing veggie-fueled smoothies. The only rule to a good brunch in Texas is that it's delicious, plentiful, and gets you ready to seize the day by, say, 2 pm(ish).
Looking for a tasty restaurant equipped to satisfy all your late morning needs? Here are our picks of Austin's top brunch destinations, each well worth the hassle of getting out of bed.
This little bungalow decked out in French-inspired antiques and velvety furniture is so gorgeous you'll want to move in. Chef Manuel Rocha recently launched his Sunday brunch program, a sophisticated way to heal the hangover. The menu features decadent dishes like Biscuits and Foie Gras Gravy with duck carnitas and sunny eggs; Seafood Towers stocks with East Coast oysters and Gulf shrimp; Caviar laden with crème fraîche; and, of course, brunch cocktails (our pick is the refreshing Honey Moon Spritzer). Brunch service runs until 3:30 pm, but don't worry if you miss it—dinner's just as scrumptious.
How to book: Reserve via Tock or order takeout via Toast.
For the ultimate brunch experience, look no further than Ciclo. This breezy downtown darling peddles modern Texan cuisine with a Latin influence through a unique collaboration with famed chef Richard Sandoval. Come on a Saturday for a la carte options like the Huevos Rancheros (eggs, chorizo, bell pepper, black beans, and all the fixin's on crispy corn tortilla), and nutritious morning squeezes spanning berry and chia or green agave. Or join the party on Sunday, where live music blasts alongside a full buffet with omelet and carving stations and, best of all, a loaded dessert bar. You'll be in sugar heaven as you stack your plate with the chef's seasonal selection of decadent bite-sized desserts, from Crème Brûlées to Cheesecake and so much more. Be sure to plan ahead—both brunch services are routinely booked solid.
Things are seldom quiet at Caroline, least at brunch, when the place is jam-packed with buddies gathering for lazy morning treats that are all fresh, seasonal, and locally sourced. Standouts include Crispy Chicken and Waffles and Biscuits and Gravy, but you can also opt for the well-behaved route with a Spinach and Feta Egg White Omelet with heirloom tomatoes. As for the drinks, there's an extensive list of brunch cocktails, juices, and smoothies, and a dedicated coffee cafe onsite. And make sure to take your cocktails to Upstairs at Caroline after your dishes are cleared to indulge in some games on the rooftop.
The best way to soak up the Texan heat is out by a rooftop pool—so be sure to drop your geo-location pin at Rules & Regs. Their Latin-inflected brunch menu includes Eggs Entomatadas with crispy pork belly; Enmoladas with pulled chicken and a fried egg; and a deliciously sweet Churro French Toast topped with whipped cream and cinnamon apple. They also do a BYO Bloody—just tell your server how you'd like yours customized. Bloody brilliant, eh? Look out for special events in the summer such as drag bingo and other delights.
We've got two words for you, Austinites: soup dumplings. Wu Chow's boasts some of the best in the city, and that's just one of the many items lining their Sunday Dim Sum Brunch menu that'll have you licking the plate in hopes of soaking up every last bit of sauce-y goodness. From tried-and-true favorites like crispy-edged Scallion Pancakes to harder-to-find traditions like Shrimp-stuffed Eggplant, the only thing not as easy as Sunday morning is deciding which inventive tropical cocktail pairs best with your spread.
Tucked into the heart of Downtown, you might miss Comedor if you weren't looking for it. But walk through the restaurant's doors into its serene open courtyard and you'll instantly feel like you've left the hustle and bustle of 6th Street far behind. That sentiment only grows stronger after downing one of their standout Micheladas, teeming with hair-of-the-dog spices. Dreamy cocktails aside, the food is the real star here, and few dishes shine quite as brightly as the Carne Asada y Huevos—it's what every hum-drum steak and egg combo aspires to be.
You can smell brunch radiating from Elizabeth Street Cafe before you even enter the front door—particularly, the scent of sweet morsels of doughy heaven, aka beignets. And while you could easily make a meal out of donuts alone (no judgment here), the savory options are not to be missed. The Braised Brisket Phở Bò is about as close as you'll come to a miracle hangover cure, and if that doesn't cut it, the Saigon Sidecar, with all the kick of fresh citrus and egg white, should sufficiently revive your weekend.
Now with two locations, these charming and sunny spots sport all-day menus that just won't quit. Phoebe's is the kind of place where you can easily become a regular, hanging at the counter or plunking down in your favorite booth with a steaming coffee in hand. The menu is loaded with deeply indulgent dishes like Brisket Benedict, Fried Chicken and Grits, Hatch Migas, and the best Hash Brown Casserole in the city.
How to book: Join the waitlist via Yelp, order takeout online, or get delivery via Uber Eats.
Sawyer & Co is one of those places that simply makes you feel good—there's something about the inviting retro digs that encourages lingering brunches with pals. While it may have been a while since you last traveled to the Big Easy, Sawyer's menu delivers all those N'awlins staples directly to your taste buds. We're talking Crawfish Etouffee, Jambalaya, Cheesy Grits, Muffalettas, the works. For a twist on the Cajun classics, try the Breaux Bridge Benedict, a take on the brunch fixture featuring boudin and Creole hollandaise.
Mattie's has long been a cornerstone of the Austin brunch scene. Their decadent Southern-style dishes paired with one (or three) Milk Punches is just the thing for a lovely spring weekend. Fluffy Buttermilk Biscuits, Andouille and Duck Gumbo, Brioche French Toast littered with berries, Mattie's Finger-licking Fried Chicken, and more are all available for your Sunday Funday pleasure. Be sure to "sit and stay while" on the picturesque grounds—if you do, you'll be rewarded with a glimpse of their famous peacocks.
Tables at this North Loop mainstay are forever in high demand, and for good reason. Once you sink your teeth into an order of Cardamom Cinnamon Rolls, Pancakes with peach jam, Fried Chicken Biscuits with red-eye cream gravy, or any of their other tempting options, you'll immediately understand the hype. And considering their logo is a pig, it would be a crime to overlook the Crispy Pork and Grits, a dish that's all but guaranteed to replace bacon as your new top breakfast meat.
James Wong is a Libra who spends his time pretending to be a vegan, watching wildlife clips, and booking plane tickets. Born in London, lived in Tokyo, and now residing in Austin, his greatest achievement is giving Posh Spice a hug in 2016.