The 9 Best Burgers in Austin, Ranked by Our National Burger Critic
Editor's Note: This story is the fourth entry in Thrillist's Burger Quest, Kevin Alexander's yearlong mission to find America's best cheeseburger. Follow along @ThrillistBurgerQuest, and use #ThrillistBurgerQuest to let Kevin know places he needs to hit.
When my quest took me to Austin, the land of live music and people staying in AirBnBs for bachelor parties, it was hot. Like over 100 degrees hot. "That's cool," said Dan Gentile, our former Austin editor, who acted as my photographer/eating companion for the trip. "Hot summer weather is perfect for burgers."
And yes, in certain contexts, this is correct. But not when going outside causes your entire body to shed water. I had to take my shirt off walking to meet Dan because it was soaking wet and I needed it to dry off by the time I got to the restaurant. Also, I had a backpack. I looked pretty cool.
ANYWAY, for my fourth stop on this journey, I ate, over the course of less than 24 hours, 10 burgers; sweated; heard theories about the Mother of Dragons in Game of Thrones actually being Mexican general Santa Anna; and had one of the best desserts of my entire life. In case you're new to my rankings, here are some guidelines: if the restaurant had multiple burgers, I tried to order the closest to a classic cheeseburger, and if it came with options, I always picked American cheese and grilled onions.
Of course, I missed some places (Swift's Attic only does its burger on Mondays, and I was there on a Wednesday, for example). But I tried my hardest to narrow down the list beforehand by talking to local editors and chefs, reading all the local listicles and rankings, and just generally doing my homework. If you think I missed something, let me know in the comments or on Twitter, or via a fax to the Thrillist office's HR department. But in the meantime, here is my Austin burger ranking:
9. The Congress Burger
This burger came in pretty well hyped. Another local food writer had called it the best burger in Austin in a national publication. Texas Monthly came in hot, naming it the No. 2-ranked burger IN ALL OF TEXAS. Plus, they were playing a Bond movie at the bar, which served a delicious gin and tonic. So things were really looking up here.

And yet once we got down to the burger business, there were some issues. For one, though the brioche was perfectly buttered and grilled, the actual bun was dry and began flaking off in pieces on top. The ground brisket & chuck combo in the meat had a nice char, but was overcooked and dried out quickly. The Gruyere wasn't totally melted, and so it had beads of sweat from being in that half-state of meltability, perhaps because the shallot confit (a fancy-ass take on the caramelized onions) sat tucked underneath. The chips that came alongside the burger were, however, quite delicious.
Dan Gentile/Thrillist
8. The All American Buddy Holly Burger
This place was an instant favorite. It's an old-school sports bar with pennants and amazing excerpts from Dallas Cowboys linebacker Thomas "Hollywood" Henderson's autobiography on the wall. Dan told me the Hut cleaned up in the best burger category in the '90s. "If you asked my dad what his favorite burger is, he'd probably say Hut," he told me.

And it certainly looked like a senior favorite when we went, as it was two-for-one night and the place was jammed with a mix of grandparents and high school kids. We got the All American Buddy Holly burger, which seemed the most appropriately conventional of the many crazy choices, and it was indeed like an old-timey cheeseburger, with American, shredded lettuce, mustard & mayo, and hamburger dill pickles. The patty wasn't quite smashed, but belongs in the thin camp, and had a decent griddle. The completely basic bun was lightly toasted but held its composure. It was one of those burgers that was perfectly serviceable, something you'd imagine eating after a JV high school basketball game with Dan's dad, as he asks you why you didn't play in the fourth quarter. I DON'T KNOW, DAN'S DAD, WHY DON'T YOU ASK COACH REIDY?!?!
Dan Gentile/Thrillist
7. The Hamburger
Something you maybe didn't know about Dan: he's a DJ around Austin. And as a DJ around Austin, Dan tends to know other musicians, which is how I found myself hugging our French waitress at this Downtown cocktail bar. Apparently she is an alt-pop singer of local renown.

And now that you are a little more clued in to my complete understanding of the Austin music scene, let's talk about the hamburger. It comes on a small, soft white bun that almost feels like a high-end Parker House roll. Although the bun isn't toasted, the meat somewhat miraculously didn't soak through. It's on the smaller side, nearly like a big slider. The juicy beef has some funk to it, and might be dry-aged, and Townsend tucks some grilled onions underneath the bottom bun, and puts pickled onion and cucumbers on top of the melted American with some red miso mayo. It was by far one of the most unique tasting burgers I had in Austin, the only issue being that the miso mayo combined with the funky beef actually might've created too much of that umami sensation for my delicate palate.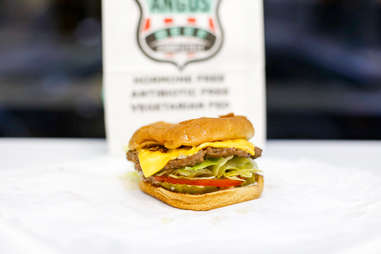 Dan Gentile/Thrillist
6. Cheeseburger with grilled onion and pickle
Everyone says P. Terry's is Austin's local In-N-Out, which is interesting because In-N-Out exists in Austin. But I get the point: it's got quick service and high-quality, thin-patty burgers for cheap. My cheeseburger cost $2.81. You can't even get avocado on your burger at some spots for $2.81.

The bun has a good toast, and is soft, if not inconsequential. The grilled onions are chopped and dumped into the American cheese (like In-N-Out!). There is a special sauce. The patty is juicy but thin, and could've used a touch more griddling. All in all, this is obviously the best deal of the bunch, and a cheeseburger I could eat again and again. Like, um, In-N-Out. Dammit.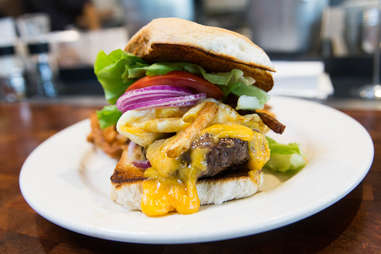 Dan Gentile/Thrillist
5. The Counter Burger with grilled onions
The Counter Burger is an old favorite of mine, from back in the days when I used to just go to cities and eat things casually like a human. It's a simple delight -- a sharp, gooey overload of cheddar on really juicy, grass-fed, salty beef, and an extremely well-toasted "sweet sourdough" bun, which holds up to the juices and offers up its own tang. I got grilled onions on it, and they blended well with the cheese, though I think a few could've used a little more time on the grill. But don't be mistaken: the Counter Burger is an everyday classic.
Dan Gentile/Thrillist
4. Pan Roasted Black Angus Hamburger
Thanks to an inaccurate drop-off from a cab that forced me to walk a half-mile in 100-degree heat, I was quite literally sweating through my shirt when I walked into Clark's, a lovely oyster bar in a residentially fancy part of town I don't get to spend much time in. So that was embarrassing for everyone, but specifically for me, as I gulped water and took down this delightful creation.

Let's get technical: the meat was moist and flavorful, a perfect medium for a thicker-style patty. There was really solid griddle on the bun, and great acid on the house-made pickles to cut through the Gruyere. The aioli caused the bottom bun to get a touch soggy, but it didn't ruin the experience... although I might've ruined the experience for other diners, considering how much I was still sweating while eating.
Kevin Alexander/Thrillist
3. The Classic Burger with cheese
This was the first burger I ate when I arrived in Austin, seeing how it was conveniently located right next to my hotel. Hopdoddy's has made quite a name for itself in the fast-casual burger scene, and I'd actually gotten to the point where I just wanted people from Texas to stop telling me about it all the time.

But now, friends, I see the light. The place is a well-oiled machine, from the person who figures out where you're going to be seating, to the ordering station, to the waiter at your table who politely asks you to take a survey on an iPad to help further improve efficiency. Is Hopdoddy's a German word?

Anyway, let's discuss the burger. The burger itself had nearly perfect char (though it was cooked all the way through, a little above medium, and it seems like the patty is a bit thick to not have them ask about how you want it cooked). The aioli is sweet and tangy, the white raw onion is mild and gives it bite without overwhelming, the leaf lettuce should be chopped, and I could've thrown out the tomato. But otherwise all of the elements played well together, and that's before the bun. The bun was one of the best I've ever had. It has the perfect griddle to hold up to the toppings and juices, and is sweet, flavorful, and fresh (I watched them baking when I ordered). I would probably eat the bun alone if I didn't like the burger so damn much.
Dan Gentile/Thrillist
2. The Royale with Cheese
If you want to know where the cool kids in the industry eat late at night while discussing insane Game of Thrones theories involving the Mexican general Santa Anna, this is the spot. Because it serves food so late, and has a glorious patio, and really good drinks, Justine's might be one of my favorite all-around spots in Austin.

When we went at 1am, Dan basically knew everyone sitting around, which made me feel cool until he got up to go talk to them, and then I felt lonely. But luckily I had one of the best burgers in Austin to keep me company. The hand-ground Angus beef is particularly distinct and has a tasty extra seasoning I couldn't decipher, as my palate only picks up salt and pepper, so hopefully it wasn't just salt and pepper. The Gruyere -- my second-favorite cheese on a burger after American because of its meltability -- blended in nicely with the house-made mayo to give it a layer of salty, fatty deliciousness, and the ciabatta was chewy without getting soggy. Also, I ate a lot of fries by accident. If you're going to eat anywhere else after midnight, you are making an error.
Dan Gentile/Thrillist
1. Plancha Burger
Because of some crazy timing, I was forced to do Austin in less than 24 hours, and Launderette was the second to last burger stop. I was tired, and getting cranky, and the meat sweats had commenced. Dan was clearly regretting agreeing to come along, and kept texting people "Help." Our Fasten driver didn't turn up the Smashing Pumpkins song on the radio when I very clearly asked if she'd turn it up.

And so we came into Launderette "hot," as the kids say, and certainly on a short fuse. But then I ate the burger. The plancha, which is essentially "metal plate" in Spanish, but also basically just means a flat-top, griddled our burger perfectly. The crust was apparent, and had a salty edge, but gave way to a really juicy patty. The challah was soft and chewy but not soggy. The combination of American cheese, special sauce, and pickles seemed to forge a taste Voltron, and it quickly defeated my bad mood. So yes, it was the best burger I had in a sea of really very delicious burgers.

But wait. After the burger victory, Dan insisted we get the Birthday Cake Ice Cream Sandwiches. And so we did, and I am not trying to sound crazy here, but THAT IS THE BEST DESSERT IN THE COUNTRY. I'm not going to try and describe it, because it is not a burger, but go tonight and get a baker's dozen... after you eat that burger.
Sign up here for our daily Austin email and be the first to get all the food/drink/fun in town.
Kevin Alexander is Thrillist's national writer-at-large, and doesn't even really like birthday cake. Follow the rest of the quest @KAlexander03.