Here in Austin, brisket has a way of overshadowing just about everything. But it's still important to pay tribute to the other red meat: hamburger. To celebrate our love of all-beef patties blanketed in cheese and topped with a few token vegetables, we've compiled a list of the very best burgers Austin has to offer. Our 13 favorites range from old-school flat-top burgers dating back to the '70s, to new-school creations by the city's most forward-thinking chefs.
Pan Roasted Black Angus Hamburger
Clark's Oyster Bar
Address and Info
Clarksville
The nautical-themed little brother of Perla's is one of the city's best oyster bars, but the Great Cholesterol Trainwreck of 2015 -- aka the McGuire Moorman Burger Challenge -- revealed that Clark's most savory protein is actually land-based. The Pan Roasted Black Angus Hamburger, topped with Gruyere (the second meltiest cheese in existence) and a thin layer of sauce gribiche, is just as mouthwatering as any of the oysters or caviar, especially if you can score one for half off during happy hour.
Cheeseburger
P Terry's
Address and Info
South Lamar
Although it may seem like P Terry's dates back to the days of the Cosmic Cowboys, the Austin institution has only been slinging patties since 2005. But ever since the first location opened on South Lamar and Barton Springs, it's had the market cornered on the best $2.81 burger in town. It's a steal by any measure, and even more so when you consider the meat is hormone-free and the veggies are local. It wouldn't mean a thing if the burger didn't sing, and it does sing, a melty cheese siren song that pulls hungry eaters to 14 different locations and counting.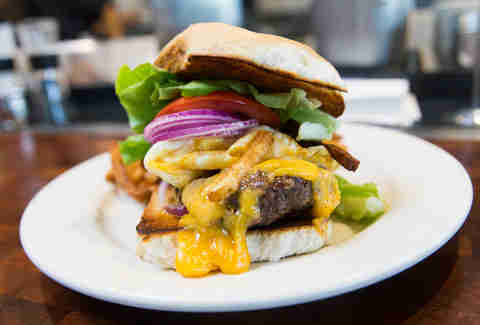 Counter Burger
Counter Cafe
Address and Info
Clarksville
Everything you want in a short-order diner (except elbow room), Counter Cafe's two tiny locations can lead to some of the most vicious brunch-table battling in town. But win a seat and the reward is great, especially when ordering the Counter Burger, with a grass-fed beef patty inside perhaps the city's best bun, a sweet sourdough pillow that's perfect for soaking up a runny fried egg.
The King
Swift's Attic
Address and Info
Downtown
Zack Northcutt is the Willy Wonka of the Austin burger world. Every Monday he comes up with a different burger theme that destroys his legion of devotees' concepts of what a burger can be. Case in point: The King, an Elvis-inspired burger with banana bread buns, bacon, Reese's cup-stuffed beef patty, more bacon, and fried mac & cheese. Each week's burger is extremely limited and unveiled at 9pm, so we suggest pulling up a seat at the bar and putting in your order around 8pm. If that's too much trouble, the lunch menu also happens to have one of the best burgers in the country.
Cheeseburger
Café No Sé
Address and Info
South Congress
The South Congress Hotel has made its mark on one of the city's most important streets, and is also making appearances on the to-do list of any Austin burger lover. Shockingly available until midnight at the lobby bar, the cheeseburger is a majestic experience that requires time to digest, both physically and mentally. The thin, charred patties somehow maintain a rare red center that bleeds umami and is amplified by simple garnishes of sweet onions and pickles. The cheese is blistered just right, and the buttermilk bun adds a cloud-like textural element while otherwise staying out of the way. Adding a slab of bacon and sunny-side-up egg makes it one of this list's most expensive burgers, but, you're worth it.
Classic Hamburger
Crown & Anchor Pub
Address and Info
UT
The only solace to the abysmal downward spiral of the UT football team is the fact that win or lose, Crown & Anchor's burger is always there. San Jacinto St's eternal college bar maintains a crowd that's long since graduated, drawn by cheap pints and one of the best down-and-dirty burgers in town. You won't see a laundry list of what the cows did and didn't eat, or a roadmap to where the tomatoes were grown, but the lack of foodie frills is forgotten as soon as you take a bite.
Double Meat burger
Dan's Hamburgers
Address and Info
South Austin
The oldest and potentially biggest burger on this list, Dan's has been around since the '70s, and the large double-meat burger nears a full pound of Certified Angus ground chuck. The flavors are as classic as the checkered floors, with decades worth of grill seasoning making their way into every bite. Austin's culinary tastes have much evolved since the days when the founding couple, Dan and Fran, were still together (they divorced and split the chain in 1990), but the burger remains unchanged. And their loyal fans wouldn't have it any other way.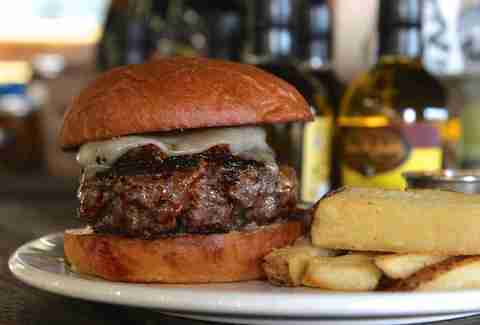 Butcher's Burger
Salt & Time
Address and Info
East Seventh
There's no one that should be trusted more with burger construction than the meat masters at Salt & Time. The butcher burger is only available for dinner, a decision that may disappoint some, but is really in the best interest of everyone's afternoon. The beef is clearly some of the best in town, and a quick ask to your server about the composition of the grind might just lead to a new favorite steak cut in the butcher's case. They don't joke with the pickles, and their nationally lauded salumi skills mean that the extra three bucks for a chorizo-like hunk of 'Nduja Tejano is a steal.
The Dude
Lebowski's Grill
Address and Info
North Burnet Rd
Much respect to Dart Bowl's enchiladas, but The Dude burger from Lebowski's Grill might just be the best bowling alley dish in town. There's an entire cast of specialty burgers, but the simplicity of The Dude lets the zen seasoning of the flat-top stand on full display. The buns come courtesy of Pflugerville-based Lil Mama's bakery, which recently closed up shop, but still supplies Lebowski's with a feather-soft complement to the old-school burger. Just do everyone a favor and be sure to wash up before and after shaking hands with The Dude.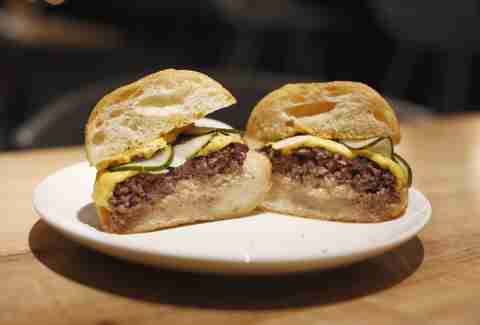 Plancha Burger
Launderette
Address and Info
East Cesar Chavez
Let's be real, everything on the menu at Launderette is an appetizer for the main course: the birthday cake ice cream sandwich. But the burger makes a solid argument for skipping dessert. The playful complexity that characterizes some of the restaurant's dishes is ditched in favor of a straightforward burger that disappears quicker than a Holly St fixer-upper. It's dressed with nothing more than a few pickles and special sauce, but when that acidity comes into contact with American cheese, it flips a switch in your brain that won't turn off until you're a card-carrying member of the clean plate club.
The Royale with Cheese
Justine's
Address and Info
East Austin
When Justine's opened, it was as far east as most Austinites had ever traveled, giving the revelrous late-night haunt a destination element that only added to the debauchery. The city's geography has caught up, but Justine's has maintained that anything-can-happen aura. And what will happen is that you will order The Royale with Cheese after midnight, and you'll be thankful that the hearty ciabatta roll is there to maintain some semblance of order. TL;DR come for the scene, stay for the burger.
Lockhart Link Burger
Shake Shack
Address and Info
South Lamar
Including Shake Shack on a list like this might turn some heads. The New York-born chain would otherwise be disqualified from a local best-of, if not for its wholehearted adoption of Texas traditions by topping its signature burger with slices of griddled Kreuz Market jalapeño cheese sausage. It's an example of a national chain taking regional tastes seriously, and for that, we salute it.
Terlingua
Hopdoddy
Address and Info
South Congress
Café No Sé has forced Hopdoddy to watch the throne, yet ask anyone waiting in the line snaking around the restaurant and they'll tell you that Hopdoddy is still king. The breadth and consistency of burger options is unparalleled, each worthy of its own love letter, though you can't go wrong with the chile con carne Terlingua. It's not just the meticulous topping combos or the never-ever beef; the top-down dedication to burger perfection makes every meal there feel like a special occasion. Even though it might sound heretical, this place earns bonus points for having surprisingly excellent salad options.

Sign up here for our daily Austin email and be the first to get all the food/drink/fun in town.