Austin's Best Cheap Bar Food
If you've ever watched Bar Rescue (and let's not even get into the "Austin cockroach" episode), you know that when a bar serves food, people stay longer. Staying longer leads to shelling out more money, which, in turn, leads to lying to your landlord that the dog ate your rent check AND somehow changed your Venmo login. To keep you honest and well-fed, we've rounded up some of Austin's favorite haunts with the cheapest and best bar grub. And since you're drinking beer and liquor, most of them revolve around fried meat and cheese. 
Treat Photography 
Stay Gold
East Cesar Chavez
Cheap eat: Toaster's baked mac, $5
Stay Gold's cozy patio was made more inviting by the arrival of Toaster and its comfort food fare. After ordering a Beauty School Dropout (El Silencio mezcal, Campari, grapefruit bitters, lime) from the bar, get Toaster's famous baked mac. It's a cheesy, baked masterpiece with a sprinkling of crispy breadcrumbs on top. 
 
MugShots
Downtown
Cheap eat: Cheeseburger, $2
While the little dive bar located right around the corner from Dirty Sixth is known for its $4.50 happy hour pitchers, what you may not know is that on Fridays from 5-8pm, you can order a cheeseburger for $2. The grillmaster will hook you up with a classic homestyle burger (or a veggie burger for $3) which pairs perfectly with that gallon of cold Lone Star you will be drinking.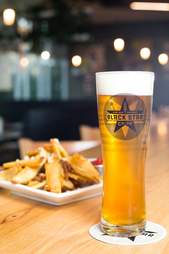 Black Star Co-op Pub & Brewery
Black Star Co-op
North Lamar
Cheap eat: Seasoned chips, $6
Don't let the name mislead you. These are thick, handmade fries seasoned heavily with salt, pepper, and lots of garlic. They are crazy good to order with one of Black Star's signature brews, like the crisp and floral High Esteem. Get wild, live a little... add cheese for 75 cents more. 
 
Workhorse
North Loop
Cheap eat: Fried pickles, $5
The man (or woman!) who discovered the process of coating pickles in batter and frying them is an American hero. There is something so right about the crispy brininess that makes fried pickles the ideal snack while drinking copious amounts of beer. Workhorse's kitchen offers the golden, beer-battered variety served with ranch dressing for a mere fiver.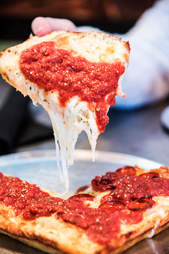 Weston Carls
Violet Crown Social Club
East Sixth
Cheap eat: Slice of Via 313 pizza, $2.50+
If you haven't ever tried Via 313's Detroit-style pizza, stop everything you're doing and just go... immediately. It's that great. Lucky for those of us who love the nightlife (and got to boogie on the disco 'round?), Via 313 is posted up outside of Violet Crown Social Club. Order at the trailer, grab your number, go order drinks inside, and when your slice (or whole pie, who am I to judge?) is ready, they'll drop it off to you. How can you say no to that kind of top-notch service?
Courtesy of Black Sheep Lodge
Yellow Jacket Social Club
East Fifth
Cheap eat: Frito Pie, $6
Yellow Jacket Social Club has a fantastic kitchen pumping out consistently high-quality sandwiches, soups, and even brunch. But after a few shots and a few beers, you need a salty, filling meal that will leave enough cash in your account to get home. Here's where the Frito Pie comes in. It's served in a Fritos bag, with a generous scoop of mouthwatering Cuban beef over the chips. You can add pico de gallo and sour cream for 75 cents more, or substitute green chili beer beans for the protein.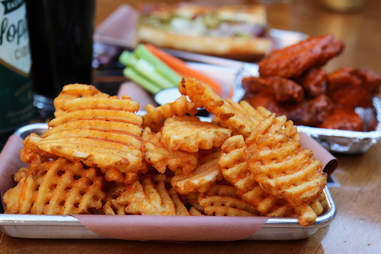 Courtesy of the Jackalope
The Jackalope
Sixth St
Cheap eat: Basket of waffle fries, $5
These are some of our favorite fries. The flavor/crunch ratio is just right, and it's just fun to hang out at The Jackalope. They're smart, too: they know that by giving you a giant basket of crispy, dark gold, seasoned waffle fries for $5... well, you're going to need a couple more beers. That's how huge the serving is -- and we're A-OK with that. 
Easy Tiger
Sixth St
Cheap eat: Pretzel and beer cheese, $4
Easy Tiger is a perfect Sunday Funday destination, and boy, are you going to work up a sweat destroying your crew in ping pong. Grab a fresh-baked classic German pretzel and a side of the famous beer cheese. The creamy cheese dip is made with lager & sharp cheddar, and is mega garlicky, so make sure your date eats some, too. Then you can be gross together. Awww.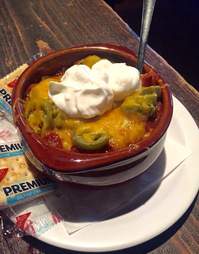 Courtesy of Black Sheep Lodge
Black Sheep Lodge
South Lamar
Cheap eat: Black Sheep Chili, $3.75
What a great deal in a city where Whole Foods charges $4 for bottled water. A bowl of Black Sheep's yummy homemade chili will run you a cool $3.75, a total you could probably find under your car seat... along with some petrified fries. Order it with or without beans, but always add cheese.
Drinks Lounge
East Cesar Chavez
Cheap eat: Chik'n Tacos, $5
Arlo's is a bit of an anomaly; it is strictly vegan, but also manages to kick everyone else's ass in regards to flavor. Any burly meat-lover would cry tears of joy at the mercy of Arlo's tacos, burgers, and sides. The Chik'n Tacos come two per order and are made with house-made seitan (wheat gluten), grilled pico de gallo, lettuce, and chipotle sauce on corn tortillas. If you're alright with spending a few dollars more, get a burger, tots, or sweet potato fries.
Sign up here for our daily Austin email and be the first to get all the food/drink/fun in town.
Anastacia Uriegas is an Austin-based freelance food, drink, and culture writer whose booze and french fry habit is keeping our food economy strong. Follow her to all the truffle fries and fancy cocktails: @anaurie.