Austin has experienced a sonic boom of growth and national interest in the past few years, and in part with that boom we've been declared a culinary destination. But in all of those hundreds of restaurants, we're now home to thousands of menus, and on those thousands of menus are... too many dishes to count. Well, these are the 11 best of all of them.
Recommended Video
Art of the Meal: Chloe Rose Makes Super Mario Bros Art With Hot Sauces
The Original Kimchi Fries
Chi'Lantro (address and info)
Multiple locations
The people at Chi'Lantro have hit the munchie jackpot with their Kimchi Fries -- golden fries topped with your choice of ribeye bulgogi, spicy pork, spicy chicken, soy-glazed chicken, or marinated tofu, and topped with caramelized kimchi, cheddar & Monterey Jack, onions, cilantro, magic sauce, sesame seeds, and Sriracha. So good.
Mixmix Bibimbap
Koriente (address and info)
Red River
For those times when you want to eat something healthy without resorting to a sad desk salad, there's Koriente. The Mixmix Bibimbap is a giant bowl of fresh, julienned veggies on top of jasmine rice and field greens -- you then choose a protein (we love the sashimi spicy tuna and the fried tofu) and add-ons like a fried egg or avocado. The accompanying sauce and a little mixing result in the most amazing AND healthy meal you'll ever have to eat.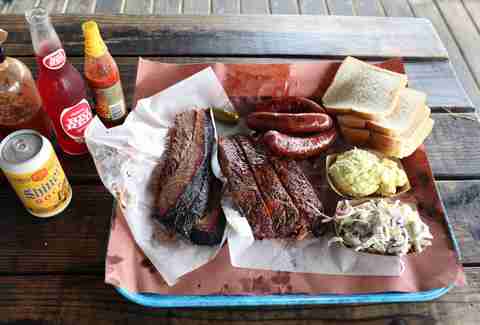 Brisket
Franklin Barbecue (address and info)
11th Street
No explanation needed. If you've ever gotten up extra early on your day off to sit in a folding chair for three hours, you get it. Moist, juicy, melt-in-your-mouth brisket by the very skilled and super-nice 'cue master, Aaron Franklin.
Short rib
Second Bar + Kitchen (address and info)
Downtown
We love that you can still get Congress' quality for a lot less money at Second Bar. The short rib is a piece of meat that just falls apart -- its accompanying black truffle grits and crispy onion make this a home run of a meal.
The Detroiter
VIA 313 (address and info)
East Austin (& Other Locations)
We can't get enough of VIA 313's Detroit-style deep dish pizza. Its cheesy edges are perfectly crisp, and the dollop of marinara sauce is heavenly. The Detroiter is an amped-up version with double pepperoni and double cheese.
Ribeye & steak frites
Péché (address and info)
Warehouse District
Péché offers a large juicy ribeye topped with a pad of compound herb butter and a pile of golden fries. Although many places in town have their own take on steak frites, this one comes with great service, zero stuffiness, and cocktails... lots of cocktails.
Migas taco
Veracruz All Natural (address and info)
Multiple locations
This little truck is giving Austin's taco giants a run for their money. The migas taco is full of egg, pico de gallo, cheese, avocado, and lots of crispy tortilla strips. Top it off with its house-made salsa.
#1 Tonkatsu Original
Ramen Tatsu-Ya (address and info)
North Austin (& Other Locations)
Slurping down a bowl of Ramen Tatsu-Ya's tonkatsu ramen is a transcendent experience. The creamy, pork bone-based broth is complex and teeming with umami flavor. The chashu pork and marinated egg melt in your mouth. The best ramen, hands down.
Thai Chicken Karaage
East Side King (address and info)
Multiple locations
The deep-fried chicken thighs tossed with sweet & spicy sauce, fresh basil, cilantro, mint, onion, and jalapeño helped put ESK on the map -- we use the word "helped" because the Brussels sprouts and beet fries are hella good too.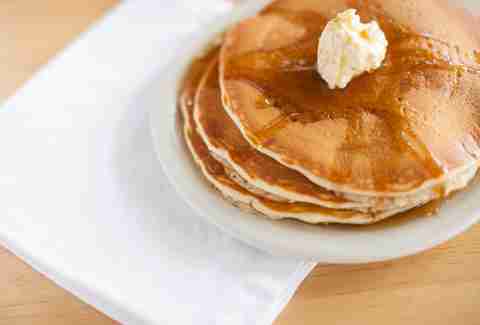 Gingerbread pancakes
Kerbey Lane Cafe (address and info)
Central (& Other Locations)
There's something so inherently wholesome and just right about gingerbread pancakes. Whether your style is single or full stack, these will fill you up with nostalgic goodness in addition to actual pancakes.
Raw oysters
Clark's Oyster Bar (address and info)
Clarksville
The sunny, gorgeous atmosphere combined with perfectly attentive service and fresh selections make Clark's a no-brainer for oysters. It always has great choices of both East and West Coast options, which rotate out with availability and season.

Sign up here for our daily Austin email and be the first to get all the food/drink/fun in town.