Austinites love dogs: You'll find them in every Tinder, Bumble, and Hinge profile you've ever swiped right on, in every park and outdoor space, and paddling happily in all the rivers. One of the few joys of being stuck in traffic on the 35 is the slim chance of seeing a pupper hanging out some pickup truck window, tongue flapping in the wind. So why should you be parted from your beloved pooch when it's time to take a snack/drink break from all that activity? You shouldn't. Instead, leash up your hound and visit one of the spots below: each one prioritizes floof enjoyment just as much as the more sedate human variety.
East Austin
Not only does this sleek spot have some of the best-dressed patrons in town (there's no better pickup line than "can I pet your dog?"), but there's also a generous patio out back for on-leash hangs while you enjoy a michelada or two. In addition to their small but artfully selected list of beers, wine, and sake, Kinda Tropical serves up a full menu of trendy and tasty snacks, like their amazing avocado toast and their jerk chicken plate. There's a fenced-in area around back as well, where you can let your beast run free as you talk to your new friends.
Rainy Street
Let's start with the obvious: Begging is going to be a problem here. With so many delightful varieties of homemade sausage on the menu (a solid go-to is the South African antelope merguez: a real sleeper topped with baba ganoush, feta, and mint), your discerning doggo will no doubt be laying on a serious case of puppy dog eyes. Fear not! They can play in the distractingly fun fenced-in dog zone while you scarf down brats and listen to the live music that plays two to three nights a week.
Allandale
This off-the-leash paradise is like Disneyland for dogs, with agility equipment to romp over, poop scooping tools and bags for responsible owners to use, and even water-bowl-refilling "Bark Rangers" who make sure everyone stays safe and has a good, clean time. Grab a YBBLT with romaine and smoked pepper bacon for yourself, and an order of dog sliders for your four-legged friend.
Downtown
Spider House might be the most quintessentially Austin space in town: a combination coffee shop/bar/eclectic event space with a full menu and a lovely patio where patrons can sit in the shade and sip hibiscus ice tea or a nice pilsner, visit one of the food trucks in the parking lot, or groove out to live music at the attached theater. Sure, dogs have to stay outside, there's no reason for them to miss out on all the fun!
South Congress
This laid-back brew pub has seasonal beers on tap, a perfect lounging patio for you and your hound, and a menu of sandwiches, pizzas, and small plates. If that wasn't enough, coming here is practically a charitable act since The ABGB donate 5% of their proceeds to the Hell Yes! Project, dedicated to making Austin a better place to live through partners like Austin Pets Alive! and Foundation Communities. Remember, all dogs go to heaven, but that doesn't mean you couldn't use a little help yourself.
East Austin
With a generous patio and beg-worthy food trucks on weekends, this brewery is the perfect place for dog-accompanied imbibing. They even make their own dog biscuits, crafted in-house from the master grains left over from the brewing process, blended with other natural ingredients like whole wheat flour and eggs, and tested in-house by Suzy, an adorable yellow lab whose smiling mug graces the bag. If you're interested in taking a tour of the brewery, though, note that dogs are only allowed on the outdoor patio.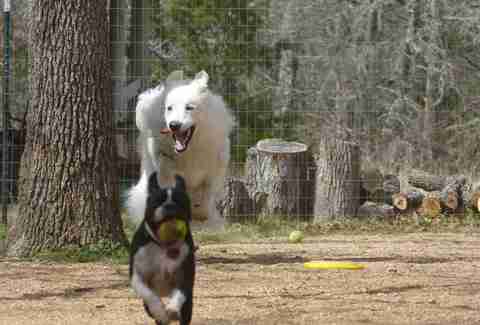 Round Rock
It's well worth making the trek up north to visit this easy-going dog country club, with a massive half-acre off-leash park where pooches can romp freely as their owners lounge in the shade and sip on a pint or two -- mercifully, you can access the bar without leaving the park area. The main off-leash area's only open to members, but day passes can be purchased for $5 per pup. There's even dog boarding available, with off-the-leash free play time, meadow walks, and a wading pool for splashing and shaking, which is the dog equivalent of lounging in a jacuzzi.
Westgate
The dog is in the name at Cane Rosso, the Neapolitan-style pizzeria serving up chewy, blistered-crust pies for breakfast, lunch, and dinner, and a sunny patio that welcomes your furbaby with plentiful water bowls. They are so committed to dog welfare that they even run a nonprofit called Cane Rosso Rescue that has saved and housed over 300 dogs so far.
East Austin
You probably shouldn't let your dog jump in that wading pool (who knows what kind of dirty feet have been in that water), but Kitty Cohen's shareable punch bowls, frequent special events like outdoor movies, tarot readings, and dance parties, make their 1950s Palm Springs-style patio the perfect place to hang with your pack, despite the cat-friendly name.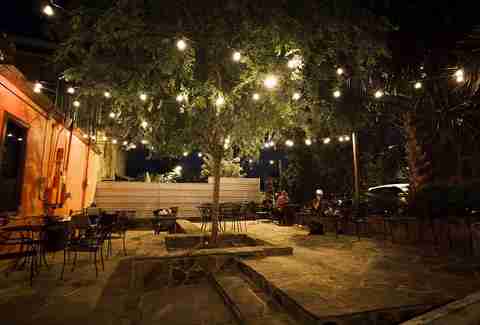 East Austin
This one's for the puppy days; those early days of dog ownership when you're being woken up at all hours by crying, door-scratching, and multiple unfortunate potty problems, and desperately NEED that caffeine/sugar fix. Bennu is open 24 hours and serves a killer cold brew, along with the pastries and breakfast tacos necessary to compensate for your lack of sleep, and there's also a lovely patio where your young pup can nestle at your feet and know all is forgiven.
Sign up here for our daily Austin email and be the first to get all the food/drink/fun in town.