If you live in Austin, you have to love dogs. Not just as though they're your pets, but like your closest friends. Going on a second date with a handsome British expat? He's going to need Birdie's approval before things go any further. Getting your holiday cards done? Time to book Lola into the salon. Heading to NYC for the weekend? Well, either bring Barney along or make sure he has a good sitter. He does not do kennels. So, it's a no-brainer that when it comes to lunch or dinner time, it pains some of us to leave our little buddies at home. The good news is that Austin's full of dog-friendly institutions, ready to accommodate bodies with two, three, or four legs. Here's where to find them.
East Austin
We previewed Sunny's Backyard when it first opened last year and haven't stopped coming back since. Dog lovers who care about other four-legged creatures—ya know, cause farm animals are just as cute as house pets—will adore Sunny's, named after the owner's own pup. The vegan pub serves delicious Asian-inspired comforts that'll turn even the most carnivorous of Texans, like the Korean Fried Chicken made with zero chickens, Backyard Burger made with Impossible patty, and hot dogs that contain absolutely zero, um, dog (phew!) nor anything else with legs. Look out for events that benefit animal rescues, as well as trivia nights and happy hour specials, all enjoyed out on the massive patio area.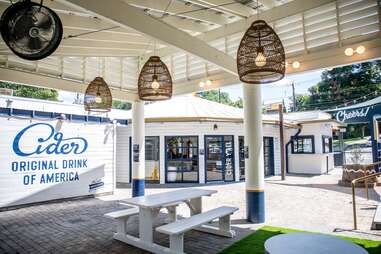 Barton Springs
Cider lovers come to Austin Eastciders, but did you know the Barton Springs location is more than just booze? Here you'll find a restaurant that's an all-day dining situation, serving salads, pizza, and sandwiches; a range of specialty coffees and teas including matcha lattes; and even kolaches. What's more, the massive outdoor terrace is perfect for you and your pooch to enjoy, and there are even little swings by the coffee bar if you just want to stop by on your morning walk. Eastciders also often supports organizations to find homes for furry friends.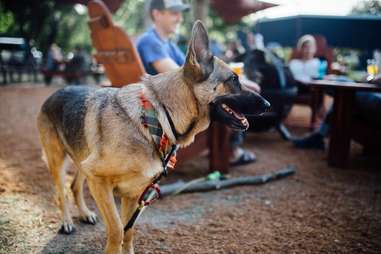 South Austin
It's almost hard to believe Cosmic Coffee nails it on so many fronts. The caffeine is great, the cocktails are boozy, the outdoor area is misted, and the indoor area is comfy. The food trucks it has onsite—Leroy and Lewis, Tommy Want Wingy, and Pueblo Viejo—serve delicious snacks and mains to pair with your frozen drink in the summer. There's tons of seating, it's kid-friendly, and there are blazing fire pits in the winter. Best of all, dogs are welcome inside and out, and every weekend here is a furry cuddle puddle of epic proportions.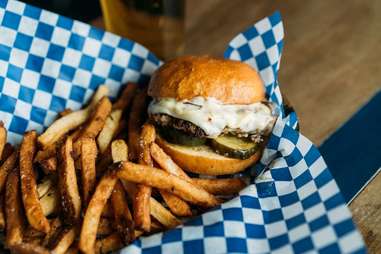 East Austin
Having a dog requires a lot of care, maintenance, and money. But what if your dog could go to work for you? Cavalier has flipped the script with their genius puppy payroll program. Write your dog's name and your instagram handle on a punch card. At each visit, ask the bartender to clock your dog in. Repeated visits earn you free stuff like a complimentary snack, cocktail, or beer. The "clock" starts over at the beginning of the month. It also offers a little pooch prize pack, plus a photo mounted behind the bar for the dog that shows up the most. Two covered patios, free treats for your pet, and an all-hours dog policy make it easy to show up to "work."
Cherrywood
Tucked away in that funny little area around Manor Road, Batch Craft Beer + Kolaches has carved out a nice niche for itself. Its creative kolaches are made fresh every day, some of which incorporate delicious sausage provided by Micklethwait Craft Meats. The drink selection is outstanding as well, with beer and wine on draft, plus a glass-fronted cooler with additional crafty selections that you can pick-and-choose from yourself. For those looking to catch a breeze, the patio area beckons with picnic benches and abundant shade, plus a large natural area for your four-footed friend to bound around.
East Austin
Sour Duck Market's rambling space exudes casual charm with lots of warm wood and hanging greenery. This full bakery, coffee shop, bar, and restaurant supports local farms and producers and it has a huge shaded patio for pooch to play. If you're looking for food (and of course you are), the menu ranges from fun snacks like tater tots with deviled egg dip to a fried/smoked half chicken. Sour Duck has frosty beers, cocktails on tap, and wine along with happy hours three days a week when 20% is taken off the whole bill.
South Austin
This IPA-centric (but not exclusive) brewery makes it easy to spend your Saturday having beers with your best bud. Founded by two brothers with a love for travel (hence the name), Nomadic produces a variety of inventive beers that rotate through the taps, like the Call Me Sir, a blackberry orange blossom sour, and the Raspberry Milkshake IPA. If you're part of the digital nomad set, this is a good spot to enjoy a nitro cold brew on tap, a morning pastry, and some solid WiFi with your little four-legged pal right by your side.
South First
When Fresa's was Freddies, it was one of the main go-tos for people hanging with their pups. All dog lovers were relieved that Fresa's kept the massive, dog-friendly patio when they took over the space. Family-style plates make this a good spot to share queso, guacamole, and plates of wood-grilled chicken, rice, beans, and inventive veggie dishes; and the prickly pear margarita is so good you should have two. Dogs are only allowed on the patio (you know, 'cause food) but you feel free to pacify them with a treat.
South Congress, North Loop
Austin's favorite original pizza shop doubled their pup happy patio space with their second location on North Loop. Both patios also have misters for those triple-digit days (of which there seem to be no shortage in recent years), and the north location also has a fenced in, turfed play area for children if you're out with the fam. Stop in for a beverage and a pie, or stay longer with your hound for a beautiful plate of antipasti, a stacked sub, or their secret menu item, The Vatican—it's a sub, wrapped up inside a calzone.
Cherrywood
Stepping into the Vortex with its Butterfly Bar and Patrizi's Italian food truck is like taking a step back into old Austin. This theater/bar was anchoring Manor Road before anything else popped up in the area. Strings of patio lights and a small stage set the scene, while mismatched tables and chairs and a large deck provide plenty of seating options for having a signature infused cocktail (or carafe of sangria) with delightfully truffle-y popcorn, or some homemade pasta from Patrizi's. Keep an eye on the calendar for trivia nights, movies, and special performances.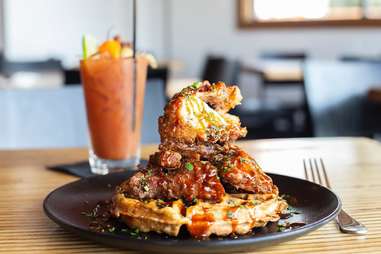 East 6th, North Lamar
Both iterations of Revelry—the original East Side version and the North Lamar spot—have a deep love for dogs. They participated in the Dog Restaurant Week and once had a Pups of Revelry IG account (which needs to come back!), but apart from some house-made treats Revelry caters mostly to humans with elevated pub grub like smoked salmon carpaccio, honey-sriracha glazed crispy wings, and burgers with an Akaushi beef patty. There are also happy hour deals and wing offers on game nights.
South First
El Mercado South has an abundance of attractions. The backstage has live music almost daily, the bargain margaritas make for a great boozy happy hour, and the food menu is some serious OG Austin Tex-Mex. It's a total bonus, then, that El Mercado South also has two dog-friendly patios and a playscape—there's even a "Yappy Hour" with free treats for dogs, and an extra menu (available by request) from which you can order for your hungry hound. Every El Mercado has a different set of specials and parameters, so make sure to call before you go.
Riverside
With heavy "cabin in the woods" influences, the delightfully quirky 24-hour Buzz Mill is a lumberjack-meets-bar-meets-coffee-shop mashup. Enjoy a coffee, infused cocktail, kombucha, or a craft beer in the rustic surrounds. When the weather is nice the patio gets packed with pooches. The rotating food trucks onsite all serve excellent fare and are often vegan. Come here for a casual hang with friends, some free WiFi, or the Lumber Society Survival Series when you can learn everything from navigation to knife-carving.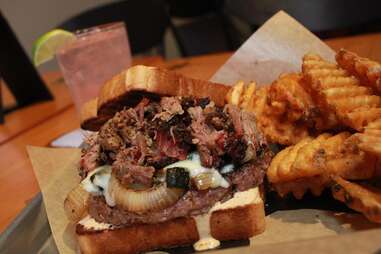 South Austin
A dog in the logo is a pretty good indicator that a place is dog-friendly—and sure enough, The Git Out's sign prominently features a likeness of co-owner Nate Kinney's dog. Accordingly, the patio is open to canine companions, complete with free treats and water bowls. This zero-waste addition to South Austin feels like it's always been there, and the crew has done a masterful job of turning a new building into something that feels familiar. The Git Out serves strong crafty cocktails to go along with comfort-food fare like "pork popcorn" (pork nuggets served with chipotle ranch) or trash fries (waffle fries topped with just about everything you could want).
Sign up here for our daily Austin email and be the first to get all the food/drink/fun in town.