There may as well be a sign when you're entering Austin that says "must love dogs." Our four-footed friends are the unofficial mascot of the city, and we're loathe leaving their sweet little faces at home. Our morning strolls are made better with a swinging tail, our nights out are a little happier with a pooch to pet, and we derive a certain amount of pride when our adorable animal draws all the attention. We even have a restaurant week dedicated to dogs. Given the fact that we've got the most dog-friendly restaurants per capita, it's almost impossible to cull a list of the canine-friendliest -- and yet, we managed to do it anyway. Here are some of our favorite spots to bring Fido out for a night on the town.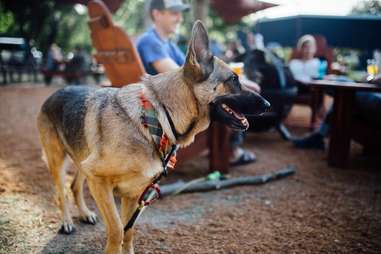 South Austin
It's almost hard to believe Cosmic Coffee nails it on so many fronts. The caffeine is great, the cocktails are boozy, the outdoor area is misted, and the indoor area is comfy. The food trucks they have onsite -- Leroy and Lewis, Tommy Want Wingy, and Pueblo Viejo -- serve up delicious snacks and mains to pair with your frozen drink in the summer. There's tons of seating, it's kid-friendly, and there are blazing fire pits in the winter. Best of all, dogs are welcome inside and out, and every weekend here is a furry cuddle puddle of epic proportions.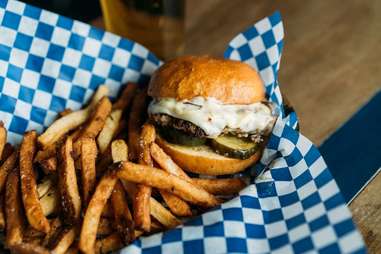 East Austin
Having a dog requires a lot of care, maintenance, and money. But what if your dog could go to work for you? Cavalier has flipped the script with their genius puppy payroll program. Write your dog's name and your instagram handle on a punch card. At each visit, ask the bartender to clock your dog in. Repeated visits earn you free stuff like a complimentary snack, cocktail or beer. The "clock" starts over at the beginning of the month. They also offer a little pooch prize pack, plus a photo mounted behind the bar for the dog that shows up the most. Two covered patios, free treats for your pet, and an all-hours dog policy make it easy to show up to "work."
Cherrywood
Tucked away in that funny little area around Manor road, Batch Craft Beer + Kolaches has carved out a nice niche for itself. Their creative kolaches are made fresh every day, some of which incorporate delicious sausage provided by Micklethwait Craft Meats. The drink selection is outstanding as well, with beer and wine on draft plus a glass-fronted cooler with additional crafty selections that you can serve yourself from. For those looking to catch a breeze, the patio area beckons with picnic benches and abundant shade, plus a large natural area for your four-footed friend to bound around in.
East Austin
The rambling space that is Sour Duck Market exudes casual charm with lots of warm wood and hanging greenery. This full bakery, coffee shop, bar, and restaurant supports local farms and producers, and hosts a weekly Farmers Market on Wednesdays from 4-7pm. If you're looking for food (and of course you are), the menu ranges from fun snacks like tater tots with deviled egg dip to a fried/smoked half chicken. Sour Duck has frosty beers, cocktails on tap, and wine along with an all day Monday happy hour. Dig into a Pork Sando or a Portabella Cold Cut sandwich for $5 during happy hour, while your pretty pooch avails him or herself of the water and treats outside.
South Austin
This recently-opened, IPA-centric (but not exclusive) brewery makes it easy to spend your Saturday having beers with your best bud. Founded by two brothers with a love for travel (hence the name), Nomadic produces a variety of inventive beers that rotate through the taps, like the Call Me Sir -- a blackberry orange blossom sour -- and the Raspberry Milkshake IPA. If you're part of the digital nomad set, this is a good spot to enjoy a nitro cold brew on tap, a morning pastry, and some solid WiFi. There's also a food truck onsite, Kimchi Jon's, which serves Korean street food almost every day and late on both Friday and Saturday.
South First
When Fresa's was Freddies, it was one of the main go-tos for people hanging with their pups. All dog lovers were relieved that Fresa's kept the massive, dog-friendly patio when they took over the space. Family-style plates make this a good spot to share queso, guacamole and plates of wood-grilled chicken, rice, beans, and inventive veggie dishes. We also love that they have happy hour prices all day, every day for guests that sit at the bar and their prickly pear margarita is so good you should have two. Dogs are only allowed on the patio (you know, 'cause food) but you can pacify them with a treat.
South Congress, North Loop
Austin's favorite original pizza shop doubled their pup happy patio space with their second location on North Loop. Both patios also have misters for those triple-digit days (of which there seem to be no shortage lately), and the north location also has a fenced in, turfed play area for children if you're out with the fam. Stop in for a beverage and a pie, or stay longer with your hound for a beautiful plate of antipasti, a stacked sub, or their secret menu item, The Vatican: it's a sub, wrapped up inside a calzone.
Cherrywood
Stepping into the Vortex with its Butterfly Bar and Patrizi's Italian food truck is like taking a step back into old Austin; this theater/bar was anchoring Manor Road before anything else popped up in the area. Strings of patio lights and a small stage set the scene, while mismatched tables and chairs and a large deck provide plenty of seating options for having a signature infused cocktail (or carafe of sangria) with delightfully truffle-y popcorn, or some homemade pasta from Patrizi's. Keep an eye on the calendar for trivia nights, movies, and special performances.
North Austin
It's funny to just use "The Domain" as a location (rather than calling out a specific spot), but the reality is there are so many dog-positive spots here that it would be patently unfair to play favorites. You can walk around open-air mall/residential district, doggie in tow, and pop into so many of the shops, bars, and restaurants. Take a tea at The Steeping Room, grab brunch at Doc B's, tuck into tacos at Gloria's, have a frosty beer at Yard House, or stop into Shake Shack for their specialty "woof menu" featuring a pooch-ini and a bag o' bones.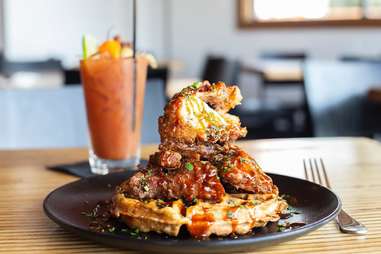 East 6th, North Lamar
Both iterations of Revelry -- the original east side version and the newer North Lamar spot -- have a deep love for dogs. In fact, these places are so dog-friendly they even maintain a completely separate Instagram called Pups of Revelry (which you should totally follow). They participated in the Dog Restaurant Week, but apart from some house-made treats Revelry caters mostly to humans with elevated pub grub like smoked salmon carpaccio, honey-sriracha glazed crispy wings, and burgers with an akaushi beef patty. There are also lunch combos every day that are total steals.
South Congress
Take Rover on a rove all over the South Congress Hotel complex. Duck into Mañana for a coffee or juice, and enjoy it out on the patio or inside the comfortably air conditioned lounge. Stay for lunch or brunch at Café No Sé, where there are treats and water bowls on the patio for your pup (and you can also get 25% off bottles of rosé from sun-up to sundown). If none of that sounds like a plan, opt for a simple happy hour at the Lobby Bar where you can enjoy half-off everything (including wine, beer, cocktails, and snacks) from 5-7pm on weekdays.
South First
El Mercado South has an abundance of attractions… the backstage has live music almost daily, the $4.50 margaritas make for a great boozy happy hour, and the food menu is some serious OG Austin tex-mex. It's a total bonus, then, that El Mercado South also has two dog-friendly patios and a playscape -- there's even a "Yappy Hour" with free treats for dogs, and an extra menu (available by request) from which you can order for your hungry hound. Every El Mercado has a different set of specials and parameters, so make sure to call before you go.
Riverside
With heavy "cabin in the woods" influences, the delightfully quirky 24-hour Buzz Mill is a lumberjack-meets-bar-meets-coffee-shop mashup. Enjoy a coffee, infused cocktail, kombucha, or a craft beer in the rustic surrounds, and when the weather is nice the patio gets packed with pooches. Food trucks Lil' Nonna's, Plow Burger, and 1776 Cheesesteak Co are all excellent options onsite, and (somewhat surprisingly) are mostly vegan. Come here for a casual hang with friends, some free WiFi, or the Lumber Society Survival Series where you can learn everything from navigation to knife-carving.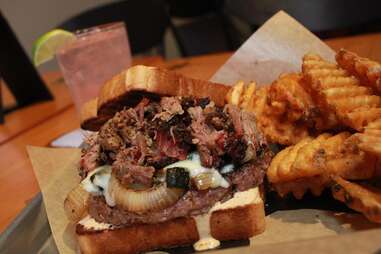 South Austin
A dog in the logo is a pretty good indicator that a place is dog-friendly -- and sure enough, The Git Out's sign prominently features a likeness of co-owner Nate Kinney's dog. Accordingly, their patio is open to canine companions, replete with free treats and water bowls. This zero-waste addition to South Austin feels like it's always been there, and they've done a masterful job of turning a new building into something that feels familiar. The Git Out serves up strong crafty cocktails to go along with comfort-food fare like "pork popcorn" -- pork nuggets served with chipotle ranch -- or trash fries (waffle fries topped with just about everything you could want).
East Austin
Sometimes part of the problem with a pup-friendly patio is lack of space. Like humans, dogs aren't really interested in being crowded in with someone else's fur all up in their business. Luckily, that's not a problem at Lustre Pearl East, where the massive outdoor space has bar games, benches, high tops, and a little doggie play area (plus some fans to keep everyone cool). The covered patio inside also allows dogs for a little bit of a cooler experience, and the bar serves up stiff drinks and solid pub fare -- make sure to try the wings.
Sign up here for our daily Austin email and be the first to get all the food/drink/fun in town.