Photo courtesy of Lola's Donuts
Newcomers to the Lone Star state often think they're already familiar with the local staples—in terms of cuisine, breakfast tacos and barbecue are akin to the festival headliners even your technologically illiterate grandmother knows. However, like any Austinite worth their wristband knows, you don't hit up ACL solely to catch the high-powered, stadium acts—and the same goes for the city's grub. Donuts are one dish that always makes the wheels of a Texan's heart go round, and if you have any doubts, take a quick drive around the city and you'll soon realize you can't go a block without seeing fried dough. Which is exactly why you need someone to sort them out for you—and we've done all the sticky, sprinkles-laden work. These are the absolute best places to grab Homer Simpson's favorite treat in Austin, whether you're gearing up for Fat Tuesday or just trying to make it through a regular Thursday.
If the unique, joy-filled name of this Asian-American dessert mecca seems familar to you, it might be because it was recently featured on the Austin season of Queer Eye. And, while we automatically trust anyplace recommended by JVN and the gang, it's especially true when a place makes baked goods as downright tasty as OMG Squee's. While their takes on macarons and soft serve are on a level all their own, it's their signature mochi donuts that really gets the emoji hearts spinning. Standard doughnut dough is replaced with the Japanese rice cakes then fried to perfection for a chewy, gooey texture that all but melts in your mouth when it's fresh from the oven. And it's not just the mouthfeel—the flavors here are layered and eccentric. Standards include violet-hued Ube Oreo and classic S'Mores, while weekly specials feature an ever-updating roster including Vietnamese Coffee and Snickerdoodle. Just be sure to get here early, as even an in with Antoni won't guarantee you'll secure the dough before they sell out completely.
How to order: Stop by for counter service or order takeout online.
Nothing gives a miserable morning a silver lining quite like the colorful cheeriness of Lola's flower wall, followed by the sweet satisfaction of grabbing one of their decadent donuts from the display case. The spot on Manor Road doles out some seriously decorative dough—no matter what flavor you choose off the rotating menu, expect to encounter elaborate fillings complete with edible glitter. Take, for example, the Truffle Shuffle, a brioche donut dipped in chocolate-hazelnut glaze and topped with a Ferrer Rocher and enough gold dust to make a Goonie mistake it for treasure. And you're not the only one that can partake—pick up a Donuts de Perrito for your doggie BFF, and you're sure to be forgiven for that time you threw out that gross, old tennis ball once and for all.
How to order: Stop by for counter service, order takeout online, or get delivery via Postmates and Uber Eats.
Whether you're looking for donuts festooned with the faces of Bender from Futurama or some Ravenclaw-inspired nibbles for your Wizarding World-obsessed friend, look no further than Master Donuts. This shop, with two locations in East Austin, is the go-to spot for customizable dough—just take a quick look at their Instagram and you'll see that, from dinosaurs to palm trees to Pikachus, there's not one sugar-based challenge they haven't liked. And, for those looking for a standard semi-unique dessert, their bubble letter donuts can spell out a delicious happy birthday or for the recipient of your choosing (or, you know, yourself—no judgment). And just because you're going big on presentation doesn't mean you have to sacrifice taste—whether it's buttermilk or cake, their fleet's as pretty on the inside as it is on the outside.
How to order: Stop by for counter service or order takeout online.
Between quirkily delicious flavors like Orange Cinnadough and Chocolate Bacon and hair-raisingly strong Cuvée espresso shots made to order, Bougie's certainly lives up to the name. But there's nothing fussy about their mission: Elevating the classic coffee-and-a-donut combo to an art form. Our go-to is the aptly named Homer—strawberry-frosted with rainbow sprinkles—with an iced Americano on the side.
How to order: Stop by for counter service or order takeout online.
Angel makes a mean traditional donut, but it's also got the best selection of gluten-free donuts in town. With flavors like Strawberry Cake and Reese's Cake (which tastes like a fluffier version of a deep-fried Reese's Peanut Butter Cup), as well as cake balls and excellent bubble tea, the menu is packed with treats delicious enough to make you reconsider your feelings about flour. The Italian Cream Cake Balls alone are worth the trip: a mix of buttermilk, coconut flakes, and walnuts, it's tasty enough to be classified as dessert, but not so sweet that you get a heavy sugar rush after breakfast.
How to order: Stop by for counter service or order takeout and delivery via Uber Eats, DoorDash, Postmates, and Grubhub.
Little Lucy's is the cute pink truck located across the street from all the Rainey Street bars. And, unlike many of the food trucks in that plaza, you don't need to be four-drinks deep to enjoy their offerings. Pick up a large pink bag of the dog-themed cinnamon-sugar miniature Chow Chows, and choose from free dipping sauces including chocolate and caramel (the best one). Or, since each bag holds plenty of mini donuts, you can try them all.
How to order: Stop by for counter service or order takeout and delivery via Postmates, DoorDash, Grubhub, and Uber Eats.
Taco Donut Palace is such an Austin institution that someone even wrote a song about it. And with a rainbow of brightly glazed donuts in the display case, as well as some pretty solid steam-table breakfast tacos, and some of the best jalapeño cheese kolaches in town—crispy edged with cheese oozing from both ends—there's a lot here to sing about. Try the infamous El Toro donut, which is fried in the shape of a hand doing the hook 'em sign with edges perfect for dipping in the surprisingly excellent coffee.
How to order: Stop by for counter service, order takeout via Toast, or get delivery via DoorDash and Uber Eats.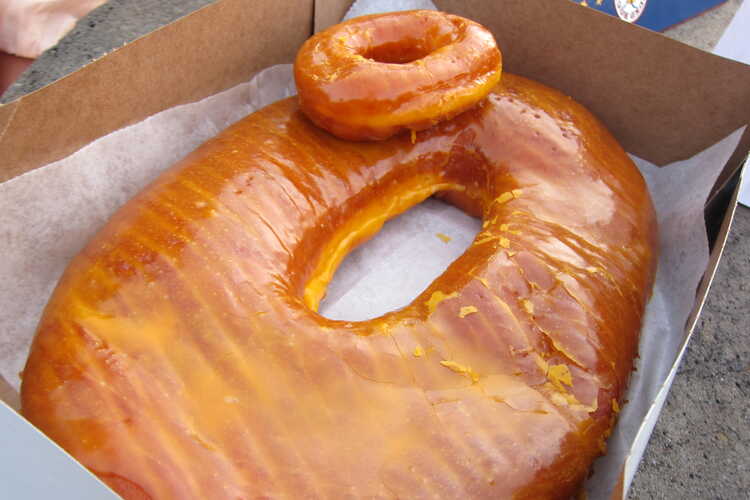 Round Rock Donuts

| Wally Gobetz/Flickr
Made famous by the TV show Man v. Food, Round Rock Donuts boasts a "Texas Sized" glazed donut that clocks in at nearly two pounds. But the shop, popular with both locals and tourists, also serves a classic "orange glaze" donut that's the best $0.99 you'll ever spend. And, with a new location in Cedar Park in addition to the OG in Round Rock itself, there are more opportunities than ever to dig into some sugary goodness. However, you should still come expecting a wait and arrive early if you want to make sure nothing is sold out.
How to order: Stop by for first come, first served seating.
This no-frills joint is famous for the shockingly fluffy dough in its donuts and kolaches, as well as the warmth and friendliness of everyone who works the counter. S-H is a family-run fixture, and you're likely to find plenty of folks greeted by name as they pick up boxes of perfectly sweet, plain glazed donuts. Yes, the shop is only open in the mornings, but it's well worth getting out of bed for—unless you prefer to get your fix on the way home at 5 am.
How to order: Stop by for counter service or order takeout and delivery via DoorDash.
Gourdough's stands out with the most elaborate donuts on the list—we're talking the kind you need a fork and knife to get through, like the Elvis, which boasts caramelized bananas, bacon, and peanut butter on a single ring. At first glance, the menu may give you paralysis-by-analysis, but even if you make an impulse order, you'll still end up with one of the best and most memorable donuts you've ever had.
How to order: Stop by for first come, first served seating, order takeout via Toast or get delivery via Grubhub and DoorDash.
Like the sugary, morning equivalent of your neighborhood bar, KC Donuts is your friendly, locally owned corner donut shop. The donut holes are about twice the average size, and if you're a first-timer, you may find a few extras end up in your bag—it's that type of place. Light and fluffy, the donuts speak for themselves without needing any elaborate toppings. Bonus: The cinnamon rolls are the perfect cap to any KC order.
How to order: Stop by for counter service.