Where to Find the Best Dumplings in Austin
Because dumplings make everything better.
Courtesy of Elizabeth Street Cafe
What is it about dumplings that makes them so comforting? Is it because their warm filling tastes like walking in your front door from the freezing cold? Or because they're shaped like pillows? Or just the fact that they're straight-up delicious? We may never know the real answer but, for those willing to take a crack at the question, we've composed a list of our favorite places to grab those dough-and-filling pieces of perfection—just in time for Lunar New Year on February 12. So, regardless if you end up satisfied with an answer to the inquiry or not, you'll at least have a satisfied stomach.
Courtesy of Wu Chow
Downtown
The Shanghai soup dumplings at Wu Chow are so legendary that there was a time when the restaurant limited each table to only being able to order two rounds. While, luckily, that era has since passed, our craving for their delectable, warm little bundles of soup and pork shoulder will never be extinguished. While the soup dumplings might be a stand-out, that's not to say there aren't also a variety of other flavors Wu Chow has for the dumpling aficionado. Their steamed chicken dumplings, made with chicken thigh, and their "Never Ever" beef potstickers both hit all the notes of sweet soy and garlic goodness.
How to order: You can make a reservation to dine-in on their patio or inside online. As well, you can also order online for take-out.
Courtesy of Elizabeth Street Cafe
Bouldin Creek
While this mainstay Vietnamese cafe and French bakery might be best known for their flavorful, fulfilling pho or their savory banh mis, true Austinites would never roll by Elizabeth Street Cafe's blue-and-pink patio without grabbing an order of their ginger-chili oil dumplings. Marinating in a sauce with just enough spice, these pillows of dough are packed with pork, shrimp, water chestnuts, and herbs—each ingredient achieves the goal of being both distinct, yet seamlessly melded into the overall yumminess of the dish. Wash down each bite with a sip of the mezcal-based hibiscus paloma for a quick, buzzy palate cleanser.
How to order: You can order online for curbside pick-up, or make a reservation for dine-in online.
East Riverside
Before you even enter the doors of this restaurant, which specializes in Vietnamese cuisine, you'll be drooling—you can smell the delicious aroma of spices that they cook with from as far away as the parking lot. If it isn't love at first whiff, it will most definitely be love at first dip when it comes to their variety of dumplings and accompanying, powerhouse sauces. The pork pan-fried dumplings come with a soy-based sauce that will literally have you licking the container for every last drop, while the veggie pan-fried dumplings, which are generously packed to the brim with colorful greens, are brightened by the addition of a ginger and citrus sauce.
How to order: You can dine-in, or place an order online for pick-up for delivery.
North Lamar
Don't let the "Seafood Restaurant" in the part of New Fortune's name throw you—while anyone who has ever tasted their Hong Kong-style soft shell crabs knows they can throw down when it comes to shellfish, the bites of heaven that are their Shanghai soup dumplings are a strong argument that their cooking expertise goes far behind what's found in the ocean. New Fortune's Saturday and Sunday Dim Sum Brunch, which is one of the best in the city, provides even more scrumptious options for traditional, Chinese dumplings—including both scallop and shrimp-and-pork Shumai, as well as Har Gow (steamed crystal shrimp dumplings).
How to order: You can either dine-in, or order online for pick-up.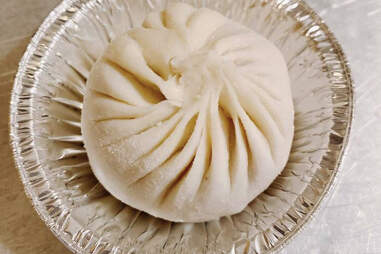 Courtesy of Fat Dragon
Barrington Oaks
If there is anyplace in Austin that could be described as a mecca for dumpling super-fans, it would have to be Fat Dragon—the sheer number of dumplings available on their menu (13 varieties!) is enough to give even mystical beasts a bit of food-baby-stomach. Besides some of the traditional offerings (such as pork soup dumplings and shumai), Fat Dragon also provides some unique takes on the dough-and-filling model. Both savory fillings, like the cilantro lamb dumplings, as well as sweet ones, like the coconut milk chocolate soup dumplings, are sure to bring something new to any flavor-palate.
How to order: Right now, they are only open for take-out, but you can order online for pick-up or for delivery through Uber Eats and DoorDash.
Wooten
For those dumpling newbies who are unsure where to begin on their filling-flavor journey, Julie's Noodles might be the perfect spot to start. Their popular Dumpling Mix Order gives you a section of their various kinds of surprisingly large dumplings for you to sample and narrow down to a top favorite. With options like pork and chives, pan fried beef and carrot, and chicken pot stickers however, it might just result in a tie for the number one spot—regardless, with such a variety, you'll at least feel like a guaranteed winner.
How to order: Currently, they are closed for dine-in, but you can order online for take-out through their website.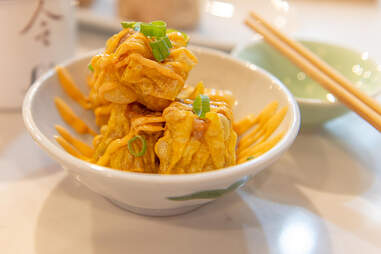 Courtesy of Lin Asian Bar
West 6th
The fresh, local ingredients that Lin uses in its dumplings is evident from even the tiniest nibble—their basil chicken dumpling, our hands-down favorite, has tender and juicy bites of protein accentuated lovingly with a splash of herbs. Lin does have a variety of dumplings available on their day-to-day menu, such as their Shanghai soup dumplings, which carry a sweeter taste than others on this list, as well as a steamed spinach dumpling and the intriguingly named Shanghai jumbo seafood soup dumpling. However, for the most dedicated dumpling fanatics, we recommended their Dim Sum Brunch on Saturdays and Sundays—which carries such a varied and fine selection of these treats that you would be forgiven even if you forgot to order a round of scallion pancakes.
How to order: Make a reservation online for dine-in, or order through their website for pick-up.
Barrington Oaks
If your extreme use of hot sauce on every item of food you eat has caused looks of confusion and alarm before, the Zhong Dumplings from Asia Cafe may be right up your alley. The restaurant specializes in Sichuan Cuisine—which takes its name both from the Sichuan Province in China (in which the cuisine originated), as well as the fiery Sichuan chili pepper used in many of its dishes. Zhong Dumplings, sometimes referred to as Sichuan Dumplings, pack this pepper alongside pork, soy sauce, and spices for a delicious kick that is sure to leave your mouth with the signature tingly-taste that the Sichuan chili is known for.
How to order: They are currently open only for take-out—you can place an order by calling 512-331-5788.