While we can appreciate the affordability and availability of chain restaurants, let's be real: You can do better. So to help you make the transition from questionable fast food and suspicious fried [fill in the blank] appetizers, we've scouted out some Austin spots serving up similar items destined to satisfy your guilty cravings. After all, if you've been bragging about being a local, it's about time you put your money where your mouth is.
When you're craving the crunch of waffle fries...
Downtown
While Frank is best known for hot dogs and cold beer, if you're looking for a hot-and-crispy snack or are participating in some alternate-reality race for which waffles fries constitute "carbing up," Frank has also got you covered. Although The Jackalope is a close contender in this category, Frank wins extra points for their smothering skills, and whether you opt for the Chili Cheese, Queso, Reuben, Canadian Waffle Poutine, or even the vegan option, it's way more satisfying than dipping your fries into a pathetic little container of something like Polynesian sauce. And, even better, these waffle fries are even available on Sunday.
When you feel like a frappe
East MLK
You don't have to wear Uggs, appreciate Bon Iver, or identify with the term "basic" to enjoy drinks of the frap-a-whatever variety in Austin.This 24-hour establishment -- a student favorite -- offers frappes in latte, vanilla, and mocha flavors that are sure to give you a caffeine kick and simultaneous sugar rush. Sorry, you're still SOL when it comes to the PSL.
When a big, sloppy burger is essential...
Red River, North Campus
We already whine about Californians, so why not take it one-step further and boycott their burger, opting instead to chow down, uh, animal-style on an Austin-based option. Though Arlo's is admittedly a vegan equivalent and wouldn't qualify as the fastest of foods -- especially given their popularity around 1 am -- this is some seriously messy, meat-free fare that will satisfy anyone's munchies. Haters will say it's... real?
When you're in need of some serious breadstick-and-salad action...
Anderson Mill
If your mother were to accompany you to Reale's, she'd warn you not too eat too many breadsticks so you don't ruin your meal. You wouldn't listen, though, because these things are basically crack in garlic-coated-carb form and -- even better -- come free with every entree. (You also get some salad... if you're into that.) Warning: You will be unbuttoning your pants and totally hating yourself afterwards, but hey... it's worth it.
When it's 2am or 2pm and you need a big pile of pancakes...
East Austin
A one-off local spot boasting breakfast 24/7, Star Seeds has an authentic retro vibe that simply can't be reproduced by off-every-other-freeway-exit diners -- no matter how many special syrups they offer. While Magnolia Cafe and Kerbey Lane are also tasty options, there's the sense that some weird shit has gone down over the years during Star Seeds' "Legendary Austin Late Nights"... though there's probably never a free pancake day.
When you want to dunk some donuts...
Rainey St
This Rainey St spot deals exclusively in mini-donuts (meaning you can eat like a million), and doles out rings of the sugar-coated fried pastry from a hot pink truck until 12:30am on weekdays and 2am on weekends. The only catch is that the opening hours (7pm weekdays, 3pm weekends) mean that you can't score them during the "traditional" breakfast window. That being said, you've never been a traditionalist, and everyone knows donuts taste better post-drinks anyway.
When you've got fried-chicken fever...
South Lamar
Whether you want to wrap your mouth around a fat fried-chicken sandwich or dip some crunchy chicken nuggets into a sweet selection of sauces, this food truck can provide with both carnivorous and vegan options of each -- any of which would put any clown or colonel to shame.
When nothing will do but a big-ass burrito...
Guadalupe
The home of what we've dubbed one of the best burritos in America, Chango's is a close-to-campus spot serving beast-sized burritos that the budget-conscious student could likely even stretch to two meals. Alternately, Cabo Bob's has locations on both Ben White and Rio Grande, and offers burritos bursting at the tortilla seams with veggies, chicken, brisket, or fish. And the best part: On many of the burritos mentioned, the guac is already included, no extra charge.
When you're chasing cheesecake...
South Lamar
If you're looking for cheesecake that isn't, shall we say, Factory farmed, look no further than this local purveyor that's churned out cheesecake in fun flavors like Peanut Butter & Jelly, Cinnamon Chai, Maple 'Kevin' Bacon, and even avocado. While OMG! Cheesecakery's hours may be spotty (its page mentions a focus on catering efforts), the food truck's "mobile, personal-sized cheesecake bliss" is worth hunting down.
When you feel egg rolls are in order...
Red River
While not quite a cult classic a la the Southwestern variety offered by a certain chain, and not as readily available as that offered at a certain Chinese fast-food joint, if you're looking for something delicious, local, and wonton-wrapped, this definitely does the job. (The proximity to Sixth St and late hours are an added bonus.) The cart serves nothing but "big, angry egg rolls," which are available in two forms: The Drunken Master -- "probably pork" -- and the vegetarian variation, The Grasshopper. Fortune cookie says, "You can make your own happiness"... but hey, why not just eat it?
When your stomach demands a sub sandwich...
South Lamar
Built-to-order subs with fresh-baked ingredients are the name of the grubbing game at Toastie's, where the menu is stacked with big, satisfying sandwiches ranging from classic and veggie clubs to Cubans, Reubens, and Veggie Banh Mi. No word on if they're exactly a foot long.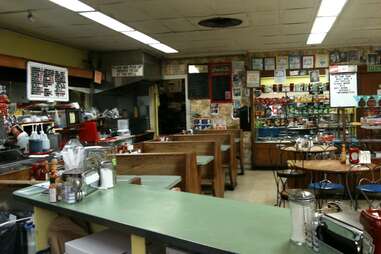 When you're itching for an ice-cream treat...
Clarksville
Want to wax nostalgic about the good ol' days, when you could see a movie and get a bottle of soda pop for $1.25? Well, you'd be lying, because if you're reading this on the internet, you're way too young for that to apply to you. That being said, this old-school soda fountain serves up dreamy and creamy floats, milkshakes, malts, and ice cream sodas that -- though they may not be served upside down or by someone in roller skates -- are far sweeter than most of the things being blasted or blizzarded these days.
Sign up here for our daily Austin email and be the first to get all the food/drink/fun in town.
Sam Sumpter is a writer and food enthusiast who only eats at Taco Bell sometimes, swear. Follow along as she gains her winter weight: @Sam_Sumpta