Eat like a boss at ACL this weekend
Austin is a food city and ACL is no exception. You won't have to decide between funnel cakes and fried Snickers bars, ACL has got you covered with the food that has made us famous. Maximize your festival experience this weekend with these seriously good local eats. 
What to order: The Original Kimchi Fries, $10
If you haven't had the pleasure of trying these before on a street corner after a night of partying, you don't know what you're missing. Thick-cut, crispy fries topped with "caramelized Kimchi, a mound of sizzling Korean BBQ, chopped grilled onions, cheddar and Monterey Jack cheese, cilantro, magic sauce, Sriracha and sesame seeds".
What to order: Cheeseburger, $4
One of the best deals at ACL is from P. Terry's -- a small burger (made with 100% black Angus beef, lettuce, tomatoes, and "secret sauce") will fill you up without sending you into a food coma or hurting your beer funds.
What to order: Pork Belly Banh Mi, $8/Truffle Pomme Frites, $6
This year, ACL is hosting a Chef Showcase, and on Saturday, October 11th, you can have dishes made by Chef David Bull of Second Bar + Kitchen. His Pork Belly Banh Mi is a mouthwatering sandwich comprised of pork belly, chili mayo, carrot slaw, nam pal, cilantro, and mint on baguette bread. The Truffle Pomme Frites are perfect fries dusted with Parmesan, served with a garlicky truffle aioli.
What to order: Thai Chicken Kara-Age, $9
Already the most popular dish from ESK, Thai Chicken Kara-Age is the obvious choice: chicken thighs deep-fried, then tossed in a sauce we can only describe as sweet, acidic, and spicy, topped with fresh basil, cilantro, mint, onion & jalapeño. Want.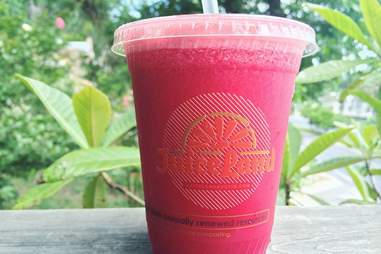 What to order: Watermelon Agua Fresca, $6
Contrary to popular belief, one cannot subsist on beer alone. Refresh your body with the lightly sweet Watermelon Agua Fresca (with peach and lemon goodness also)! If you are already properly hydrated, maybe carry said refreshing drink over to the vodka bar...
Sign up here for our daily Austin email and be the first to get all the food/drink/fun in town.