Where to Order Takeout & Delivery in Austin Right Now
All from the comfort of your couch.
Presented By
Under Texas state mandate, some restaurants have started to reopen for dine-in service as of late April, but we still recommend takeout/curbside pickup/delivery when possible for safety. We'll keep updating you as the situation progresses.
We're all reeling from COVID-19's impact on our daily lives, but few more so than those in the restaurant industry. Austin's restaurants have been forced to pivot on the fly, adopting delivery/takeout models in order to stay afloat during the mandatory shutdown, and even then many have had to cut staff. While there are a number of ways you can help out, one of the most immediate is by continuing to patronize your favorite restaurants with a meal order for delivery or curbside pickup -- which Austin Transportation has made even easier by establishing temporary customer pick-up zones for restaurants throughout the city. We've highlighted some of our favorite restaurants below, but the list is by no means comprehensive; if one of your favorites is missing, look 'em up and see if they're still in operation.

Check out the interactive map to plan your "essential" trip out into the world, or order delivery and wait for the food to come to you. Either way, you'll be doing your part to keep local businesses alive while making your own groceries last a little bit longer.
Allandale
This Burnet Rd Asian fusion spot's adapted to the COVID-19 changes by putting together a curbside menu of family meals available to-go, with 100% of the proceeds going toward paying the staff. Choose from burger & fries combos that feed two and come with charred Brussels sprouts, rice & noodle or chicken & rice meals that feed up to three, or "Family First" meals that feed up to four and come with Dan Dan noodles, an Asian pear miso salad, Hanger steak ssam, and a Pork belly bowl. Beers are two for $5 as well, and you can even pick up a roll of "End of the World Toilet Paper" for $2 if you're out. And if you're following along at home, pick up their Modern Asian Comfort Food cookbook.
South Lamar
Austin's OG Tex-Mex titan might not be packing its cavernous dining rooms these days, but you can still order your favorites for delivery or curbside pickup. Yes, that means the iconic Bob Armstrong queso can be had alongside a double order of beef fajitas, cheesy grilled asadero tacos, or blackened redfish. For the full effect, add in Matt's total knock out margaritas which includes 275ml bottles agave tequila, 275ml Cointreau, half-gallon fresh lime juice, and their "secret ingredients."
West Sixth
While you won't be able to enjoy Lin's iconic soup dumplings, the West Sixth dim sum bar is offering a modified menu for pickup and delivery that includes faithful standbys like beef potstickers and scallion pancakes with curry dip, as well as some broader Americanized offerings like Kung Pao shrimp and General Tso chicken. Note: You can also score wine by the bottle, which you definitely should.
Downtown
The late 2019 arrival from Emmer & Rye chef Kevin Fink is continuing to offer its menu of wood-fired small plates and entrees (like the Grilled Ranger Chicken, and the Butcher's Cut Wagyu Steak & Potatoes) for pickup and delivery, along with a selection of wine and beer. Quarantine date night will be alright when you re-create one of their legendary Treasure of the Sierra Madre Mezcal cocktails. If you're feeling ambitious, sign up for their cooking channel, featuring dishes from Hestia, Henbit, TLV, Kalimotxo, and Emmer & Rye with proceeds going to the employee emergency fund.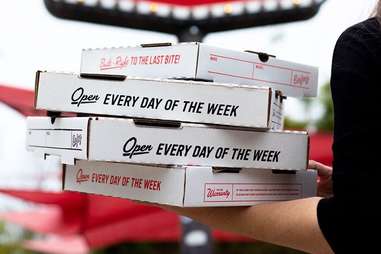 Multiple locations
All is not lost: each of Via 313's five locations around Austin are remaining open for no-contact curbside pickups during the COVID-19 shutdown, so you can stuff yourself with Detroit-style deep dish pies for the duration. The Detroiter is a solid go-to, with its layers of pepperoni, cheese, and more pepperoni on top, but whichever you choose, make it a large so you end up with leftover slices to tide you over after the inevitable "we should've gotten more" realization sets in. And you know what goes well with pizza? Beer. And wine. So add a mix-and-match sixer for $18 or a bottle of vino for $20.
East Austin
Chef Teddy Bricker's fried chicken truck outside Zilker Brewing Company is offering its full menu of Thai-inspired sandwiches, wings, and more for takeout and delivery. Go for a sandwich combo with a side of tots, or a two-piece chicken combo meal, pick your desired level of spice (from "Spicier Than Usual" to "Hurt Me"), and pick up a six pack of something frosty from the brewery before heading back into quarantine. Go ahead and add two sides of the Thai basil ranch. Just trust us.
South Congress
Situated right next to St. Elmo Brewing Company, Soursop is continuing to offer Asian-fusion mashups like Korean buffalo fried chicken sandwiches, sambal wings, and glass noodles with shrimp for takeout and delivery. Pair your haul with a couple crowlers from St. Elmo (like a Carl Kolsch, or the new Norm! Boston lager), and you won't mind not being able to hang with the hounds on the beer garden's patio.
Your brunch, dinner, and late-night cravings haven't changed just because you're staying safe indoors. Fortunately you can still get all of your favorite dishes delivered right to your door, while also supporting the restaurant industry that has given you so many meals and memories. Uber Eats is making it possible for you to give directly to your favorite restaurants at checkout, and 100% of contributions go directly to the restaurants. You can also eat, save, and support local restaurants with a one-month free trial of their Eats Pass. Uber will give $1 to the Restaurant Employee Relief Fund for every new Eats Pass subscriber. See app for details.
East Oltorf
If you're looking to scratch your breakfast taco itch (or lunch taco itch, or burrito itch) in South Austin, you're in luck: this little gas station-adjacent food truck is still offering its lineup of build-your-own tortilla parcels for pickup and delivery. Orders start at 7am during the week and 8am on weekends, but if you're planning to get lunch, note that the kitchen's only open until 3pm most days. And they've even extended their hours -- you can now get the Con Madre fix from 8am until 7pm Tuesday - Saturday.
South Congress
Just down the plaza from St. Elmo and Soursop, Austin Winery is still selling its array of tasty reds, whites, rosés, natural wines, and more. You can't sample them all via wine flights, sadly, but you can get free delivery (with a two bottle minimum) or a 20% discount on pickup orders by using the promo code SHOPLOCAL at checkout. Grab a bottle of the Amphora Trebbiano, or a bottle of the incredibly sippable Revenge Vermouth -- or better yet, get both and wait for all this to blow over.
Multiple locations
Austin's homegrown burger chain is keeping the patties (and parm truffle fries) rolling with curbside pickup at each of its metro area locations (including the Lil' Doddy outpost off William Cannon). Pick up an assortment of beer and wine to accompany your $5 "Share the Love" burger & fries combo or take it to the next level with a Big Larry. You can also add $5 or $10 gifts to your order, which gets split between the local Hopdoddy team's hourly workers. And because we're all trying to stay out of the grocery store, peruse their solid selection of grocery to go -- including Impossible burger patties.
Multiple locations
Flower Child continues to offer its assortment of healthy bowls, wraps, and salads for delivery and curbside pickup. Mix up your rotation of pizzas, burgers, and tacos with a turkey & avocado cobb salad, or a build your own bowl with (just a suggestion) steak, yuzu Brussels sprouts, and red chile glazed sweet potato. Whatever you order, if you do it through the Flower Child website you can get a 35% discount on your to-go meal with the promo code FLOWER 35 -- and get 50% off all beer and wine with your food purchase, too.
East Austin
Aaron Franklin's beloved BBQ operation has shut down its dine-in service, but brisket-lovers can still place orders for curbside pickup starting at 10:30am, Tuesday through Sunday. Better yet, 10% of the proceeds from your order go to supporting the Austin Relief Fund through Southern Smoke Foundation. Don't think you're bypassing the infamous Franklin line, however: the new ordering system has resulted in a clogged lineup of cars along East 11th, so you'll still have to wait for your bounty. At least you'll be maintaining social distancing while you do it!
Multiple locations
Much to the delight of Austin's eaterati, all of the Tatsu-Ya restaurants (excluding DipDipDip, for obvious social distancing reasons) are still offering their inventive takes on Japanese fare for pickup and delivery. That means bowls of life-affirming noodles and broth from Ramen Tatsu-Ya, smoked meats and matcha snickerdoodles from Kemuri Tatsu-Ya, and curries/hot dogs/wings from Domo Alley-Gato, all in the comfort of your own home -- with some beer and sake thrown in for good measure.
Manor Road
Dai Due is about as local as you get, and the pivot to curbside hasn't changed that. The selections change frequently -- just as they did in the olden days of dine-in -- so get your order in early for the wild board shepherd's pie or a fried quail cemita sandwich. Because they're doing grocery and meal kits, too, might as well add some frozen gumbo, a $25 all-local produce basket, and a Tamale Kit to that cart. Eating well never felt so good.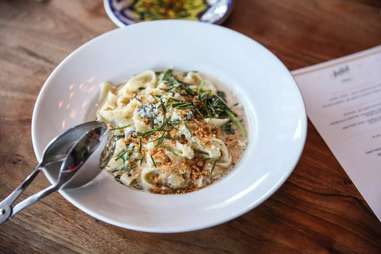 Barton Springs
On a perfect day, you'll find yourself sippin' on an Aperol Spritz and enjoying a lovely lunch on Juliet's patio. Now, through the power of delivery, you can recreate that lovely brunch in your own backyard. Juliet's entire menu is available -- that's right, the fresh mozzarella, the spicy rigatoni, the 17 layers of lasagna can all be yours with a simple click of the mouse. Oh, don't forget the Aperol Spritz. For an even better deal, opt into a family meal kit that comes with a $10 gift card and the option to add-on a $15 bottle of wine.
Windsor Road
In a city with an abundance of plant-based vegan and vegetarian spots, The Beer Plant's menu reads like an indulgent dream. Crab cakes (hearts of palm), skillet mac & cheese, buffalo (cauliflower) wings, eggplant parmesan, and more delicious dishes are all available to be shared from the comfort of your couch. And there's a honey butter "chicken" sandwich that pairs perfectly with fresh juice and a bottle of prosecco from their mimosa kit for brunch.
Sign up here for our daily Austin email and be the first to get all the food/drink/fun in town.
Gianni Jaccoma is Thrillist's Austin editor, and has been socially distancing himself since 1995. Follow his quarantining on Instagram @citizenstrange