The Absolute Best Fried Chicken in Austin
It's Finger Lickin' Good (but wash your hands).
There's one cooking rule of thumb you can always count on—when in doubt, fry it. There are whole YouTube channels, not to mention Guy Fieri, who have seemingly made their entire careers off of this one adage. And few foods stand higher among the fried echelon than the tender, crunchy, seemingly perfect dish that is fried chicken. Luckily, in Austin, you can find plenty of options to get your cluck on—whether you're looking for a classic Southern take on the meal, a Korean-inspired bite, or all the hot chicken your tastebuds and digestive system can handle. Check out our list below for the best fried chicken in the capital of Texas.
North Lamar
You can't talk about the best fried chicken without including at least one entry about its greatest offshoot—the chicken wing. And, when it comes to chicken wings in the Live Music Capital of the World, you don't have to fly any further than North Austin's Seoulju for the most delicious drumsticks in town. This Korean comfort food restaurant offers crispy, yet still delicate tasting wings which are fried twice to ensure a perfectly crunchy crust. They are then coated in the sauce of your choice (although getting them covered in anything besides Korean Sweet Chili would be a rookie mistake).
Various locations
Austin may be approximately 841 miles from Music City but it doesn't mean us Texans can't get down with some Nashville Hot Chicken. Enter Tumble 22, a place that does the dish so well, it's expanded from one trailer to five locations around the greater Austin area. The key to great Hot Chicken is the balance between the spice and acid, and they fully understand this at Tumble 22. Order their O.G. sandwich and you might be surprised at the spice level you can handle. The pickles, coleslaw, and mayo that the sandwich comes with balances out the mouth-burning sensation.
Mueller
It feels right that Colleen's Kitchen is tucked in a corner of the homey-Mueller area. Its comfort food and friendly service make it feel like the perfect neighborhood gathering place. And the crispy, juicy fried chicken tastes just like something you'd expect to come out of a neighbor's kitchen—one who really knows how to cook. Served alongside collard greens, roasted mashers, and a must-order side of gravy, this is the classic Georgia/Tennessee, old-school style version of the dish. And it ain't broke, so why fix it? Especially when you can go full Southern-fried by ordering appetizers like fried green tomatoes and buttermilk biscuits with tomato jam to take bites of between each mouthful of protein.
Various locations
All of the trailers of fried chicken masters, Spicy Boys, are parked right by popular drinking establishments, from Zilker Brewing in the East, to Half Step on Rainey Street, to St Elmo Brewing Company and Fairweather Cider. This is no coincidence—their spicy, crisped-to-perfection chicken sandwiches are the perfect accompaniment to an ice cold beer or cider. However, the flavors on these bad boys will have you craving them long after the hangover wears off. Their sauces, which include everything from Thai basil ranch to massaman mayonnaise, really take the chicken to the next level. And, if the name wasn't already an indication, those who put hot sauce on everything will love it here—especially the Tingly Gal sandwich, piled high with Sichuan pepper, citrus, ghost chill, and spicy ranch.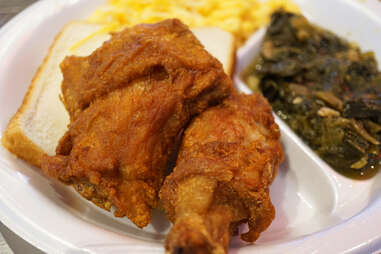 Downtown
How did Gus's chicken become "world famous"? It could be the smell that takes over your senses from about twelve feet away from the door—that sweet fryer aroma will have you drooling before you even step up to the order counter. Or, it could have had something to do with the actual chicken itself, which boasts a Memphis-style spicy-but-not-too-spicy flavor and perfect crust that is bound to leave you licking your sure-to-be-greasy fingers after downing the last morsel. This place is friendly, fast, and the sides are worthy accompaniments to the main event. Make sure to order the collard greens made with a borderline irresponsible amount of bacon and the insanely creamy mac 'n cheese.
Burnet
If the Top Notch marquee looks familiar, it may be because it is featured in the film classic, Dazed and Confused. And, just in case you forget it, the tribute box featuring a young Ben Affleck's paddles, and the "Alright, Alright, Alright" T-shirts the employees wear will be sure to remind you. Movie references aside, you have to love the place—in the midst of an ever changing Austin it has stayed beautifully the same. The excellent fried chicken dinner certainly reflects this with its side of Texas toast, french fries, and a huge carton of gravy for you to dip everything in.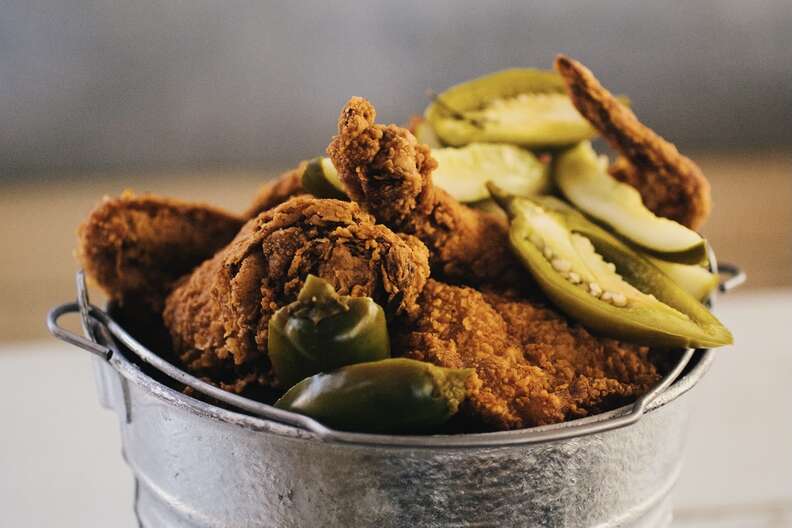 Multiple locations
A much-loved Austin chicken spot for over ten years, Lucy's serves Southern-fried favorites at both of their South Congress and Cedar Park locations. It is the type of place where everyone seems to be having fun—perhaps due to their fresh cocktails, such as their vodka-laced take on sweet tea, the Front Porch Tea. Head over at brunch for insanely good Chicken N Waffles, Belgian-style waffles generously topped with a chicken breast and thigh, doused in honey butter and syrup. Though it's certainly noteworthy, fried chicken is not the only homegrown, Southern classic you can grab there. They also offer fried catfish, cornbread, and deep fried deviled eggs that are also worth checking out. Bring friends.