When a bloated (possibly even flame-shirted) TV food guy deems one of your city's legendary restaurants "a hidden gem," we know that's not the case. When you genuinely stumble upon great eats outside of a strip mall wig store... now that's a hidden gem. There are an abundance of incredible restaurants in Austin, but somehow the food tastes better when it comes with a side of secret club. In the spirit of sharing, we've been digging deep to find the places none of your friends are talking about -- but should be.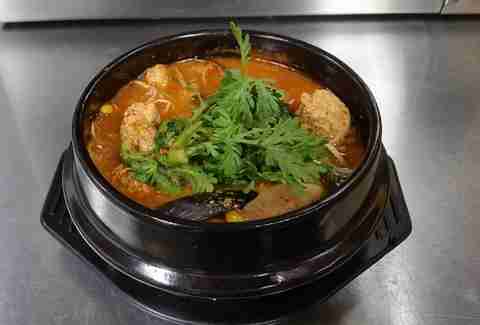 North Lamar
You can't help but say "roadhouuuuuuse!" in your head every time this place comes to mind. Soju bar? Korean restaurant? Sports pub? Karaoke lounge? It's all of those things, plus a basket of KFC (Korean fried chicken). Find it in the corner of a strip mall on north Lamar by a wig shop and a Tejano bar for basically a perfect night... and get a vodka slush, only $3 on Tuesdays.
Northwest
Blink and you'll miss it! Tiny but mighty, Troy is one of the few Turkish places in town. Those who are "in the know" know that it's worth the wait. The most talked-about dish is the Beef Iskender -- yogurt, doner, and toasted bread, with browned butter poured on top. For those folks wanting to save a couple of bills, it's BYOB. There's also live music on Thursdays for a side of tunes with your Turkish coffee.
North Austin
Marakesh used to be one of the only decent places to eat on Congress. My my, how times have changed. The new incarnation lives in a small space off of Steck. The interior is unassuming, with inlaid tile tables, hanging lamp, and bright silk throw pillows. It serves classic Middle Eastern and Mediterranean dishes and often has world music bands to accompany your dinner.
Middle Fiskville
Pastor Fred and crew are serving up self-proclaimed food for the soul, meaning a Southern-style buffet that is slap-yo'-momma good. The buffet is $9.99, drink included, and waffles available at all meals (obviously). Fried chicken, fried fish, mac & cheese, chicken fried steak, cornbread, sweet corn, collard greens… the list is endless. Make sure you check the schedule before heading over, as it's closed for Bible study on Wednesdays.
St. Johns
No, this is not a jam shop... but it is the jam. Take a right onto St. Johns from Lamar, and you've arrived; this little gastropub is the first to pop up on this road, though it's assuredly not the last. Happy hour runs all day on Sunday, and 4-7pm Tuesday through Saturday. Small plates change all the time, but the goat meatballs and merguez sliders are consistently available. Wash it down with a Mol'e Fashioned, or some house-made sangria.
East Braker
This mom-and-pop Mexican dive might be surrounded by industrial buildings, but the Vazquez family has been serving it up hot and fresh for over 20 years. The parking is tricky for sure, but once you get in, you're greeted with hot salsa, chilaquiles, enchiladas divorciadas, inexpensive breakfast tacos, and carne guisada big enough for two meals. Fair warning: the chips & salsa are seemingly endless.
Far West
Nepalese and Indian food come together here in a glorious profusion of flavors. As you probably gleaned from its name, Saffron has a heavy hand when it comes to the bright and lovely flavors of both cultures. It's an Instagrammer's dream. Vegetarians and meat eaters alike will find something on its extensive menu. Try a little bit of all things at the lunch buffet. BYOB just sweetens the pot.
South Austin
It feels like old Austin in here -- walls covered in posters and stickers, a small walk-up counter, tiny kitchen, and bangin' sandwiches. It uses only the freshest ingredients, and you'll be hard-pressed to choose between killer menu options. Topping the list are the Texas Dip (with Shiner Bock au jus) and the spinach artichoke grilled cheese, mushroom brie soup, and the buffalo chicken salad sandwich.
Downtown/Town Lake
What if we told you there was a spot right on Town Lake with a perfect patio, fresh smoothies, cold brew coffee, local beer, excellent wine, free yoga on Tuesday mornings, and bottomless mimosas on every first Saturday? It's not too good to be true. Head over to Alta's, a classy cafe right next to Rō Fitness, and you too can bear witness to the ultimate secret spot for taking a break from the trail.
Barton Creek
This restaurant isn't just hidden... it's completely obscured by Nordstrom. Did you know Nordstrom had a restaurant? Now you do. Give those credit cards and your butt a rest and enjoy a bowl of crab bisque, fresh berry & fig salad… or an entire brick-oven pizza. The bistro is dedicated to local, sustainable, natural, and organic foods. It also fully composts and recycles. Even the menus are made of post-consumer waste.
North Austin
In the way of many Asian markets in Austin, this is both a grocery store and a small restaurant. The market offers groceries that run the gamut, but the prepared food is primarily Filipino. For the uninitiated, pork adobo or caldereta (beef stew) are probably the items most familiar to the American palate. The place isn't long on atmosphere, but the authenticity factor is pretty damn high.
Walnut Creek
In this era of food-as-religion, even gas stations are stepping up their food game. Place your order at JR's window and watch those guys get to work on making something fresh and fast. The crack of an egg, the sizzle of the grill, the on-point green salsa... pick up a 44oz Slurpee to pair with your breakfast tacos. We recommend taking it to go (or don't, if the neon beer signs strike you as romantic).
Sign up here for our daily Austin email and be the first to get all the food/drink/fun in town.