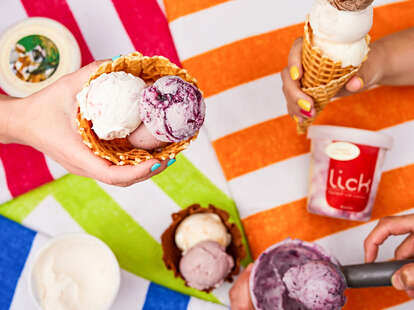 To say Austin is hot AF in the summer is a gross understatement. So it's a good thing the city offers plenty of cool-down options to make play time down South more bearable. For those who prefer not to river-tube or White Claw the heat away, how about a sweet and satisfying frozen treat, instead?
Austin's ice cream parlors are back, serving frosty goodness in a variety of shapes and sizes from straight-up scoops to cookie-capped sandwiches and spiked boozy creations. Here are 11 cold and creamy spots to work your way through this summer.
South Congress & Domain Northside
Superfans of the Wholefoods freezer darling, Jeni's, can go all out at two stand-alone Austin shops, one on South Congress and the other at Domain Northside. Here, the artisanal scoops are silky smooth, buttercream-bodied and melt-in-your mouth chunky funky throughout. New summer flavors include a limited edition Wedding Cake (a festive blend of vanilla, lemon, blackberries, and buttercream icing with heavenly chunks), and five options inspired by classic ice cream truck novelties: Rocket Pop, Orange Freeze, Mango Cheesecake Swirl, High Five Candy Bar, and Golden Nectar.
How to book: Stop by for counter service or order delivery online.
Seaholm
Ever seen late night lines by Trader Joe's in the Seaholm District and wondered what the hell was going on at the grocery store? Us too. Those lines are actually for the admittedly not-so-clearly labelled Baked Bear, stationed a couple of doors down. Here you can design your own ice cream sandwich, with cookie or brownie buns, a selection of colorful ice cream fillers, and toppings ranging from Nutella to M&Ms. And if you're feeling extra freaky, you can get your sandwich toasted, too.
How to book: Stop by for counter service or order delivery via DoorDash and GrubHub.
Texas Hill Country
Though it's a bit of a drive from downtown, a trip to Taqueria la Violeta is an occasion in itself. The restaurant is housed within Beerburg Brewing, situated across 15 picturesque acres in Texas Hill Country. Bring pals (and a designated driver) to enjoy made-from-scratch ice cream paired with housebrewed beers. Chef Ricardo Gutierrez's flavors rotate seasonally and are available by the scoop or as a flight of four. Current options include Hibiscus, Miso Sesame, Peach Cobbler, Ginger Peach Sorbet, and Toasted Pistachio Rose.
How to book: Stop by for first come, first served seating or order take-out via Toast.
Burnet Road
DipDipDip is a Japanese-inspired creamery that takes local milk, cream, and buttermilk from Hill Country Dairies and conjures them up in an array of IG-worthy desserts. Choose from unique flavors like Sum Yum Yuzu (a black pepper-yuzu-mascarpone base speckled with meringue kisses, berry preserve, and grassy shiso leaf) and have it served in a pink lemon-dipped cone or a cup with a dipped waffle chip. DipDipDip also offers ice cream tacos in panko-fried brioche buns, boozy milkshakes, and assorted pints touting flavors like hojicha and burnt orange or cookies 'n matcha.
How to book: Stop by for counter service.
Multiple locations
Lick has been an Austinite obsession since 2011, now with three area locations peddling pure, fresh ingredients sourced responsibly from local farmers and partners. Lineups include Texas Sheet Cake (injected with yummy homegrown chocolate-pecan icing) and the ultra-refreshing Roasted Beets and Fresh Mint. Fans can also try Horchata, a velvety homage to the Mexican beverage, and Blueberry Crumble, packed with tiny nibbles of crunchy streusel on a bed of blueberry ice cream. Equally loved vegan alternatives, ice cream sandwiches, and diverse toppings seal the deal. You'll be spoiled for choice.
How to book: Stop by for counter service or order delivery via Goldbelly.
East Sixth
With housemade gelato and Negronis in stylish digs, Gelateria Gemelli is a winning concept. Fans of not-too-sweet "grown-up" flavors will love offerings like bergamot-infused Earl Grey, savory-ish Miso Vanilla, and bright Lemon Curd. It's not uncommon for patrons to pair a handcrafted cocktail with their scoop, such as a White Negroni, Aperol Spritz, or any other tipple making good use of the shop's wide selection of Italian liqueurs.
How to book: Stop by for bar service or order delivery via Uber Eats.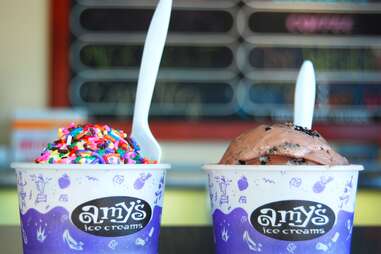 Multiple locations
Amy's Ice Creams is Austin's original locally owned ice cream shop, with 13 locations and a crazy long list of permanent and seasonal flavors (we're talking over 350). If you're not sure where to start, we suggest going with their top-selling classic Mexican Vanilla or Belgian Chocolate base for your Reese's-, gummy bear-, and raisin-studded creation (no judgment here). Or try a specialty flavor like Zilker Mint Chip—sweet cream ice cream mixed with creme de menthe, peppermint oil, and chocolate chips.
How to book: Stop by for counter service or order delivery and take-out online.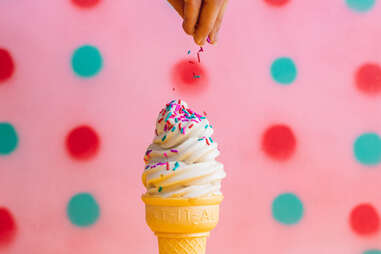 North Loop
Unapologetically cute Sweet Ritual makes killer vegan ice cream that ditches the dairy without losing one iota of flavor by incorporating plant-based ingredients like nuts, coconut milk, sunflower seeds, sesame seeds, hemp seeds, and avocado. Devotees swear by Peanut Butter Chocolate (swirls of chocolate chunks in a creamy peanut butter base) and Death Metal by Chocolate (locally baked, gluten-free chocolate cookies and chocolate "freckles" in a double chocolate sunflower seed butter base). They also make gorgeous ice cream cakes.
How to book: Stop by for counter service or order delivery via Favor and Uber Eats.
East Seventh
Liquor-spiked ice cream creations are Prohibition Creamery's specialty; they craft each ice cream, float, shake and sundae with the sensibilities of a great classic cocktail bar. Try the Whiskey Chocolate, which is swirled with boozy brownie bites, bananas foster, and pecan buttered rum, or how about a vegan Prickly Pear Mezcal, an earthy-sweet sorbet infused with El Silencio Espadin mezcal? The party's only getting started.
How to book: Stop by for first come, first served seating or order delivery via DoorDash, Postmates, and Favor.
Multiple locations
Family-owned and operated Dolce Neve—helmed by a professionally trained gelato maker—is a sweet spot for European indulgence. Dolce Neve's staple (always available), rotating (available every couple of weeks, year-round) and seasonal (fruit and holiday specials) gelato and sorbet offerings are inspired by flavors from the owners' native Italy as well as what's available from local farmers and food artisans. Our standouts are the Mascarpone & Figs and the Tiramisu. Bellissimo!
How to book: Stop by for counter service or order take-out and delivery online.
Multiple locations
SnoMo specializes in Taiwanese shaved ice—simultaneously fluffy and creamy ribbons crested with toppings like boba, fruit, and candy. This is a build-your-own situation, but if it's your first time, go with the trusted combo of matcha snow ice smothered in heaping spoonfuls of strawberry slices, boba pearls, and mochi.
How to book: Stop by for counter service or order delivery via Grubhub, Uber Eats, and DoorDash.