Courtesy of Merry Monarch Creamery
Courtesy of Merry Monarch Creamery
No warnings necessary, we all know things are unbearably hot in Central Texas. How we survive: blasting AC and wearing only our underpants, perhaps surfacing after dusk, if we dare. But ice Cream is Austin's summer savior, the magical elixir to beating brutal temperatures, and an all-around delight for anybody with a sweet tooth. Come get your cones, your sandwiches, or your soft serves right here at Austin's best ice cream shops.
North Loop
Why travel all the way to England for a royal coronation, when you can (kinda) have one right here on Burnet Road? Merry Monarch Creamery spins dairy deliciousness fit for a king. The store is named after King Charles II, known as the Merry Monarch, who was one of the earliest fans of ice cream according to historians. Your scoops here are generously covered in chunks, including Oreo cookies and dark chocolate hazelnut truffles on the Oreo Miso, and sour cherries and brown butter graham crumble on the Cherry Bourbon Cheesecake. Any dessert here is a royal feast.
East Austin
Thai Fresh owner, Jam Sanitchat, has changed the way Austinites do dessert, luring diary-loving Texans to try plant-based goodness. Her no-tipping business model whereby staff is paid a fair wage with benefits has also earned praise from the local community. One visit to Jam's stand-alone cafe, Gati, will make a superfan, whether on the gluten-free coffee cake or homemade ice cream (our fave is the refreshing Thai Tea). There are around 40 rotating flavors, most of which contain four ingredients or less, and all are vegan and gluten-free. An affogato flight menu—a wooden set composed of your choice of three different ice cream scoops served with a shot of espresso—is new to Gati this summer.
Multiple locations
Vacationed in NYC and developed an addiction to the wonders of Milk Bar? No need to countdown till the next trip, because it's stocked right here in Texas. That includes the OG cereal milk pint (mmm crunchy cornflakes) and their scrumptious pies, cakes, cookies, and truffles. Milk Bar was founded by James Beard Award-winning pastry chef Christina Tosi and now has bakeries across the US. While there is no brick-and-mortar location in Austin, you can pick up pints from at H-E-B, Whole Foods, and Target, or order direct to your front door so all you have to do is throw it in the cooler before park day on Zilker.
Various locations
The ice cream food truck comes from a husband and wife team who relocated to ATX from Nicaragua. Bésame translates to 'kiss me' in Spanish, and their creamy, from-scratch ice creams have seen lovers loyally follow the pink food truck, stationed all over the city. 'My Jam' is a favorite, made with pretzel milk ice cream and swirls of strawberry jam. All their ice cream is made fresh the morning it's sold, and also used on their milkshakes, sundaes, and cookie sandwiches.
Multiple locations
Fans of the supermarket freezer darling, Jeni's, can go all out at three stand-alone Austin shops, on South Congress, Domain Northside, and The Triangle. Here, the artisanal scoops are silky smooth, buttercream-bodied, and melt-in-your-mouth chunky funky throughout. Flavors include the crunchy Salted Peanut Butter With Chocolate Flecks, and the Everything Bagel, a cream cheese swirl with sweet gravel, though you can't really go wrong with any of the options at the counter.
Seaholm
Always seen late-night lines by Trader Joe's in the Seaholm District and wondered what the hell was going on at the grocery store? Us too. Those lines are actually for the admittedly not-so-clearly labeled Baked Bear, stationed a couple of doors down. Here, you can design your own ice cream sandwich, with cookie or brownie buns, a selection of colorful ice cream fillers, and toppings ranging from Nutella to M&Ms. And if you're feeling extra freaky, you can get your sandwich toasted, too.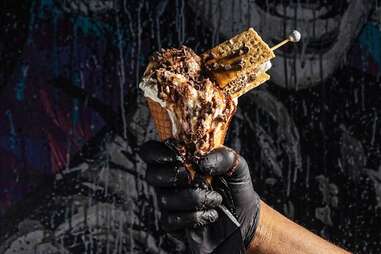 East Austin
Opened in 2022, X Crem is a fantasy hangout mixing sinfully sweet disco cones and boozy sundaes till the early hours of the morning. Try the Brownie Batter scoops which can be spiked and enjoyed in a milkshake, or simply piled in a cup with a cocktail on the side. The bar and dessert lounge is open from Wednesday to Sunday, and the dark and sultry interiors easily transport you a world away from the sweaty madness of East 6th.
Clarksville
For a shake-up on the traditional cookie, come try it curved and stuffed. Cookie Rich is a North Lamar Blvd trailer that bakes bite-sized cookies filled with creamy goodness. Order the Cookie Crush to enjoy them served on cookie milk ice cream, or quench your thirst with their summer floats—nostalgic soda flavors topped with your choice of scoop. There are also cookie milk iced coffees and standard milkshakes if you're not up for the chew.

Burnet Road
DipDipDip is a Japanese-inspired creamery that takes local milk, cream, and buttermilk from Hill Country Dairies and conjures them up in an array of IG-worthy desserts. Choose from unique flavors like Sum Yum Yuzu (a black pepper-yuzu-mascarpone base speckled with meringue kisses, berry preserve, and grassy shiso leaf) and have it served in a pink lemon-dipped cone or a cup with a dipped waffle chip.
Multiple locations
Lick has been an Austinite obsession since 2011, with three area locations peddling pure, fresh ingredients sourced responsibly from local farmers and partners. Lineups include Texas Sheet Cake (injected with yummy homegrown chocolate-pecan icing) and the ultra-refreshing Roasted Beets and Fresh Mint. This summer's Pride (it's in August, remember) special is the Orange You Glad it's Pride? rainbow spectacular. Equally loved vegan alternatives, ice cream sandwiches, and diverse toppings seal the deal.
Multiple locations
Amy's Ice Creams is Austin's original locally owned ice cream shop, with 13 locations and a crazy long list of permanent and seasonal flavors (over 350). If you're not sure where to start, we suggest going with their top-selling classic Mexican Vanilla or Belgian Chocolate base for your Reese's-, gummy bear-, and raisin-studded creation. Or try a specialty flavor like Zilker Mint Chip—sweet cream ice cream mixed with creme de menthe, peppermint oil, and chocolate chips.
Multiple locations
Family-owned and operated Dolce Neve—helmed by a professionally trained gelato maker—is a sweet spot for European indulgence. Dolce Neve's staple (always available), rotating (available every couple of weeks, year-round), and seasonal (fruit and holiday specials) gelato and sorbet offerings are inspired by flavors from the owners' native Italy as well as what's available from local farmers and food artisans. Our standouts are the Tiramisu and the Crema Dolce Neve (custard with lemon zest). Bellissimo.
James Wong is a Libra who loves the Spice Girls. Born in London, lived in Tokyo, and now residing in Austin, he has written Texas guide books and spoken at SXSW.