Finding the motivation to leave the comfort of your couch (and air conditioning) in the 100-degree Austin heat can be difficult -- unless you're using ice cream as said motivation. Specifically, these eight places turning out the finest ice cream in Austin.
Multiple locations
When it comes to frozen goodness in Austin, Amy's Ice Cream is the queen. AND the king. It's best known for its Mexican vanilla, but it has over 350 rotating flavors to choose from. Amy's started in Austin in 1984 and has now colonized Houston and San Antonio. If ice cream isn't your thing (why are you still reading?) Amy's also has frozen yogurt and fruit ices to keep you cool.
Multiple locations
This rolling truck of creamy deliciousness was born out of California and got its big break at the Coachella Valley Music Festival. Now there are trucks Los Angeles, New York, Dallas and two trucks roaming though Austin. It takes ice cream to a whole new level with flavors like gin & tonic, peking duck, and bourbon pecan pie. Anyone who can make Avocado Sriracha ice cream work deserves your respect.
Hyde Park
Whether you're looking to warm up in the winter or cool down in the summer, Dolce Vita is there for you all year round. It specializes in gelato and espresso (along with some light bites and sandwiches), using fresh fruits to produce its impossibly rich and smooth gelato (try the pistachio). Pro tip: a sorberita (sorbet meets a margarita) is something you want to try.
West Campus
Cow Tipping Creamery is serving up amazing soft-serve ice cream from a truck in West Campus. You can be boring and get a cone of ice cream with a topping of your choice, or you can get what they call a Stacker: it's like a sundae on steroids, with ingredients stacked (get it?) so you get all the flavors throughout. These cups are a delicious work of art, with inventive toppings like Fritos saltine toffee bark and cornmeal lemon-thyme crumbs.
Bouldin Creek
Nestled in a little house along South 1st, Dolce Neve is making amazing and authentic Italian gelato. One of the owners, a Italian native, even attended Carpigiani Gelato University in Bologna, Italy where she honed her gelato-making skills. Luckily, she's here in Austin now, bringing a steadily rotating flavor lineup, heavy on Italian tastes like mascarpone lemon zest and ricotta honey pistachio.
Bouldin Creek
Lick only uses locally sourced dairy and other natural ingredients to make its sweet treats, and all the hard work pays off on the finished product. Complex and well-balanced flavors like dark chocolate with olive oil & sea salt and goat cheese, thyme & honey are both rich and addicting. Lick also successfully employs veggies in flavors like roasted beets & fresh mint, and caters kindly to the vegan folks with several coconut milk-based creations.
Hyde Park
Located inside of JuiceLand, Sweet Ritual is a haven for those looking for dairy-free ice cream. No longer will your lactose intolerance keep you down! It offers sixteen different homemade ice creams that rotate daily, and it's always looking to create new flavors to augment staples like salted caramel and chocolate chai. It may seem like some vegan health alternative but these ice creams are legit and they taste like the real thing. It also makes it easier to justify a second serving.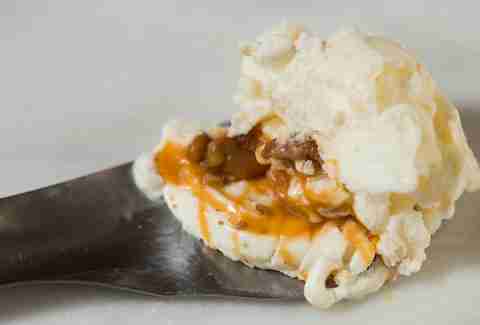 Rosedale
Teo has been turning heads since it opened in 2003. Owner Matthew "Teo" Lee studied the art of gelato making in Italy and has won many awards for his gelato in global competitions. Luckily for us, Teo is based here in Austin. The flavors are as Texan as they come with gelatos like Texas pecan & whiskey, goat cheese & cherry, and Hill Country peach -- but the way they are made is authentically Italian.
Sign up here for our daily Austin email and be the first to get all the food/drink/fun in town.