There once was a time when Austin was a vast desert in terms of Italian food, where nary a decent cannoli nor carbonara could be found. Luckily, in the past few years a wave of exciting new restaurants has brought modern twists to this beloved cuisine, such that you'll never have to consider Olive Garden again. So, for your mouthwatering, hunger pang-inducing pleasure, here are Austin's best Italian eateries.
Recommended Video
These Tacos Are Made for Dunking
East Cesar Chavez
Executive chef/partner Nicholas Yanes combines inspiration from Northern Italy and Central Texas in Juniper's refined and accessible menu. The airy puffy potatoes with whipped dijon mustard are a favorite starter, followed by entrees like black linguine (tossed with gulf shrimp, mushroom, and chile) and the 44 Farm NY strip (served with tomato emulsion chunky chimichurri). Juniper also offers perfect cocktails, including the over-the-top, $19 Chef's Brand New Cadillac negroni made with The Botanist Gin, Campari, Barolo Chinato, and "nice ice."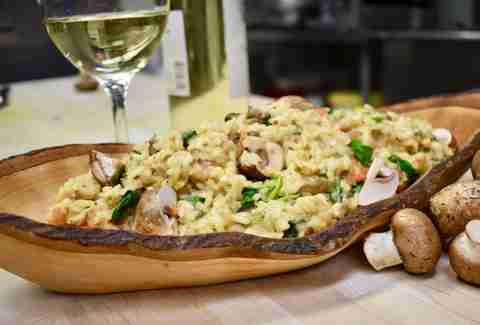 North Burnet
Far from the trendy eateries of downtown and East Austin, this neighborhood spot tucked away in an unassuming strip mall is always full of regulars, and for good reason: owner (and Naples, Italy native) Daniela Marcone combines tried and true family recipes with an unwavering dedication to authenticity and quality. Loyal patrons rave about the ravioli ai funghi​ (homemade mushroom and all-natural Italian ricotta ravioli sauteed with walnuts, dried cranberries, and fresh rosemary in brown butter sauce), and the spaghetti alla carbonara​ (spaghetti sauteed with guanciale, farm cream and farm egg yolk, topped with pecorino cheese). Pro tip: Andiamo offers half-off of select bottles of wine on Wednesdays. So, y'know, go on Wednesdays.
Manor Road
Tucked behind Butterfly Bar on bustling Manor Road sits Italian trailer Patrizi's, which continues a family tradition that began in 1948 with hand-pulled, made-to-order pasta. If you use carbonara as a measuring stick for any quality Italian restaurant, Patrizi's hits the high mark, especially when the additions include a coddled egg, bacon, or a baseball-sized meatball. However, the red sauce on Patrizi's thick, toothy pasta is nothing to scoff at, either: It's stewed with onions, garlic, garden herbs, pork trimmings, and cheese rinds for an oh-so-comforting classic sauce.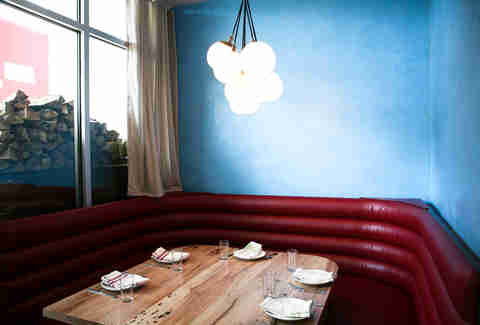 Mueller
Executive chef Fiore Tedesco (formerly of Franklin BBQ, La Condesa, and Bufalina) and the culinary team of L'Oca d'Oro (Italian for "golden goose") have been consistently creating contemporary Italian dishes since the place opened in 2016. Everything on the menu shines, thanks to the house-made pasta, fresh-baked breads, wood-grilled meats, and seasonal ingredients, with current lick-the-bowl standouts including the risotto verde (creamy risotto flavored with cheese, pepper, prosciutto cotto, and crispy broccoli) and the rigatoni alla Norcina (house pork sausage, taleggio cream, dried chile). Try L'Oca D'Oro's brunch: the Bloody Bartolo (a Bloody Mary made with tequila and fermented chile) alone is worth the trip.
South Congress
Dinner spot Vespaio opened in 1998, back before South Congress was a busy tourist attraction, with the more casual Enoteca Vespaio next door opening in 2005 to satisfy the demand for its Italian fare to be served all day. You can't go wrong with prosciutto pizza from Enoteca, or the melanzana & zucchini -- crispy eggplant, zucchini, arrabbiata sauce, and fresh mozzarella served with spaghetti with garlic olive oil. Don't forget to grab some house-made pastries for the ride home, either.
Anderson Mill
Reale's has been serving up hearty, New York-style Italian in Anderson Mill since the early '90s. The vibe of the family-friendly restaurant is a far cry from the Instagrammable eateries downtown, but what it lacks in trendiness, it completely makes up for with simple, honest, and delicious food: red-sauce favorites include the baked ziti, manicotti, and the pizza (any pizza). Oh, and be sure and load up on the breadsticks, which are worth a trip up North on their own.
Barton Springs
Located at the Picnic at Barton Springs food truck park, Cannone Cucina Italiana is helmed by chef/owner and native Italian Salvatore Cannone. The truck is recognized as an absolute gem for anyone who's had the chance to try the fresh pasta; regulars absolutely rave about the fluffy gnocchi, flavorful ravioli, rich bolognese sauce, zesty red sauce and pesto, pasta carbonara... we could go on and on. Do yourself a solid and head there, ASAP.
Rosedale
Stylish digs, fantastic cocktails and wine selection, and beautifully plated fare that leans bright and light over mom-and-pop heavy -- these are just a few of Olive & June's highlights. Part of Parkside Projects (the group behind Parkside, The Backspace, and Bullfight), Olive & June feels like a special occasion restaurant, whether you choose to dine in the intimate dining room or under the 200-year old oak tree strung with lights. Start with the farm egg (polenta, foraged mushrooms), move onto the zingy spaghetti alla foriana (shrimp, cashew, preserved lemon, basil) and finish with the 44 Farms New York strip (spring vegetable, parsnip puree, charred leek).
Sign up here for our daily Austin email and be the first to get all the food/drink/fun in town.