There once was a time when Austin was a vast desert in terms of Italian eats, where nary a decent cannoli or carbonara could be found. Luckily, the more recent wave (of marinara sauce?!) of exciting restaurants has brought a modern twist to the beloved cuisine. So, for your mouthwatering, hunger pang-inducing pleasure, here are Austin's best Italian eateries.
Recommended Video
This Pizza Has Fried Chicken for Crust
East Cesar Chavez
Executive Chef/partner Nicholas Yanes combines inspiration from Northern Italy and Central Texas in Juniper's both refined and accessible menu of small plates. Puffy potatoes are dipped in whipped dijon mustard; house-made thin pasta is dressed with sweet shrimp, garlic, scallion, and pine nuts. And true to its name, Juniper offers perfect gin-based cocktails -- try the You Must Be Here (gin, grapefruitcello, Campari, cinnamon).
North Burnet
Far from the trendy eateries of Downtown and East Austin, this neighborhood spot tucked away in an assuming stripmall is always full of regulars and for good reason. Owner -- and Naples, Italy native -- Daniela Marcone combines tried and true family recipes and an unwavering dedication to authenticity and quality. Loyal patrons rave about the linguine cozze e calamari, a linguini dish with calamari, black mussels, fresh tomato, and light spicy white wine sauce as well as their vegetarian options like pumpkin ravioli. The pros know that every Wednesday they have bottomless pasta for $20 and half off of select bottles of wine!
West Sixth
From the team behind 24 Diner and Easy Tiger, -- as well as Executive Chef Andrew Curren -- is Italic. The space is reminiscent of a midcentury-modern office, the service is attentive, and the food is refined comfort all the way. The menu can be parsed down to standouts like the seared calamari, burrata and acorn squash mezzaluna or, if you're truly on auto-pilot, put in for the seasonal prix fixe menu that'll take your from vegetables to chocolate budino.
Barton Springs
The very newly open Juliet not only boasts spacious, stylish digs -- think 1960s Italian postmodernism -- but also top-notch culinary and bar programs. Try the carpaccio (shaved beef tenderloin, tonnato, pickled beech mushrooms, pea tendrils, Parmigiano-Reggiano) and the fresh made-in-house pastas such as the goat cheese agnolotti. The bar boasts eight Negroni variations, so try a flight that includes four 1oz servings.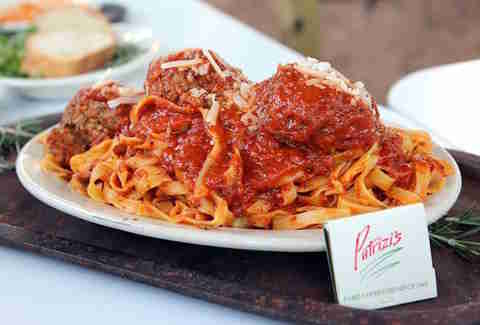 Manor Road
Tucked behind Butterfly Bar on bustling Manor Rd sits Italian trailer Patrizi's. It continues a family tradition that began in 1948, with fresh homemade pasta, made to order. Using a carbonara as a measuring stick for any quality Italian restaurant, Patrizi's hits the high mark, especially when the additions include a coddled egg, bacon or a baseball-sized meatball. This is a great hangout for kids and dogs as well.
South Congress
Small and cozy with an old-school Austin elegance, La Traviata is known for its ridiculously good pasta dishes. The spaghetti carbonara sounds simple, but one bite will make you a believer. It's a hearty pile of spaghetti tossed with pancetta, onion, cream, and lemon, and topped with a farm egg. For appetizers, the mussels are a must!
Mueller
Executive Chef Fiore Tedesco (formerly of Franklin BBQ, La Condesa, and Bufalina) and General Manager Adam Orman have been carefully planning the L'Oca d'Oro (Italian for "golden goose") concept for years starting with a series of pop-ups. The finished product has been worth the wait -- house-made pasta, fresh-baked breads, wood-grilled meats, and seasonal ingredients make every dish shine. Must-try picks include the earthy wood roasted mushroom lasagna (Taleggio, mozzarella, green onion puree, juicy meatballs with tomato jam and garlic toast, and fried rabbit (pickled peppers, cornbread, honey).
South Congress
Dinner spot Vespaio opened in 1998, back before South Congress was a busy tourist attraction. It opened the more casual Enoteca Vespaio next door in 2005 to satisfy the demand for its Italian fare to be served all day. You can't go wrong with prosciutto pizza from Enoteca or the spaghetti alla carbonara from Vespaio. Don't forget to grab some house-made pastries for the ride home.
South Lamar
New to the bustling South Lamar Union complex, Cantine (from the folks behind ASTI Trattoria and the bygone FINO) offers brunch, lunch, dinner, and a solid beer/wine/cocktail selection. Try the fried goat cheese (red onion jam, honey, black pepper), grilled Caesar salad, and the pan-seared Verlasso salmon (whipped cauliflower, roasted Campari tomatoes, golden raisins, fried capers).
Anderson Mill
Reale's has been serving up hearty New York-style Italian in Anderson Mill since the early '90s. Our favorites include the baked ziti, manicotti, and the pizza. Be sure and load up on the breadsticks -- those alone are worth the trip up North.
Sign up here for our daily Austin email and be the first to get all the food/drink/fun in town.