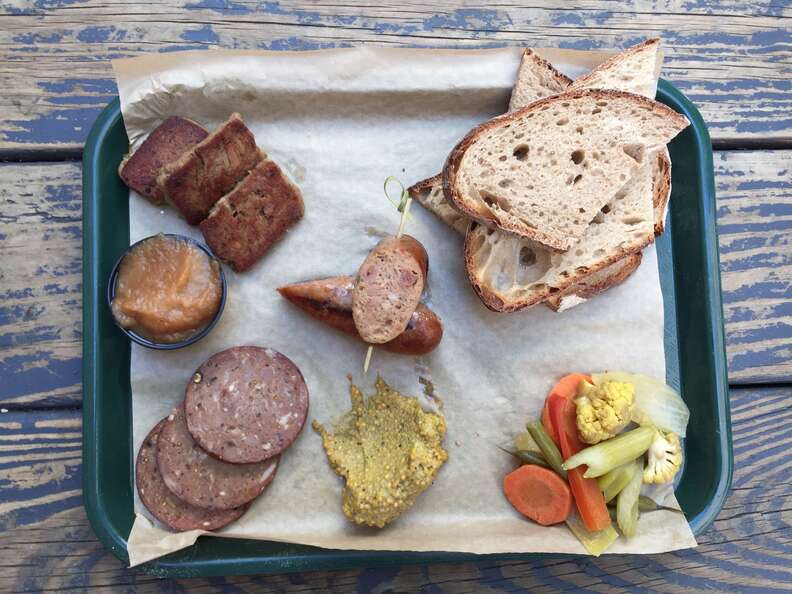 Sooner or later, we all have to face the fact that every night out, no matter how great, has to come to an end eventually. Or does it? Whether you're desperately in need of late-night sustenance or looking to keep it going with greasy finger foods, there are joints all over the city that cater to voracious night owls.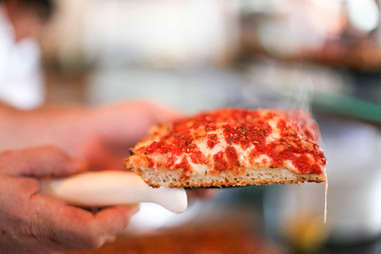 South Congress
More Home Slice serves up some of Austin's best pies, and the to-go window means you can make a quick getaway to feed your face with some perfectly textured thin-crust slices. It'll be the best meal you've ever eaten in a parking lot while using your pants as a napkin.
When it closes: 3am, Friday & Saturday
East Austin
JB is unabashedly cool, with a bit of a see-and-be-seen scene (say it quickly!), but you'll be hard-pressed to find a better late night meal. The late-night kitchen serves everything from textbook steak frites to escargot and boozy cocktails you didn't necessarily need (but will gladly accept).
When it closes: 1:30am, every day
East Austin
Move over, New York: Detroit-style pizza rules the night at this much-loved pizza trailer. The crispy-outside, chewy-inside, square pizza deliciousness here will soaks up whatever you've been doing earlier in the evening -- and there's also another trailer behind Craft Pride on Rainey Street, with similarly late hours.
When it closes: 12am Sunday-Wednesday, 2am Thursday-Saturday
East 11th
Nickel City's resident food truck, Delray Cafe, serves Detroit-style bar food until 3am -- think cheesy sliders with steamed buns, Coney dogs loaded with chili and mustard, crinkle fries, and perfectly crisp wings. Delray Cafe (brought to you courtesy of the brothers responsible for Via 313) delivers simple, cheap, and delicious eats at a great bar, what else do you need?
When it closes: 2am Sunday-Thursday; 3am Friday & Saturday
Warehouse District
The team of badass ladies at punk rock diner Holy Roller are always on top of national trends, and in this case it's French fries and soft serve. The salty meets frosty and sweet combination is the ultimate late-night snack, and it's just one part of the full-of-whimsy late night menu -- there's also the Trash fries (gravy, sunny egg, sour cream, corn, lime, cotija), which your inner garbage human will thank you for.
When it closes: 1am Friday & Saturday
Downtown
The late hours at chic comfort food haven Irene's means you can linger on the outdoor patio long into the night, guilt-free. Choose from the extensive menu of toasts, sandwiches, sides, and entrees -- we like the pigs in a blanket, shells and cheese, and Nutella toast with a sprinkle of sea salt.
When it closes: 2am every day
Sixth Street
It's no secret that Easy Tiger's German beer garden-influenced menu goes well with its considerable beer selection, but what you may not know is the kitchen stays open extra-late every single night. Try the snack board: The two giant house-baked pretzels, beef jerky, Chex Mix, house mustard, and Easy Tiger's famous beer cheese are perfect for sharing.
When it closes: 2am every day
Rainey Street
Grabbing a late bite at Javelina is always a good decision, especially after a night of the questionable ones on Rainey Street. You can load up on fries, wings, and tacos, or go for the bar's namesake burger -- the Javelina starts with a patty made with a mix of chuck and brisket from Angus beef, which is topped with green chile pork, Jack cheese, and mustard, and served on a locally baked bun.
When it closes: 1:30am every day
East Sixth
Found in the food truck park on East Sixth, this spot is known for its fantastic (and massive) falafel and shawarma wraps and plates. Yes, there are seemingly infinite halal eateries all over Downtown, but the friendliness and hospitality provided by owner Sam help to set Halal Time apart -- it's also open super late, which doesn't hurt.
When it closes: 3am, Tuesday-Saturday
East Sixth
We've said it many times, and we'll say it again: Thai-Kun is simply astounding. Every bite is bursting with flavor (and fire), the price point is right, and you can enjoy one of Whisler's cocktails at the same time -- check out some menu/cocktail pairings for yourself. If you can't handle destroy-your-insides level Thai spice, stick to the Thai-Kun fried chicken with chicken fat rice and sweet sauce... otherwise, go for the notoriously fiery beef panang curry.
When it closes: 1:45am, every day
Sign up here for our daily Austin email and be the first to get all the food/drink/fun in town.