Austin doesn't have a ton of options when it comes to post-last-call dining. But, out of the places open late or all night long, selections run the gamut from typical booze-soaking fare to less conventional options like gluten-free pancakes, vegan migas, and beet sausages. But let's be honest -- you're not here to make good decisions. You're here to to fill your gut with something that sticks to your ribs and tries to mitigate some of the damage you've done. Plus, if you don't recall eating it, it doesn't count, right?
Downtown
What you should get: Fried Chicken and Waffles and Chili Cheese Fries
24 Diner is in a prime Downtown location, so on weekend nights around 2:30am, it's every man for himself -- and only the strong survive. If you can procure a table, you will be rewarded with the crispiest, flaky-crusted fried chicken served atop a substantial golden waffle. Add Grade A Vermont maple syrup and hot sauce to your heart's content, and throw in an order of chili cheese fries for good measure. Their house-cut Idaho potatoes are topped with high-quality beef chili, a generous grating of cheddar, and freshly sliced green onions and jalapeños. And if you find yourself out on a Tuesday night, get your hands on a bowl of their chicken and dumplings special, a silky stew of tender white chicken and thick-and-satisfying buttermilk chive dumplings in a veggie- and herb-rich base (this isn't some run-of-the-mill greasy spoon, in case you haven't noticed).
Multiple Locations
What you should get: A Neptunian Landscape and Mag Mud
Either location of Magnolia Cafe is a rowdy sight to behold in the wee hours. Don't be surprised to see someone passed out in their plate of hash, and do expect the neighboring table to document the incident. While there are many options that'll sound amazing at 4am, the best move is the Neptunian Landscape, a delicious mess of grilled potatoes, avocado, green onion, salsa verde, and lemon sour cream sauce with Jack cheese. And adding some Mag Mud is a no-brainer. It's how everyone should make queso: with black beans, avocado, and pico de gallo.
Hyde Park
What you should get: The Elusive Peanut Butter Donut
We're glad we don't live too close to Mrs. Johnson's because this 24-hour donut emporium spells danger, especially with its convenient drive-thru and neon "HOT DONUTS" sign letting you know when the little devils are fresh out the oven! Our personal favorites are the chocolate or the blueberry-glazed cake donuts. So why recommend the peanut butter donut? Because we don't believe this unicorn of a cake ring exists! If you ask what the peanut butter donut is like, they'll give you a big smile and say, "Sorry, we are out!" whilst slipping an extra donut in your bag. Oh, and the nicest people work at Mrs. Johnson's.
East Austin
What you should get: A Super Taco
Just a hop, skip, and a jump from Downtown is Las Cazuelas, which maintains 24-hour service Thursday through Sunday (and closes at 2am Monday through Wednesday). Their extensive menu includes five types of nachos, four types of burritos, a dozen kinds of enchiladas, y mucho más. But the true late-night draw is the Super Taco -- a monstrous heap of steak, beans, potatoes, grilled onions and peppers, cheese, avocado, and tomato piled into a 12in tortilla and accompanied with rice, beans, sour cream, guacamole, and salad. Accidentally stayed out until the sun came up? Get rewarded with $1 tacos, which start at 5am!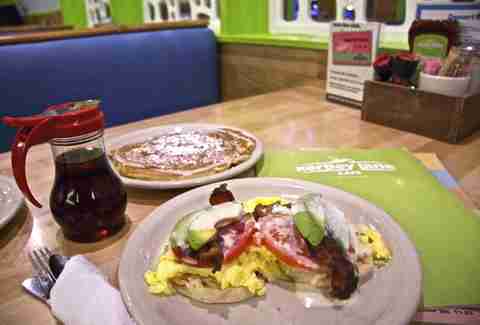 Multiple Locations
What you should get: Eggs Francisco & a Cinnamon Roll Pancake
Sweet vs. savory is a perpetual existential dilemma at any diner. Luckily, Kerbey Lane doesn't make you choose. Order their Paris, Texas for a plate of cheesy migas and another of French toast! Or, order any of their well-priced plates and get a single signature pancake in flavors like gingerbread, lemon poppy seed, or the glazed cinnamon roll pancake shown above. It's the perfectly sweet ending to a plate of Eggs Francisco -- a heap of scrambled eggs, crispy bacon, and fresh-sliced tomato and avocado atop English muffins topped with a generous drizzle of queso.
Bouldin Creek
What you should get: Breakfast Torta and Tres Leches Cake
La Mexicana has some pretty massive breakfast tacos that'll really hit the spot, and the salsa is legit drizzled on their migas. But the way to go is with a big breakfast torta on one of their fresh-baked bolillo rolls, grilled to perfection and heaped with eggs, cheese, bacon, potatoes, and what have you. There are bakers toiling away all night long here, and filling up their never-ending case with a rainbow of baked goods, from pumpkin empanadas to cream-filled horns to chocolate flan. But their tres leches cake is truly heavenly served under that hellish fluorescent light. Mmm... breakfast.
West Campus
What you should get: A Phat Sandwich
Not sure whether you want chicken fingers, onion rings, fried pickles, french fries, a cheesesteak, or a burger? Well, duh -- just get it all on a giant hoagie and be done with it! That is, after all, what this campus-area spot specializes in and serves until 4am to the collegiate masses (with their damn high metabolisms). You could be boring and get a calzone or some pizza, but why would you when you could get the Phat Gigalo (cheesesteak, mozzarella sticks, onion rings, French fries, and marinara sauce), Phat Ass (grilled chicken, cheese, gyro meat, fried pickles, French fries, and "Statziki" sauce), or the Phat Orgasm (turkey, Swiss, bacon, jalapeños, curly fries, and chipotle mayo)?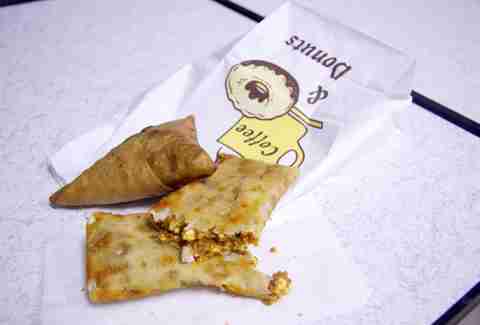 North Austin/UT
What you should get: Samosas and Paneer Tikka
Pro tip: the best things at Ken's Donuts are not actually donuts, but the savory Indian pastries they sell right alongside them. That is all.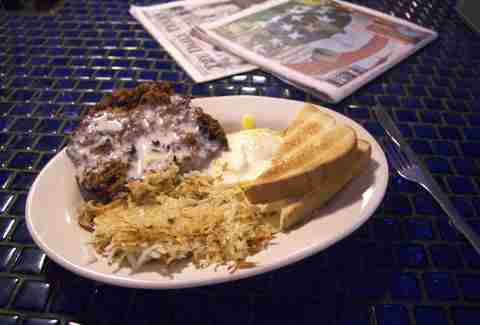 East Side
What you should get: Chicken Fried Steak and Eggs
Some nights turn to mornings before you know it, and you may just find yourself tucked into a dark booth at Star Seeds. The place, which is practically attached to a Days Inn on the feeder of I-35, is an Austin staple and it's been serving up dimly lit diner fare since most of you punks lived here anyway. Breakfast is really the way to go here, but we decided to give their egg-topped version of chicken fried steak a go. The crust was surprisingly crunchy and handmade (though, admittedly, the gravy was not very thick -- but we pity the fool who'd dare complain here!). And what better accompaniment than some runny eggs and a mound of greasy hash browns to start -- or... uhhh, end -- your day?
Riverside
What you should get: A Cheesy Feast
Discreetly tucked up an incline just South of Riverside Dr is El Taquito, where the walls are painted vivid colors, the salsa bar is so big and so fresh and so clean, and their scrumptious fare is served until 3am -- just enough time to book it after last call and order enchiladas, queso flameado, or a big-as-your-head chile relleno taco (or, you know, all three).
This list -- and all the rest -- look even sexier in our iPhone app. Get it now!