Let's assume, just for one minute, that you had to choose one neighborhood to find all of your good eats. Do you go for number of eateries, or diversity? Casual, or fancy? Newcomers, or well-established favorites? With the growth of Austin's food scene over the past couple of years, this quandary becomes increasingly impossible to solve. Here are the best food neighborhoods in Austin, with a little creative license as to 'hood limits for the sake of good eating.
10. Manor Rd
It seems like only yesterday that this area was a sleepy little east-of-35 hamlet with just the esoteric Vortex and chicken-fried steak at Hoover's. Now you can walk down this street and indulge almost any craving. Fulfill carnivorous desires at Dai Due, binge on breakfast tacos at La Fruta Feliz or Taco-Mex, have some pie at Elaine's, hit up happy hour at The Salty Sow, suss out American standards at Eastside Cafe, dig into hearty Mexican at Mi Madre's, and carb-load late-night at Patrizi's.
9. Rainey
You can bar hop to your heart's content on Rainey, but you'd be really missing the (gravy) boat if you don't treat your tummy too. Rainey is home to one of Bon Appetit's best new restaurants, Emmer & Rye, the ever-popular Bangers, the pizza crush du decade Via 313, Brad Sorenson's No Va, Illiana de la Vega's interior Mexican at El Naranjo, tiny fried sugar bombs at Little Lucy's, and the dream combination of prosecco on tap with the late-night and brunch menu at L'Estelle House.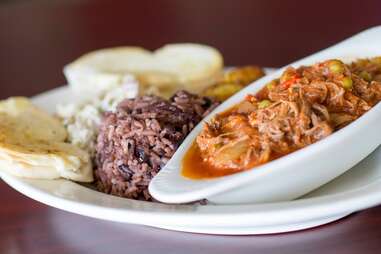 8. North Lamar
Austinites who bemoan the lack of ethnic eateries need to head on up to north Lamar. Past 183, you'll find an astonishing array: Swad, Tropicana Cuban, Santorini Greek Kitchen, New Fortune Chinese Dim Sum, Korean Grill, Balkan Cafe and Grill, Pho Saigon Noodle House, Bombay to Kathmandu Kitchen, Antojitos Hondurenos, and a myriad of real-deal taquerias like Matamoros Tacos.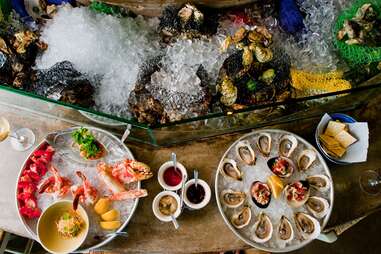 7. South Congress
Hit South Congress on an off-time (when there aren't a million tourists milling about) and you'll discover the reason parking is so difficult: the food here is excellent, varied, and walkable. South Congress Cafe and Cafe No Se are serving up unbelievable brunch, Botticelli's, Enoteca, and Vespaio are lovely Italian, Perla's, Lucky Robot, and Poke Poke satisfy your fish fix, Vinaigrette has fancy salads, Hopdoddy serves burgers, and food trucks fling great stuff like gourmet grilled cheese (Burro Cheese Kitchen), plus there's the home of the fried Monte Cristo, Hey!... You Gonna Eat or What?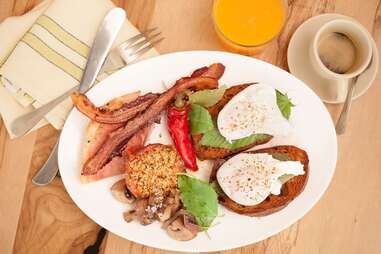 6. Mueller
Mueller has the special distinction of being close to everything and also a destination of its own. There are a number of food franchises (Tinos Greek Cafe, Smashburger, etc), but there's a strong local presence as well. Support Austin-based spots by dining at L'Oca d'Oro, Bribery Bakery, Kyoten Sushiko, Xian Fresh, and Mueller Trailer Eats. As it continues to develop, the Mueller area will also boast new locations for Lick Honest Ice Creams, Halcyon, B.D. Riley's Irish Pub, J.T. Youngblood's, Alamo Drafthouse, Colleen's Kitchen, and Stella Public House.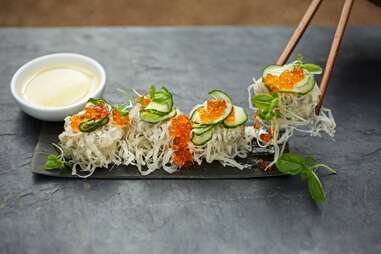 5. South First
It parallels South Lamar geographically, and in the sense that there's so much fantastic fare. Sway and Lenoir are both can't-miss for date nights, Bouldin Creek Cafe's veg brunch is legendary, grab Dolce Neve gelato on a hot summer day, hop to Porter's Ale House for upscale pub grub, go coastal at Alcomar, and find French pastries at Elizabeth Street. For a quick stop, find yourself at food trucks like Four Brothers, Bombay Dhaba, Mellizoz Tacos, and Bananarchy.
4. Allandale/Crestview
This haven for home stores and used-car dealerships has evolved into a hotbed for the food-driven set. Original residents have a long-time appreciation for Sarah's Mediterranean Grill & Market, Austin Diner,Little Deli & Pizzeria, Top Notch, and Lebowski's Grill. Bufalina Due, Barley Swine, Bartlett's, and The Peached Tortilla are the spendier spots, but you can find bites in your budget at Dos Batos, Shu Shu's Asian, The B's Kitchen Vietnamese, The Big Kahuna, and Shabu.
2. East Austin (central)
From Cesar Chavez to 6th St, there are cuisines that range wildly in type and price point. Find food trucks of all flavors: fresh northern Thai at Dee Dee, legit BBQ at La Barbecue, tacos at Veracruz Tacos, Brazilian bites at Boteco, and Cajun at Vic & Al's. For something more sit-down, get mole and mezcal at Licha's Cantina, a beet-and-chevre sandwich at Yellow Jacket Social Club, steak frites at Justine's, the brick chicken at Launderette, spicy wings at Revelry Kitchen + Bar, oysters at Monger's Market + Kitchen, boozy ice cream shakes at Prohibition Creamery, or an inexpensive diner breakfast at Sawyer and Co.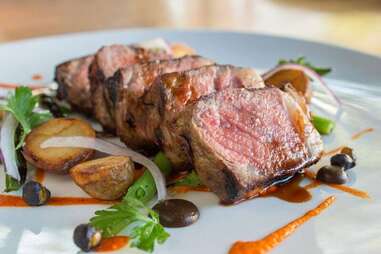 1. Downtown
Downtown could arguably be broken up into several areas, but in the name of inclusivity, just know you could eat at a different restaurant every day Downtown for a year. Head to 2nd Street District for steaks at III Forks, brisket Benedict at Lambert's, lasagna at Number 28. Find yourself on West 6th St at Sophia's for rose all day, a game dinner at Ranch 616, fine dining at Clark's, and garlic knots at Rounders. The (other) East 6th St ranges from high-falutin' oysters and Champagne at Parkside to bacon burgers at Casino El Camino, fresh pretzels at Easy Tiger to a French prix fixe at Chez Nous. The scene on 5th is less walkable but packs a punch: Lucky's wood-fired puccias, Eddie V's Prime Seafood, Southern biscuits at Fixe, and soup dumplings at Wu Chow.
Sign up here for our daily Austin email and be the first to get all the food/drink/fun in town.
Kelly Stocker wasn't born in Austin, but she got here as fast as she could. If you want to follow her adventures around town, find her @kellyjstocker on Twitter and Instagram.
AUDIENCE POLL
Take this survey and an angel will get an energy drink.