Your Summer calendar is likely pretty full already, but surely you can make some room in it (and your stomach), for these 10 new restaurants that have graced Austin recently. From Asian-fusion outposts to Cuban-inspired rum bars, you have some serious work to do.
Recommended Video
Proof That Iceland's Ring Road Is the World's Most Beautiful Road Trip
Noble Sandwich Co. (address and info)
Rosedale
Popular sandwich shop Noble Sandwich Co. did residents of central Austin a solid and opened a second location on Burnet Rd. Their breakfast menu (which also includes lighter picks) has expanded to include goodies like the Oxtail Waffle (a potato and leek waffle topped with braised oxtail and an over-easy egg). The new space is bright and inviting -- as is the Pecan Smoked Beef Brisket, a moist brisket sandwich served with kimchi, onion, and sambal mayo.
A-OK Chinese (address and info)
South Lamar
Former Alamo Drafthouse Executive Chef John Bullington and business partner Jerry Reid have opened A-OK, a 44-seat eatery serving American-style Chinese. Fresh vegetables, house-made sauces, and fantastic service are what people are talking about. Pro tip: try the shrimp toast and five-spice baby back ribs.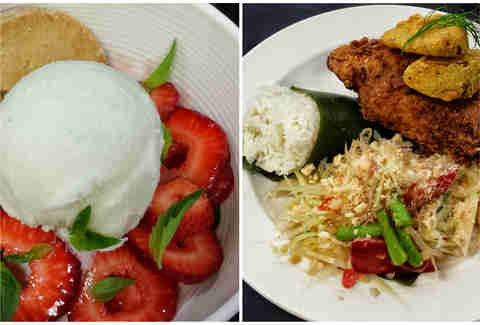 Kin & Comfort (address and info)
North Austin
Perhaps the most quiet and most intriguing opening of the season is Kin & Comfort. Tucked away in the Hana World Market Center, Ek Timrerk, (Uchi, East Side King) and Bonnie Wright (recently of East Side King) are serving up a Southern-comfort-meets-Thai double threat that we've never seen done. Wrap your brain around these mouth-watering mashups: Panang Mac & Cheese, Tom Kha Shrimp & Grits, and Thai Meatloaf & Gravy. Then wrap your mouth around them.
Radio Coffee & Beer (address and info)
South Lamar
If someone asked us to design the perfect coffee shop, it would include Stumptown coffee, lots of beer on tap, East Side Pie by the slice, a Veracruz All Natural truck, and a dog-friendly patio. Oh wait -- we just described new South Austin oasis Radio Coffee and Beer, helmed by musician, Austin native, and coffee shop vet Jack Wilson. As if that wasn't enough, they are the only place in town serving Stumptown Coffee's Nitro Cold Brew on draft, which "pours with a rich head similar to a stout beer".
Bar 2211 (address and info)
East Austin
Housed in a formerly run-down neighborhood ice house, the newly remodeled Bar 2211 has a huge, comfortable patio, a totally respectable whiskey and bourbon selection (ahem, Balcones), and aspirations to serve one of the state's largest selections of canned beer. Sold!
Aroma (address and info)
South Lamar
Right across the street from honky tonk institution The Broken Spoke sits Italian newcomer, Aroma. It's a project from Dave Whitney (former Threadgills GM) and Jason Garcia (from San Antonio standouts Bohanan's, Biga on the Banks, Il Sogno, and Dough). The menu at Aroma includes Italian bistro fare but with an emphasis on their genuine Neapolitan pizzas. Pair that with an impressive wine selection and classic cocktails and your next date night is all set.
Pleasant Storage Room (address and info)
Warehouse District
Nestled between Fado and Péché on 4th St is Pleasant Storage Room. Alfonso Hernandez, formerly of East Side Show Room, is heading up the rum-focused craft cocktail program, serving modern interpretations of classic cocktails and punches. With a selection of around 80 rums, you'll want to try a flight -- always served with a description of flavors and origins. Executive Chef Paul Hargrove, also formerly of ESSR, is providing a menu of Cuban street food-inspired treats like street corn, empanadas, and ceviche.
Mezcalería Tobalá (address and info)
East Sixth
Many patrons discover Mezcalería Tobalá by accident -- it's that little room just upstairs from Whisler's, and there's no sign but what you find inside will surprise you. A short chat with the barman will help you figure out what to order, but don't expect any mixers. All mezcals at Mezcalería Tobalá are served neat in a tiny clay copita. Try a flight of mezcals from different regions served with orange slices and a sprinkle of sal de gusano aka worm salt.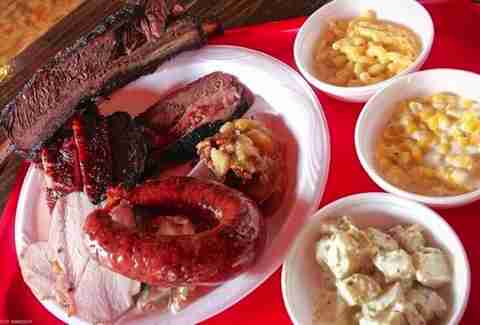 Terry Black's Barbecue (address and info)
Bouldin Creek
Twin brothers Mark and Michael Black are the great-grandsons of the late great Edgar Black, founder of Lockhart's acclaimed 'cue joint. They've set up shop on Barton Springs Rd after putting in many years at Black's original location with plans to personally work the pits, and all sides will be made from scratch.
Tap 24 (address and info)
West Campus
Opening up just days before the World Cup, Tap 24 filled the space -- literally -- that Cuatro's closing left on campus area fútbol fanatics. Still owned by Cuatro Kowalski, the space has a fresh coat of paint, drink specials, and a new food menu including a focus on burgers.
This list -- and all the rest -- look even sexier in our iPhone app. Get it now!