The Best New Food Trucks in Austin
Courtesy of The Whistler & the Well
Popular food trucks seem to spring up out of nowhere. One day you walk by one in a parking lot, the next day there are 14,000 people lined up for Sriracha waffle burgers. To keep you on the cutting edge of all the best stuff that is cooked in a mobile kitchen, we rounded up the newest, most delicious food trucks in Austin that are about to blow the hell up.
East Eleventh
Paperboy is fairly new, but already has a large following of customers who love the sunny patio seating, the fresh Stumptown coffee, and the favorably priced breakfast offerings. Check out the hash (roasted sweet potatoes, poached egg, braised pork belly, grilled onions, coffee mayo) or the "sweet" option for toast (ricotta, tangerine marmalade, granola, strawberry, honey).
Campus
Although the name would have you believe otherwise, Ceviche7 is a one-man authentic-Peruvian trailer which just so happens to have great ceviche. The tiny silver trailer is a hidden gem tucked next to The Burlap Bag gift shop. Just follow the incredible aromas wafting from its tiny kitchen. Chef/owner David is warm, friendly, and happy to recommend a dish and tell you a great story. We love the Peruvian staple Lomo Saltado (marinated beef sautéed with onions, tomatoes, and cilantro, served with fries, white rice, and Huancaina sauce) and the mahi mahi ceviche (citrus-marinated mahi mahi served with two types of potatoes).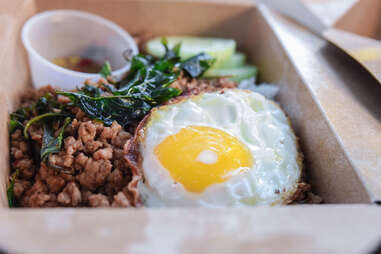 East Cesar Chavez
Right next door to Stay Gold, Dee Dee (owned by husband and wife team, Lakana and Justin) are making waves with their legit, Northern Thai cuisine. Try the Moo Ping, sweet/savory Thai pork skewers served with side of sticky rice (that you can eat with your hands) and a sweet/spicy dipping sauce, for just $2 you can get a "snack size" portion. Spice-seekers will be won over by the Pad Ka Pow -- spicy stir-fried pork with Thai basil, served with steamed rice, chili fish sauce, cucumber, and a fried egg.
Nainai
East Seventh
Singaporean trailer Nainai -- which means "grandmother" in Chinese -- is serving up huge bowls of homestyle Hainanese chicken rice. The simplicity of the dish allows the juiciness of the roasted chicken to shine. Nainai's chicken rice can also be ordered as a soup; the broth is light and revitalizing (read: good for hangovers). Both options come with spring onions, a pungent and delicious fermented garlic to modify the dish's "punch" at your leisure, and the option of a poached egg.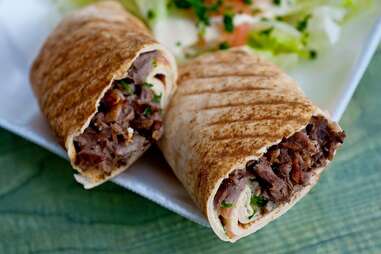 East Cesar Chavez
In November of last year, Syriano Shawarma quietly set up shop at the corner of East Cesar Chavez and Pleasant Valley, and boy, are we pleased. At Syriano, you get a huge portion of authentic Syrian shawarma (plates or wraps!) for an almost unbelievably low price, and the food is fan-freaking-tastic. For example, if you order the Chicken Shawarma plate ($8.99) you get: grilled kosher chicken, tahini sauce, either basmati rice or salad, pita AND two sides (like hummus, fries, or falafel). This is enough food for two people... two hungry people with really good taste in food.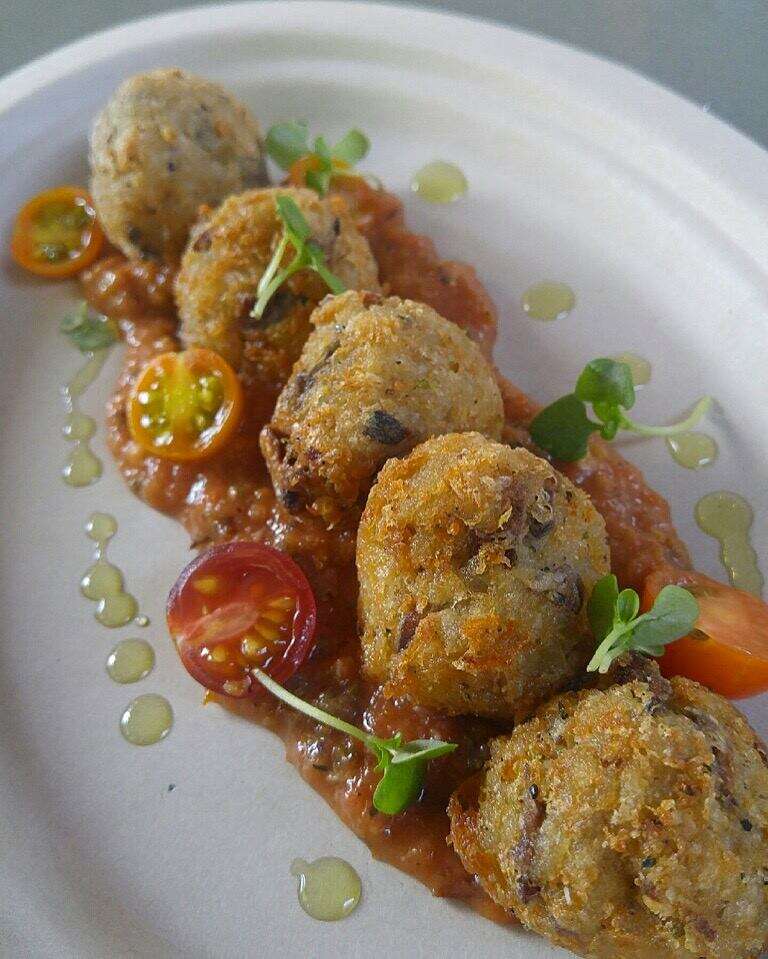 East Fourth
If you've ever eaten at Patrizi's (handmade pasta, what?!) you're already eager to eat at Vic & Al's, the Patrizi brothers second food truck which just opened for business. This time located at the Historic Scoot Inn, the food is pure Cajun/Creole with Louisiana classics like boudin, Cochon de Lait (roasted pig), po-boys, gumbo, and mouthwatering, rotating specials that only this talented team could dream up.
Sign up here for our daily Austin email and be the first to get all the food/drink/fun in town.
Anastacia Uriegas is a writer at Thrillist whose eating habits were a precursor to the food truck trend. Eating personal quesadillas, alone, in the Taco Cabana parking lot counts, right? Follow her occasional sad-guy dining at @anaurie.