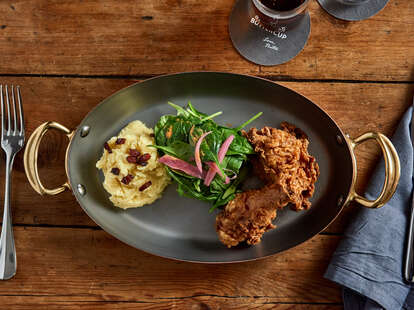 Austin's Best New Restaurants of 2017
There were plenty of restaurant openings in Austin this year, but the best ones all had a few things in common: comforting, un-gimmicky foods, served in chic surroundings, by (unsurprisingly) the top culinary talent in the city. They may not be the places with 4-dollar-sign price points, or the ones with two-hour weekend waits, but each of the restaurants below quickly earned top spots on Austin's "You've gotta eat here" board. Whether you start with pimento and peacocks on the patio of a historic Victorian home, or by submitting your naughtiest behavior into a confessional box after an order of fries and soft serve, you'll enjoy eating your way through Austin's best new restaurants of 2017.
Thomas Allison / Thrillist
Burnet Avenue
Casual-yet-refined French/American diner with classic cocktails
Chosen as one of Thrillist's Prime 13 best new restaurants of 2017, this French bistro/American diner mashup features the tinge of Asian flavors you'd expect from chef Philip Speer, former director of culinary operations at Uchi. Don't expect to find any pretension here -- Bonhomie is approachable, casual, comforting, and yes, affordable! The double-meat burger is oozing with Dijonnaise and cheese, the pommes rosti are crispy potato birds' nests with toppings like roasted mushrooms, caramelized onions, and spinach (our favorite), and the croque monsieur and French onion soup are so over-the-top-rich that you practically have to share them. There are no literally no wrong choices, except not dining here -- or drinking here, thanks to the full bar and fantastic cocktail list.
Robert Lerma
Downtown
Comfort food, cocktails, and kitsch from pastry chef Callie Speer
Callie Speer, former pastry chef of Swift's Attic and Geraldine's, opened punk rock diner Holy Roller as a labor of love, alongside an all-star team of women including beverage director Jen Keyser. The menu is full of comfort food, and each Texas classic is stamped with Callie Speer's signature whimsy, like the addictive Trash Fries (gravy, sunny-side egg, sour cream, corn, lime, and cotija cheese) and the migas kolache (stuffed with queso, crispy potatoes, and jalapeño). Better still, Holy Roller caters to Austin's brunch-obsessed masses by serving it all day on Sundays, including the Sunday School menu of pastries and tasty cocktails based off the Seven Deadly Sins. Drop a confession note in the box by the bathroom, and it might just get chosen as inspiration for Holy Roller's next special cocktail.
East Austin
Mash-up of a Texas smokehouse and a Japanese gastropub
Describing Kemuri Tatsu-ya to the uninitiated gets convoluted: a Japanese izakaya in a former Eastside BBQ joint, with Texas influences and a killer Japanese whisky selection? Sure. The menu starts with bites like the uber-popular, Gouda-and-brisket-stuffed Hot Pocketz, and ends with ramen served with a thick dipping broth and fiery jalapeños, but not without a few twists and turns along the way. The "odd bits" menu offers tiny dishes of the (very) funky squid marinated in its own guts, as well as sweet and sour marinated jellyfish, while the yakitori offerings range from familiar chicken meatballs to challenging chicken hearts. And don't even get us started on the cocktail program; arguably one of the best in Austin, the menu features fun, shareable portions served in kitschy vessels (like the Matcha Pain Killer, served in a cat-shaped cup). Think of Kemuri Tatsu-ya as a choose-your-own-adventure dining experience; stay in your comfort zone or get weird, it's all up to you. Whatever you do, though, order a crisp Orion lager: it gives your go-to light beer a run for its money.
Nicolai McCrary
South Congress
Pan-Asian fusion served on the patio of a craft brewery
Soursop, the pan-Asian trailer serving bar food on the patio of St. Elmo Brewing Co. is a standout in the neighborhood, the food truck landscape, and Austin in general for a few reasons: inventive flavor profiles, the fact that St. Elmo's beers magically pair with everything on the menu, and the culinary team's (possibly tongue-in-cheek?) shrine to Guy Fieri. Menu offerings occasionally change, but our favorites don't appear to be going anywhere -- namely the Water-Burger (a refreshing burger made with ground chuck and brisket, caramelized onion ranch, lettuce, marinated cucumber, garlic pepper, and toasted rice powder), and the huge, sticky sambal wings (jumbo whole wings, Thai chili, palm sugar, fish sauce, coconut vinegar, peanut, mint).
Charles Reagan
East Austin
Upscale hostel and bar serving modern diner classics
Hip digs and a kitchen with generous hours add up to Austin's newest hotspot for sleeping, eating, drinking, and checking out live music and DJs. The kitchen has everything an Austin guest (or resident) could want, comforting diner food, brunch and lots of vegetarian options. With picks like the fried chicken sandwich (pickle brined chicken, dill pickles, pickled peppers, mayo) and the meatless chilaquiles (veggie chorizo, corn tortilla chips, pickled peppers, tomato, avocado, queso and sunny-side-up egg), this is the sort of food that late dinners and (ahem, challenging) breakfasts require. Pro tip: Native serves brunch until 3pm on weekends.
South Lamar
Spanish tapas and cocktails found on first floor of residential building
A new kid on the block, El Chipirón earns its stripes with Spanish tapas and pintxos in a modern Euro setting alongside a lovely cocktail menu with an emphasis on gin and tonics (like The Tejano, which involves lots of smoke and herbs). The menu is decked out with meat and cheese boards, small plates, and a couple of large options like the juicy lomo de vaca (44 Farms strip steak, Padrón pepper, LaFou demi-glace, tomato, potato); standouts include the squid ink (colored and flavored) black rice with squid, mussels and scallops and tabla de ibéricos loaded with Spanish chorizo, Iberian ham, salchichón, and accoutrements.
Laura Hajar
East Cesar Chavez
Stylish eatery taking a chef-forward approach to modern Southern fare
Helmed by executive chef Max Snyder, Pitchfork Pretty appeared seemingly out of nowhere -- before anyone realized what happened, East Cesar Chavez was home to a design-forward, A-frame building with a mix of chef-y small plates and hearty fried chicken, and cocktails that satisfy both the cucumber margarita and whiskey crowds. The concept is hard to pin down but easy to fall in love with. Critics are rightly swooning over the pickled quail egg on crispy leeks -- a perfect bite consumed like you would an oyster -- and the gluten-free, chickpea flour-breaded fried chicken brined in a habanero vinegar.
bao'd up
Mueller
Fast casual joint for steamed buns and bubble tea
Bao'd Up, Mueller's new steamed-bun-dedicated restaurant from chef Ting Li, is making waves with its bite-size offerings made with the sticky, steamed bread in multiple forms: baozi, mantou, gua bao, and bao fries. We like the simple BBQ pork bao and Szechuan fries topped with spicy mayo, sesame, and green onion, and no trip to Bao'd Up is complete without a build-your-own bubble drink; the matcha and taro are favorites.
Nick Simonite
Bouldin Creek
Elevated Southern cuisine served among live oaks and peacocks
The former Green Pastures (which now refers solely to the event space), Mattie's is the revamped new concept from Austin developer Greg Porter and La Corsha Hospitality -- which operates Second Bar + Kitchen and Boiler Nine. With its marble countertops, exquisite light fixtures, copper hardware, and textured wallpaper that begs to be touched, the new skin applied to the home's old bones is incredibly gorgeous to behold. The menu is also just as impressive, whether you're having dinner in one of the many dining rooms or on the lawn alongside the resident peacocks. Southern dishes sprinkled with French and Asian influence as well as untouched classics like pimento cheese and fried chicken eggs Benedict sparkle at Mattie's... just as much as the dreamy surroundings.
Sign up here for our daily Austin email and be the first to get all the food/drink/fun in town.