Austin's Best Restaurant Openings of 2019
It's been a good year for food in Austin. We didn't have a crazy influx of projects from outsider investors and developers with deep pockets, or a surge of pre-opening dog and pony shows. Instead, chefs and restaurateurs of all means and levels opened restaurants that are just as much passion project as they are successful business. We saw concepts pay homage to rich culinary traditions, an emphasis on relaxed and intimate environments, a handful of dark horses who stepped out of the shadows, and a hell of a lot of tacos. If you haven't been keeping up, you've got a ton of delicious homework to do.
Get to know Austin's best of the year, in the form of heirloom Oaxacan corn tortillas in a tiny rainbow of an eatery, the spiced and bright flavors of Portugese-Goan food from one of Austin's best and most humble chefs, and lemon-Sichuan chicken wings that will leave your face numb in the best way possible.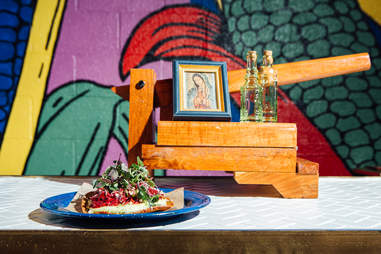 Mackenzie Smith Kelley
East 12th
Casual eatery serving bright, fresh flavorful tacos and handmade corn tortillas 
The corner of 12th and Cedar has been transformed from lackluster to lively with the arrival of this tiny, purple and blue building, emblazoned with a mural honoring the Aztec god of corn/maize. Chef/Owner Edgar Rico's worked with some of the biggest names in food, including a stint at Pujol, before landing in Austin. Together, Rico and his partner in business (and crime!) Sara Mardanbigi opened Nixta; the name is a nod to nixtamalization, the process in which corn is made into masa, the basis for corn tortillas. While Nixta's menu has a couple of rotating tacos, the standouts also happen to be the staples. Go for the Beet "Tartare" Tostada, with tender roasted beets tossed in a salsa macha aioli, served over avocado crema, dressed with microgreens and punctuated with fresh horseradish and lime; or the Duck Carnitas Taco, juicy duck confit, fresh salsa cruda, radish, shaved white onions, and cilantro.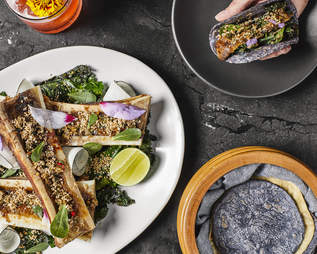 Courtesy of Comedor
Downtown
Modern Mexican and cocktails in a dazzling, architectural standout
You may have seen it downtown: a sleek, black monolith of a building topped with a rectangular atrium. Comedor is visually striking to say the least, but the goods more than live up to the expectation. Chefs Philip Speer (Uchi, Bonhomie) and Gabe Erales (Noma, Dai Due Taqueria) have combined their talents here, turning out modern Mexican with a Texan nod. Try the fritters laced with huauzontle (greens native to Mexico), quesillo (fresh cheese) and habanero ash emulsion; as well as the Insta-worthy bone marrow tacos, served in the bone with quelites (also greens), smoked butter, hoja santa-pecan gremolata, and fresh fragrant corn tortillas made from heirloom corn.
East 6th
Truck serving spicy chicken wings and sandwiches with a side of saucy
While the gang at Spicy Boys may spend a lot of time engaging in fake Instagram feuds and making self-deprecating (somewhat dank?) memes, they also find the time to cook some damn good chicken. Helmed by Soursop owner Teddy Bricker and chef Dillon Misonznick, Spicy Boys can be found outside Zilker Brewing serving wings seasoned and sauced with Asian-inspired flavors, fried chicken, sandwiches, and a buttery roti for good measure. While much of the menu is on the chill side of hot, we can't stop ordering the mouth-numbing, peppery Lemon-Sichuan wings, and the Hot Gai chicken sandwich with massaman mayo, Swiss cheese product, Thai basil, and pickles. Protip: Get the tots tossed with your choice of wing flavor.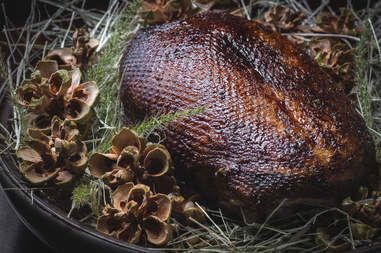 Courtesy of Hestia
Downtown
Upscale wood-fired concept from the acclaimed Emmer & Rye team 
Named after the Greek goddess of the hearth, Hestia relies solely on live fire from its custom, 20-foot hearth to cook your meal. The warm interior features elements of industrial and mid-century modern design, and the menu is full of fresh takes on classics accented with Executive Chef Kevin Fink's refined mix of fermented, pickled, earthy, and bright flavors.
 
Picking a favorite dish is difficult, but you can't go wrong with the black chicken and caviar, or the grilled potato: charred potato "pasta" in creamy whey sauce with a dash of salty roe. Pastry Chef Tavel's Parker House rolls are insanely good -- hot, freshly-baked bread pillows and cultured butter that melt as soon as they hit your tongue. The New York strip is a tender, beautiful piece of flame-kissed beef, but the vegetarian entree is the sleeper hit: charred Lion's Mane mushroom served on a black bean miso sauce, and punched up with pickled beet and turnip coins. You'll also want to check out Kalimotxo, Hestia's adjacent cocktail bar with Basque-style pintxos (small bites) bar helmed by Emmer & Rye vet Rand Egbert and Brett Esler, formerly of Whisler's.
Courtesy of Rosedale Kitchen and Bar
Rosedale
Neighborhood kitchen and bar serving updated classics in bright, stylish digs
Rosedale (not to be confused with Rosewood in East Austin) is the newest project from the folks behind Swift's Attic and Wu Chow. The space (formerly home to Guild) has been warmed up and made more casual, and Executive Chef Janelle Reynolds has created a menu of elevated-but-hearty classics ranging from steak to a grilled chicken quinoa bowl. Our favorite shareable has to be the crab + crisps, which combines Texas blue crab dip (no filler!), mascarpone, herbs, fresno chili oil, and the crispiest wonton you've ever had. Follow that delicious start with the fried duck confit: a crisp thigh served with Sumac spiced carrot puree, wilted swiss chard, and a blueberry gastrique. 
Jenna Kahn
East Sixth
Modern Portguese-Goan cuisine made with Texas ingredients in a chic space 
This new spot on the ground floor of East Austin's ARRIVE hotel gets its name from a Portuguese parable on the origins of sunshowers. Managing partner/Chef Todd Duplechan took his inspiration from the unique mashup of flavors found in Goan cuisine. The tiny Indian state spent 450 years under the rule of Portugal, and Vixen's Wedding combines these Indian and Portugese influences with Texas ingredients for bright, flavorful "hot weather food." Try the almaco ceviche, a meaty fish with nice texture in a lime marinade with pickled mango, slices of avocado, and peanuts. Main courses include the visually striking piri piri chicken: a whole bird rubbed in a fire-red spice blend, cooked on a rotisserie, and served with potatoes and pickled condiments. After dinner, slip over to NOLA-inspired Lefty's Brick Bar or rooftop Gin Bar for cocktails.
Courtesy of DipDipDip Tatsu-ya
Burnet Road
Modern shabu-shabu addition to the Tatsu-ya empire
Don't feel like a dummy if you don't know what shabu-shabu is -- you're not alone. The Japanese hot pot style starts with choosing a simmering broth that's kept hot via a tabletop heat source. Then, uncooked meat, veggies, dumplings, and noodles are brought for you to swish and cook in your broth, along with dipping sauces and rice. At DipDipDip, the interactive dining experience is given the full Tatsu-ya treatment; expect local Angus beef, a spicy queso dip spiked with yuzu, and a "pot pocket" (tofu skin filled with cheese, grits, and sausage meant to be "swished" in your hot broth). While dining here comes with a bit of a learning curve, expect a unique DIY restaurant experience, very attentive service, Japanese-inspired cocktails, and a happy belly at the end of the night.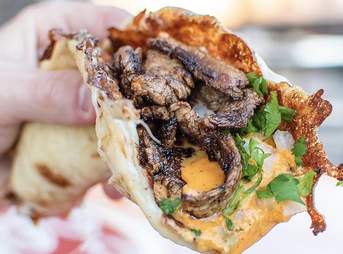 Courtesy of Vaquero Taquero
Hyde Park
Casual taqueria serving tacos and quesadillas, owned by twenty-something brothers
Brothers Dani and Miguel Cobos have settled nicely into their brick-and-mortar location in Hyde Park; they've also settled nicely into a year full of awards and positive reactions from food critics and hungry students. The duo have been praised for their for their tacos, laboriously made with juicy al pastor sliced off the trompo, as well as their freshly handmade corn and flour tortillas, but it's their sincerity and passion that sets them apart. "We plan to be that classic taqueria who preserves the culture and shares it with everyone else," says Miguel, and this community is happy to accept. Try the al pastor, obviously, but don't be afraid to step outside your meaty comfort zone with the quesadilla de nopales. Made with pan-seared Oaxacan cheese and chopped cactus, and garnished with queso fresco, cilantro, onion, roasted salsa roja or verde, and avocado cream, it's not to be missed.
Manor Road
Deli and smokehouse showcasing local flavor
The gang at Mum Foods really let their ingredients shine; from the humanely raised, certified Akaushi beef to the produce sourced from Austin farmers, the simple greatness of Mum's is hard to deny. You can buy smoked brisket, chicken, and the pastrami by the pound, or opt for a sandwich made with fresh sourdough bread and spreads like The Rachel: a half pound of Mum's famously delicious hot pastrami, Russian dressing, Emmental Swiss cheese, and slaw. Do not sleep on the pimento cheese sandwich, a customer favorite that adds fresh local tomatoes, greens, and colorful turmeric-spiked pickled radish slices to the Southern cheese spread. Catch Mum Foods Deli on Manor Road, or buy its smoked meats weekly at the Mueller, Barton Creek, and Lakeline Farmers' Markets.
Springdale Road
Casual hand rolls and omakase from Japanese culinary vets
This shoebox-sized restaurant in Springdale General comes from Kayo Asazu and Takehiro Asazu (cousins and co-owners at Kome) alongside chef Masazumi Saio (formerly at Uchi). The casual eatery focuses on temaki (sushi hand-rolled into a seaweed "cone") as well as reservation-only, omakase sushi dinners on the weekends, which allow your chef to choose the menu. Go simple with a salmon, avocado, and cucumber hand roll, or creative with the beef tataki consisting of chopped raw beef tenderloin, pickled jalapeño, shiso, garlic chip, ginger, and umami jelly. Wash down your meal with drinks that highlight Japanese flavors, like the bright yuzu-sake slushy or non-alcoholic frozen soy matcha latte.
Sign up here for our daily Austin email and be the first to get all the food/drink/fun in town.
Anastacia Uriegas is an Austin-based writer whose playlist includes not only outdated summer jams but also a little DMX and Foreigner for good measure. Follow her questionable taste at @anaurie.